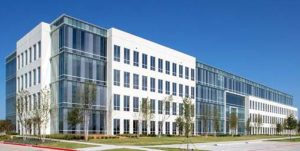 Construction management firm Adolfson & Peterson Construction (AP) and general contractor Billingsley Company have completed an office building and a campus amenity center in Billingsley's International Business Park, Plano, Texas.
The International Business Park is a 121-ha (300-acre) mixed-use development containing nearly 185,807 m2 (2 million sf) of office space, 16,165 m2 (174,000 sf) of retail, and 500 new multi-family units. Amenities include immediate access to the Dallas North Tollway and SH 190, artwork and sculpture gardens, outdoor plaza and dining areas, fitness center, regularly scheduled events, and onsite property management and maintenance.
The new four-story, 17,382-m2 (187,100-sf) office building is situated on 4 ha (9.25 acre) within the International Business Park. It is a tilt-wall structure with a significant curtainwall skin element. The expansive lobby area has Italian granite and slim light-emitting diode (LED) lighting, an integrated wood paneling system for lobby ceilings, and an accent wall with special concrete finishes similar to terrazzo reflection. The two-story lobby atrium features seating areas and large-scale artwork, as well as a coffee bar. GFF Architects served as planning architect for the project.
AP also constructed an 836-m2 (9000-sf) campus amenity center adjacent to the office building, which will serve the entire campus. The center houses a fitness center, locker rooms, grab-and-go food service, a 108-seat conference center, and offers more than 600 parking spaces.
"With Plano's continued business growth, this new building ensures International Business Park will be well positioned to welcome more corporate neighbors and continue to thrive," said Bob Lemke, vice-president of operations, AP.
"The design for this new campus is rooted in what matters to employees right now," said Lucy Burns, partner at Billingsley Co. "With a big focus on amenities and wellness, the building features a coffee bar on the first floor and great outdoor greenspace with a walking trail. Fresh air is such a vital component to wellness today, and there will be private outdoor space for our first-floor tenants, giving them direct access to the indoor/outdoor workspace that is in high demand."