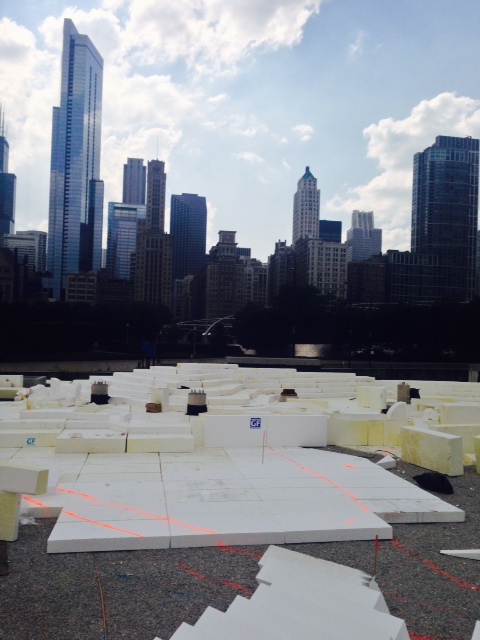 By Tom Savoy
The Chicago Park District will soon open a new 11-ha (28-acre) downtown park to complement its renowned Grant Park and Millennium Park. Visitors to Maggie Daley Park will enjoy a visually varied landscape with rolling hills, berms, and contours. What they might not realize is the park's earthworks are not made of traditional soil fills, but of a geosynthetic material—expanded polystyrene (EPS) geofoam.
Over the years, the site for the new park has served as a rail yard, parking lot, and most recently, an underground parking garage. Given the ongoing demand for parking downtown, the 3700-car East Monroe Street Parking Garage will remain in place, with the Maggie Daley Park built atop.
Since the garage was not designed to accommodate the high gravity loads imposed by the earthworks of a landscaped space, architects Michael Van Valkenburgh Associates (New York City) specified EPS geofoam for the extensive topographic features.
This ultralight fill weighs much less than other lightweight products such as wood chips and shredded tires. With a weight of only about one percent of soil, geofoam provides an ideal fill for use over the parking garage.
The weight of EPS geofoam ranges from 11.2 to 45.7 kg/m3 (0.7 to 2.85 lb/cf), depending on the density specified, compared to 1762 to 1922 kg/m3 (110 to 120 lb/cf) for soil, which varies based on its composition and moisture content.
Despite its low weight, the geofoam is strong enough to support high loads in civil projects, as well as for commercial buildings and residences. The material's compressive resistance values range from approximately 15,178 to 128,223 Pa (317 to 2678 psf) at a one percent strain. Westergaard modulus of subgrade reaction (k) values—a measure of the amount of support provided by layers below a rigid pavement surface—show geofoam has better bearing capacity than most foundation soils.
Unlike other lightweight fills and soil, geofoam is engineered in a controlled setting, offering predictable and consistent engineered values. This helps simplify design and construction, and eliminate onsite and laboratory testing time and costs. As long as combined dead and live loads do not exceed one percent strain, the EPS assembly will not creep or experience plastic yield. Additionally, contractors typically do not need to surcharge or preload the material, which helps streamline the construction process and simplify staging.
At the Maggie Daley Park, local contractor Walsh Construction installed 49,696 m3 (1.755 million cf) of EPS geofoam, along with recycled geofoam from Chicago's Daley Bicentennial Plaza. Crews used the blocks to form earthworks that Michael Van Valkenburgh Associates designed to be "curvilinear, topographically dramatic, and relentlessly heterogeneous."
Just as EPS geofoam has been growing in popularity for use in civil projects, building professionals are increasingly specifying it in commercial buildings and large residences. Applications in these types of projects include:
site prep and leveling;
rooftop gardens;
pool decks;
ramps and stairs;
stadium seating for theaters; and
foundation backfill.
As an example, geofoam was used to create a level building site for a McDonald's restaurant in Fairmont, West Virginia. In that project, a retaining wall was needed that could accommodate the change in grade, as well as minimize the load over extremely soft soils. Traditional soil fill would have caused unacceptable settlement of the retaining wall. Instead, EPS geofoam allowed for a traditional modular block retaining wall, which simplified construction time and costs.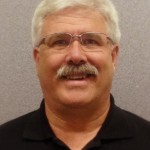 Tom Savoy is the technical director for Insulfoam, a division of Carlisle Construction Materials. He has worked in the expanded polystyrene (EPS) industry for 27 years and in construction materials (manufacturing and testing) for 32 years. Savoy actively participates in many trade organizations, including ASTM, Single-ply Roofing Industry (SPRI), and EPS Industry Alliance (EPS IA). He can be reached at tom.savoy@insulfoam.com.