Raised sills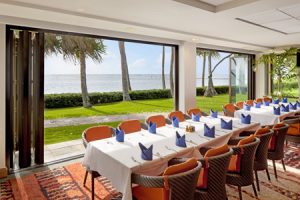 Extreme weather means water, mud, and other particulates will be pressed up against the glass, seeping in through the floor tracks, and ruining wood and carpet. A high-performance raised sill is the most weather-resistant sill available and prevents both static and dynamic water penetration, also yielding higher pressure ratings against heavy wind loads. This means even without an overhang to shield them from the elements, the glass walls can squarely face even the strongest winds.
Corrosion resistance
This goes without saying. It is not only crucial to incorporate extruded aluminum frames and panel profiles (an absolute must when it comes to protecting against the saltwater-filled air), but also to ensure the rollers and hinges themselves are stainless steel. When salty wind and rain beat up against a system, the parts can quickly rust and corrode, weakening its performance against future storms.
Multipoint locking
Vandalism and burglary are real issues once residents have been evacuated, leaving homes and businesses unprotected until cleanup efforts are under way. Looters usually look for easy points of entry, often breaking in through sliding or folding glass walls. A latch and deadbolt is not enough. One should look for a multipoint locking system that also includes top and bottom locking rods so each glass panel can be securely locked into the upper and lower frame with polyamide-capped locking rods. This is paramount when securing the opening and it also adds to the glass wall's ability to withstand strong winds and water intrusion.
Additional certifications
Ratings for Miami-Dade, the American National Standards Institute (ANSI) and ASTM are just the baseline. A glass wall system in hurricane country ought to be certified for all-climate performance and durability, such as the American Architectural Manufacturers Association (AAMA) rating for air, water, structural stability, and forced entry, as well as National Fenestration Rating Council (NFRC) certification for air leakage and condensation resistance.
The past hurricane season demonstrated Miami-Dade County certification is just the starting point when the top priorities are safety, security, and structural performance. During this rebuilding process and when moving forward, architects and builders should look for glass wall systems that go well beyond the Miami-Dade standards toward peak performance.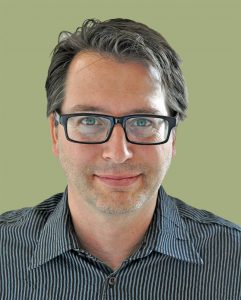 Matt Thomas is the marketing director for NanaWall Systems. As a marketing practitioner, he meshes his technical and communication skills with his sense for design. He has worked and lived in Israel, Singapore, New York City, Los Angeles, and now the San Francisco Bay Area. While working for NanaWall Systems over the last seven years, the company has engineered and designed more than 25 award-winning systems and has grown to include 24 showroom and design studio locations across North America. Thomas can be reached at matt.thomas@nanawall.com.