Ground breaks on African-American museum in South Carolina
by sadia_badhon | January 21, 2020 6:59 am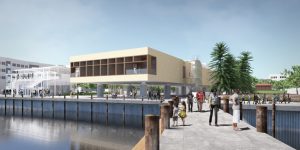 Ground has broken on the long-anticipated International African American Museum (IAAM) in Charleston, South Carolina.
The project was proposed in 2000 by Charleston's longtime mayor Joseph P. Riley Jr. It is designed by New York–based firm Pei Cobb Freed & Partners[2]. Moody Nolan[3], the largest African-American-owned design firm in the United States, is executive architect.
The museum will rise on what was once Gadsden's Wharf, built by slave labor in 1767 and the most important disembarkation point for enslaved Africans brought to the country. It is estimated 80 percent of African Americans alive today can trace their ancestry to the wharf, and the significance of the site informs the design throughout. IAAM will be dedicated to telling their stories and celebrating the contributions of their descendants.
The structure will be housed in a 130-m (426-ft) long, 26-m (84-ft) wide, single-story volume hovering 4 m (13 ft) above the ground and supported on 18 cylindrical pillars arranged in two rows. Reflecting a contextual response to the historical site, the long side walls will be clad in pale yellow brick, while the glazed end walls will be framed by African sapele louvers, directing views to the Atlantic on the east and downtown Charleston on the west. The supporting columns will be clad in traditional oyster-shell tabby, also used as paving in portions of the landscape.
With the exception of two service cores framing a central skylit stairway, the entire ground plane beneath the building will remain open. On the east side of this open space, oriented to the harbor and ocean, a shallow reflecting pool will signify the edge of Gadsden's Wharf as it was at the beginning of the nineteenth century, at the peak of the slave trade. On the west side, granite paving will demarcate a sheltered gathering place.
In addition to historical and cultural exhibits, designed by Ralph Appelbaum Associates[4], the 3883-m2 (41,800-sf) building will house a family history center for ancestral research and a social justice action lab.
IAAM is scheduled for completion in late 2021.
Endnotes:
[Image]: https://www.constructionspecifier.com/wp-content/uploads/2020/01/Opener-22.jpg
Pei Cobb Freed & Partners: https://www.pcf-p.com/
Moody Nolan: http://moodynolan.com/
Ralph Appelbaum Associates: http://www.raany.com/
Source URL: https://www.constructionspecifier.com/ground-breaks-on-african-american-museum-in-south-carolina/
---