How insulated metal panels help achieve protection and aesthetics
by arslan_ahmed | January 18, 2023 8:00 am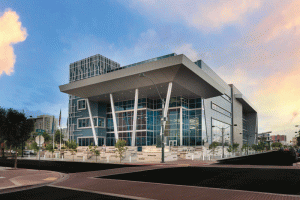 By Kevin Franz, AIA, BECxP, CxA+BE, LEED AP BD+C, CSI, CDT
Think about a new manufacturing facility in the exurbs, a high-rise apartment tower in a bustling city, or an office complex in the suburbs. The team responsible for bringing any building to life faces increased pressure to deliver on energy efficiency and design innovation. Construction professionals today must consider a wide array of variables when selecting the optimal building envelope product, such as climate in the region, how the building will be used, how it will consume energy based on all these conditions, and its appearance.
Two major factors affect thermal performance: the conductivity of the building's steel framing and steel studs, and the failure of the multi-component air barrier systems, which create air leaks through insulation. When materials make contact through steel and studs, conduction and thermal bridging occur. In traditional construction, stopping air leaks and thermal breaks requires a multi-component building envelope with additional crews for installation. Combined, these factors can reduce thermal performance by up to 50 percent. If water, air, or vapor can penetrate the control layers, it will adversely impact building performance.
Insulated metal panels (IMPs) solve these coordination and performance concerns by preventing natural forces from penetrating the walls. The ability of IMPs to drive long-term results is matched by the aesthetic options available to design a compelling building, using an all-in-one system. Considering these project variables, IMPs are the ideal choice for thermal and moisture protection without failures presented with multiple trades' involvement using single-skin panels.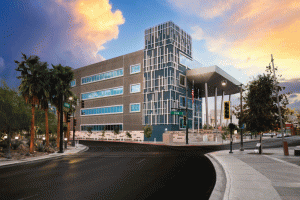 A system, not a skin
IMPs are factory manufactured as an all-in-one system, designed to deliver multiple barriers in a single product. When fastened and sealed correctly, the panel system is impermeable to the elements. IMPs feature concealed fasteners which protect joints from the elements and ensure multiple layers to stop air and moisture from entering the building.
The single-component system includes advanced panel joinery, a rigid closed-cell insulation core, and a galvanized G90 or AZ50 aluminum-zinc coated steel face and liner with a 70 percent polyvinylidene fluoride (PVDF) fluoropolymer coating. Given these components, an IMP system creates a superior wall with clear benefits, while eliminating the five-step, multi-component rainscreen of traditional exteriors.
For safety and efficiency, the IMP system delivers a strong and lightweight building envelope, which reduces the weight compared to brick, precast, or tilt-up concrete by at least 10 to 25 times per foot. The standard concrete weight of 0.093 m2 (1 sf) at 50.8 mm (2 in.) thick is 11.34 kg (25 lb); compared to an IMP of equal size, which weighs no more than 1.37 kg (3 lb), based on 24-gauge metal skin and poly-foam core. As the number of footings and structural supports decrease, costs are reduced, and safety for construction workers and building occupants is enhanced.
For thermal performance, the front and back steel skin of an IMP do not touch, providing a continuous thermal barrier. With an IMP, the steel is adhered to closed-cell polyurethane or polyisocyanurate (ISO), which does not allow conduction inside the panel and eliminates thermal bridging. IMPs are symmetrical and deliver a functional wall for all climates and seasons.
Specifying an IMP replaces all other components for installing the building envelope. Rigid insulation, batt insulation, sheathing, and weather barriers are not needed by separate trade crews on additional days of work—saving money, weather exposure, and crew time on site. A single installation of IMPs means faster wall coverage and project completion. In fact, a team of four can install 464.5 m2 (5000 sf) of panels in eight hours, based on manufacturer case studies.
Reducing thermal bowing
When evaluating construction materials, particularly those built to withstand extreme temperature changes, it is important to understand how they react to an environment. The expansion and contraction of metal when exposed to thermal stress can cause a slight bend towards the warmer side, known as thermal bowing. This bow can be visually apparent due to the restraining action of the clips and fasteners and can cause damage to the building envelope.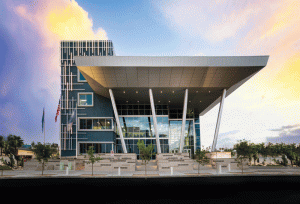 Darker colors absorb more heat energy, which increases thermal bowing. Examining the exterior panel color, temperature of the interior of the building based on end use, panel type, structural support framing, and design loads allows building engineers to calculate the amount of thermal bow within acceptable limits. In addition, the orientation and profile of the panel can span from 1.22 m (4 ft) to 2.44 m (8 ft). The use of flat, ribbed, and embossed profiles helps determine the span of the panel and reduction steel needed.
Although thermal bow is not a limiting factor for commercial and industrial applications of IMPs, it is a key consideration for cold storage, due to the notable temperature difference between the interior and exterior panels. To reduce unnecessary heat on the exterior, along with the thermal bow, cold storage facilities generally specify white or light-colored panels.
Building for aesthetics and durability
Architects who specify metal panels as exterior cladding can choose from a wide variety of configurations, textures, and colors for IMPs or single-skin panels. IMPs allow design freedom to build creatively while capitalizing on the performance benefits available.
Single-skin panels possess another downside when it comes to aesthetics: oil canning. Thinner panels begin to have a wavy or distorted appearance after long-term heat exposure, which causes them to ripple and buckle. There are three environmental or production forces which can cause this to occur:
When it is hot outside and the steel expands outward. Once it is screwed into a fixed material and held back, the panel starts stretching and forms waves.
The production process, which applies stress to the panel. This can make the steel longer in the middle than on the sides and create ripples, sometimes known as "full-feathering." It can also occur in the opposite manner, with wavy edges occurring from being too long on the outside. Lastly, it can camber and maintain the curl of the coil.
The memory of the steel making the panel want to return to the original coil, causing waves to appear.
With an IMP, the outer steel is adhered to the foam core, making the panel thicker. The stress from the fastener, which would cause surface distortion, does not have an impact because the concealed fasteners are attached to the assembly rather than to a singular layer of steel. The possibility of oil canning is rare if not eliminated, and the panels maintain their appearance for the entire lifespan of the building.
Additionally, IMPs integrate seamlessly with windows, louvers, and roofing, delivering an unbroken exterior appearance. Specifying IMPs means the option to select integrated windows, and they eliminate thermal breaks using the same joints as the panels. The integrated windows minimize thermal conduction and deliver a fully sealed joint to guarantee weathertight performance. For contemporary new construction and modernizing retrofit projects, IMPs offer durable aesthetics with finishes fit for the surroundings.
The need for sustainability
Achieving greater efficiency and sustainability on construction projects starts with a system designed to stand the test of time. IMPs address stringent codes by providing superior continuous insulation (ci) while offering desired design flexibility. With R-values up to R-70, IMPs easily meet energy codes requirements for every North American climate zone.
Depending on the application, the increased insulation and reduced air leakage for IMP assemblies can achieve significant energy savings as high as 22 percent, according to manufacturer tests. Regulating the four control layers of water, air, vapor, and thermal, is critical to high performance.
The airtight, watertight systems mean aggressive heating and cooling systems are not needed to maintain comfortable interior temperatures. In addition, most standard color options for IMP roof panels meet or exceed Solar Reflective Index (SRI) requirements to reduce the Heat Island Effect. The Heat Island Effect occurs in urbanized areas experiencing higher temperatures than outlying areas, due to structures such as buildings, roads, and other infrastructure absorbing and remitting the sun's heat more than natural landscapes, such as forests and water. IMPs are available in colors with paint formulations containing infrared reflective pigments, providing solar reflectance on low or steep slope applications.
Moreover, according to IMP Alliance, steel is the most recycled material in the world, and more than 35 percent of IMP steel is recycled. The high thermal efficiency of IMPs further reduces the reliance on fossil fuels and contributes toward Leadership in Energy and Environmental Design (LEED) credits. The panels can also be disassembled, moved, and reused, meaning less material waste in renovations or expansions. All these qualities lead to a lower embodied carbon footprint, and reduced transportation emissions, when compared to concrete and mineral wool.
Case study: Las Vegas Courthouse
In Las Vegas, Nevada, new buildings, which are constantly rising as part of the ever-changing skyline, typically consist of casinos, resorts, and hotels. When the City of Las Vegas envisioned a new courthouse, the shorter two-story structure was designed to make an impression and serve the community as an attractive, sustainable facility. Upon arrival, visitors are greeted by metal walls and glazing, including an entry canopy constructed with IMPs.
Architects designed a courthouse compatible with the surrounding neighborhood and municipal buildings, while providing an efficient structure where employees would enjoy working and serving the community.
"IMPs were chosen because the R-value they offered for building envelope efficiency and performance," says Lance Berrey, senior associate at PGAL, Las Vegas, who was also the contractor on the project. "Additionally, the panels helped create a smooth, contemporary facade that fit the aesthetic of a new modern and forward-thinking municipal court."
More than 1950 m2 (21,000 sf) of 50.8-mm (2-in.) IMPs comprise the entryway of the courthouse, delivering an R-value of 17.5 for the facility. The flat profile of the panels improves the performance of the building and enhances the interior for staff and visitors.
The IMPs make up the canopy and most of the exterior walls of the building and are integrated with a glass curtain wall at the entrance for a warm and inviting entryway.
Enduring performance
Choosing IMPs for a building's facade is a sound investment, as they deliver environmentally conscious materials, construction efficiencies, energy savings, longevity, enduring aesthetics, and more. In an evolving construction market which requires sustainable, high-performing, and eye-catching building materials, IMPs are a single-component solution for the built environment.
IMPs deliver a comfortable interior space for occupants without thermal energy loss and moisture penetration, exactly how a thermos keeps water cold without creating condensation on the outside. The increased thermal protection and reduced air leakage ensures a protected building envelope.

Author
Kevin Franz is the southeast business development manager at Metl-Span, a Nucor company. With more than 28 years of experience in architecture, and the past 21 of those as a registered architect in the state of North Carolina, Franz has worked on a diversified collection of projects including the urban high-rise, retail, healthcare, multi-family, and major industrial building types. He is also a member of AIA, and accredited in NCARB, BECxP, CxA+BE, USGBC and GBCI, CSI, and CDT. His experience as an architect and his technical knowledge of insulated metal panels (IMPs) allows him to provide an elevated level of design assistance, specification development, product research, and public presentation.
Endnotes:
[Image]: https://www.constructionspecifier.com/wp-content/uploads/2023/01/MS-Las-Vegas-Courthouse-2.gif
[Image]: https://www.constructionspecifier.com/wp-content/uploads/2023/01/MS-Las-Vegas-Courthouse-1.gif
[Image]: https://www.constructionspecifier.com/wp-content/uploads/2023/01/MS-Las-Vegas-Courthouse-4.gif
[Image]: https://www.constructionspecifier.com/wp-content/uploads/2023/01/MS-Las-Vegas-Courthouse-3.gif
Source URL: https://www.constructionspecifier.com/how-insulated-metal-panels-help-achieve-protection-aesthetics/
---