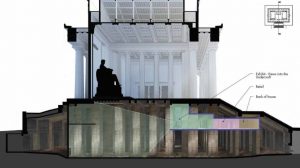 The National Park Service has awarded a contract worth nearly $69 million to add an immersive museum beneath the Lincoln Memorial in Washington, D.C., as well as upgrades to enhance visitor experience.
Construction on the project has begun and the completion is targeted for 2026, in time for the 250th anniversary of American independence.
The project will create 1,394 m2 (15,000 sf) of exhibit space that tells a complete story of the Lincoln Memorial and provides a look at the structure's foundations in a cavernous area known as the undercroft. New museum exhibits and multi-media presentations will highlight the construction history of the memorial and discuss how it has become the nation's foremost backdrop for civil rights demonstrations. The project also includes new restrooms, a larger bookstore, and a refurbished elevator to the chamber level of the memorial.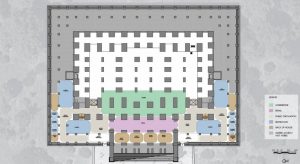 The undercroft of the Lincoln Memorial is a tall grid of concrete columns surrounded by large expanses of open space. Floor-to-ceiling glass walls will provide a view of the undercroft, and an immersive theater presentation will project images of historic events onto the foundations. Visitors will also learn about the significance of the site as an international icon dedicated to the achievements of Abraham Lincoln and individuals such as Marian Anderson and Dr. Martin Luther King, Jr., who have shaped the history of the memorial.
Access to the memorial, including the steps and chamber with the statue of Abraham Lincoln, will remain open to the public during the construction. The basement area exhibits, restrooms, and elevator will close this spring, however temporary restrooms, bookstore, and an accessible lift will be available for the duration of the work.
Under a contract held by the civil engineering company, Vanasse Hangen Brustlin, Quinn Evans, historic preservation and museum design firm, is working on the project. Other team members include Silman, Affiliated Engineers, M2HProtection, Gary Steffy Lighting Design, Acoustic Distinctions, and Terracon. In addition to the museum, visitor amenities will include expanded retail and restrooms. Major accessibility upgrades will provide an inclusive experience for all visitors.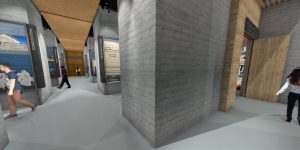 "The Lincoln Memorial represents our shared ideals of freedom and equality, as well as the power of diverse voices in public life," says Quinn Evans, president Alyson Steele, FAIA, LEED AP. "These values inspire Quinn Evans' inclusive approach to design and public placemaking. We are thrilled to bring integrated design thinking to make one of our nation's most beloved places more welcoming and engaging."