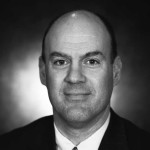 HORIZONS
Tom Hardiman, CAE
Despite the construction industry's immense size and importance to the U. S. economy, its productivity—the quality, pace, and cost of which buildings and infrastructure are constructed—is thought by some to be lagging. New industry research shows one potential solution to improve this is the expanded use of prefabrication and modularization.
These are construction processes that have been used for generations, dating as far back as Egypt's Great Pyramids. Over the past century, they have been viewed by many in the United States as cheap and low in quality. However, recent advances in technologies and innovation both at home and overseas are changing that image. Three primary reasons for modular being seen as a process to improve construction efficiency are:
increased use of building information modeling (BIM) technologies;
growing emphasis on green building; and
owner demand for better quality and more cost controls.
BIM
The National Institute of Standards and Technology (NIST) estimates $15.8 billion is lost annually by the U.S. construction industry because of:
a lack of standardization;
continued paper-based business practices;
inconsistent technology adoption among stakeholders; and
the highly fragmented nature of the industry.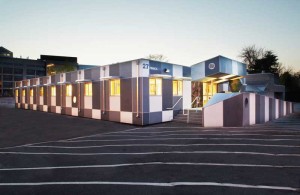 One solution NIST recommends is the widespread deployment and adoption of building information modeling.
BIM uses 3-D, real-time, dynamic building modeling software to customize different elements within structures before they are built—increasing the productivity of the design-build process. Modular construction works well with BIM because it uses an assembly-line approach in a controlled factory environment where the process already integrates systems, materials, and labor flow.
The efficiencies of integrating modular construction on a project are capitalized on when implemented from the beginning of the design-build process. Like BIM, the offsite construction process encourages all involved in the project to collaborate at the beginning stages—raising the likelihood of accurate, buildable specifications being implemented and avoiding rework toward the end of the build cycle.
In 2011, McGraw-Hill Construction (MHC) released a report, "Prefabrication and Modularization: Increasing Productivity in the Construction Industry," which said BIM's growing popularity will help the modular industry gain traction, and the combination of the two is ideal to improve productivity on a project:
BIM helps enable prefabrication of tightly integrated [mechanical/electrical/plumbing] MEP systems, allowing designers to maximize space for other uses in high-tech buildings like hospitals.

(

For more, see McGraw-Hill Construction's [MHC's] SmartMarket Report, "Prefabrication and Modularization: Increasing Productivity in the Construction Industry.")
In a recent study about BIM's use on green projects, MHC found:
using BIM on prefab on more than one-quarter of their projects is expected to increase by 20 percent;
77 percent of contractors surveyed believed BIM would allow them to use prefab on larger, more complex projects in the future; and
construction professionals who use BIM on green projects are more likely to do model-driven prefab than non-green BIM users. (See MHC's SmartMarket Report, "Green BIM: How Building Information Modeling is Contributing to Green Design and Construction.")
'Green' building
With all the standards, codes, and rating systems for green building being implemented and adopted—such as International Green Construction Code (IgCC) and Leadership in Energy and Environmental Design (LEED)—it has never been more important to build with environmental conservation in mind.
MHC's Green Outlook 2011 report shows the rising popularity of green building––the market has grown 50 percent in two years despite the recession. In 2010, pursuing LEED was mentioned in 71 percent of all projects valued at more than $50 million. The McGraw-Hill research also shows:
green building provides reduced operating costs—13.6 percent for new buildings and 8.5 percent for retrofits;
growth in building values—10.9 percent for new structures and 6.8 percent for retrofits; and
an increase in return on investment (ROI) 9.9 percent for new facilities and 19.2 percent for retrofits.
This creates another key opportunity for modular construction to be more widely adopted. Not only does the offsite, controlled environment make modular ideal for BIM, but it also makes it a more material- and resource-efficient process.
Modular construction can also contribute toward LEED requirements in any category that site-built construction can, and, in some areas, can even provide an advantage. For example, one of the great economies of modular construction is the ability to assemble repetitive units in controlled conditions. Another is to minimize waste associated with conventional construction due to weather intrusion and construction site theft. Whole modular units––largely finished before arriving at the construction site—can significantly limit construction waste generated at the site and contribute directly to waste management.