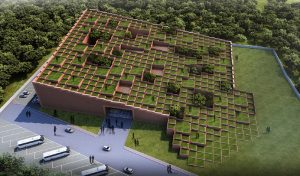 Prestige University in Indore, India, has transformed with a new, dynamic campus building. The 13 ha (32 acre) university campus facility includes main administration offices, along with an auditorium, seminar halls, library, and cafeteria.
The building, designed by Sanjay Puri Architects, gradually steps up from the approach direction belying its 20 m (66 ft) height. Stepped up from the northern direction, the entire terrace of the four-level building is accessible to the students and faculty of the university, transferring into an open auditorium amidst the landscape.
The multiple functional spaces on the roof are interspersed, with naturally lit landscaped courtyards allowing indirect light to infuse the internal volumes at each level.
The north lighting and courtyards are imbibed from traditional Indian architecture, creating an energy-efficient sustainable building with minimal dependence on artificial lighting and air conditioning. This is in response to the climate of the city that varies from 30 C (86 F) to 40 C (104 F) for eight months of the year.
Varied sectional volumes punctuated by landscape create different experiences in each part of the building. A continuous diagonal indoor street, in addition to the numerous open courts, facilitate natural ventilation within the internal spaces.