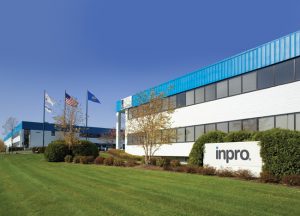 Inpro Corporation, a high-performance, design-forward architectural products provider, has achieved a Fitwel building certification—the first company in Wisconsin to receive the designation.
The Muskego-based company achieved a Fitwel 1-star rating with a score of 90 points across seven health-impact categories.
The company's strategies included:
increasing physical activity;
occupant safety;
reducing morbidity and absenteeism; and
supporting social equity, feelings of well-being, impact on community health, and providing healthy food options.
"Receiving a Fitwel certification further demonstrates Inpro's commitment to our employees and surrounding communities," said Mark Alan, chair of Inpro's Fitwel implementation team.  "It has been our mission to provide our employees with a healthy and safe work environment. Through the Fitwel process, we have taken additional steps toward employee well-being and will continue to positively engage with our employees."
Inpro was assisted through its application process by Phil Vetterkind, director of sustainability for Sustainable Business Solutions, a subsidiary of Hunzinger Construction, based in Brookfield Wisconsin. "Phil's input to our team was invaluable," Alan said.  "He provided clear advice that kept us in sync with the overall intent of the program while helping us hit the various Fitwel scorecard metrics."