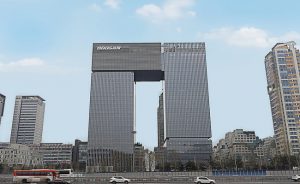 Kohn Pedersen Fox Associates (KPF) recently completed Bundang Doosan Tower, the new headquarters for the Doosan Corporation.
The 27-story tall tower's clear and rational form contains 83,000-m2 (893,405-sf) of office, auditorium, and amenity space—including a daycare center for employees, fitness center, the Doosan History Museum, and a café that opens to the landscaped roof terrace. The stacked, interconnected masses create a grand portal which becomes an identifiable visual marker from the adjacent Gyeongbu Expressway.
When approached from the city, the portal serves as the main entry point to the building, leading tenants and visitors along a stone paved plaza into two split lobbies. This progression takes place underneath the skybridge, which creates a framed exterior room. The sculpted, interlocking volumes connect to create a lobby that breaks down the scale of the exterior masses and contrasts the building's rigid form with soft materials and warm tones.
"The Bundang Doosan Tower represents the latest example of KPF's work in Korea," said KPF president and design principal James von Klemperer. "The design strives for rational simplicity, while being highly expressive and impactful. By using office building masses to define a large rectangular void, the composition affords striking views from the highway. The architecture conveys qualities of solidity and strength, and by organizing itself around a central space, it also communicates the value of community."
The massing of Bundang Doosan Tower offers space for occupiable roof gardens at the podium level, which provide landscaped areas for employees and visitors. The glass façades of the building allow daylight into the interior office spaces while limiting solar gain, particularly from the west, through a series of vertical and horizontal exterior shading devices. Designed as a series of regular, repeating fins, the devices mitigate the glare from nearby buildings without obscuring the views of the surrounding cityscape from the interior. As the modern gateway to Seoul, the design of the fins reinterprets traditional materiality. Crafted in granite and with a chiseled finish at their edges for an added level of texture, the fins serve as an aesthetic transition between the rocky landscape and the building's glass façade. The grain of shading elements follows the orientation of the building masses, enhancing the sense of directionality, and movement of the traffic on the expressway.
The Bundang Doosan Tower expands KPF's portfolio in Korea, which includes Seoul's highly
Lotte World Tower, a 555 m (1821 ft) mixed-use. The tower anchors the Lotte World Mall, comprised of retail and entertainment spaces, including the Lotte Concert Hall.