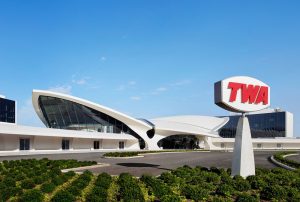 The Trans World Airlines (TWA) hotel is now open at New York City's John F. Kennedy International Airport.
Finnish-American architect Eero Saarinen's former TWA terminal was restored to serve as the heart of the 512-room hotel.
When the TWA terminal first opened in 1962, it epitomized the glamour and optimism of the jet age. The structure was designated a NYC landmark in 1994. After its 2001 closure, it was listed on the National and New York State Registers of Historic Places in 2005.
The restoration project was led by Beyer Blinder Belle Architects & Planners who constructed two new hotel wings behind the original building. It was designed by Lubrano Ciavarra Architects with interior design by Stonehill Taylor. INC Architecture & Design built the 4645-m2 (50,000-sf) events center.
"The TWA Flight Center is a figural sculpture and architectural icon," says Anne Marie Lubrano, principal of Lubrano Ciavarra Architects. "The new hotel buildings, designed by Lubrano Ciavarra Architects, veil the site with a continuous and neutral façade. Against this backdrop the legibility of Saarinen's TWA Flight Center is restored and its celebrity preserved."
The Leadership in Energy and Environmental Design (LEED)-certified building has its own power plant and is entirely off the grid.
The TWA hotel also features:
the Paris Café, a 200-seat restaurant;
the Sunken lounge, a cocktail bar;
a Lockheed Constellation 'Connie' L-1649A transformed into a cocktail lounge;
departures hall, a reading room, coffee bar, and shops;
a 1394-m2 (15,000-sf) ballroom;
a rooftop infinity pool and observation deck with views of the runway;
a 929-m2 (10,000-sf) fitness center; and
helicopter service to Manhattan.