Louisiana's NOLA oil terminal begins phase one
by brittney_cutler | December 13, 2021 2:06 pm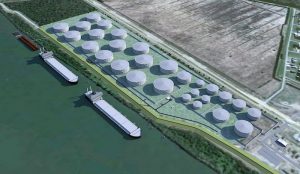 NOLA Oil Terminal LLC has begun construction on phase one of an oil and refined products terminal in Plaquemines Parish, Louisiana.
In addition to opening new channels to import and export crude oil and other clean petroleum products, NOLA Oil Terminal expects to create over 1000 construction jobs through completion of phases one and two. Additionally, the completed terminal is expected to sustain from 30 to 40 permanent jobs in Plaquemines Parish.
The facility occupies 64 ha (158 acres) located at Mile Marker 59 on the lower Mississippi River. The $300 million wharf and dock bond funding for this project was approved in summer 2021. NOLA Oil Terminal is designed to allow Mississippi River access to large vessels.
The initial water-side phase of the project includes two deep water berths for tankers and one barge dock. These two berths will be capable of mooring 170,000 t (190,400 ton) vessels. The barge dock will serve both inland and oceangoing tank barges. Land-side construction constitutes the second phase of the project.
Phase one, the wharves and docks, is projected to be completed by mid-2022. All required permits are in place and site preparation is completed. Phase two, the land-side section, is in the development phase.
Endnotes:
[Image]: https://www.constructionspecifier.com/wp-content/uploads/2021/12/BC_OilTerminal.jpg
Source URL: https://www.constructionspecifier.com/louisianas-nola-oil-terminal-begins-phase-one/
---