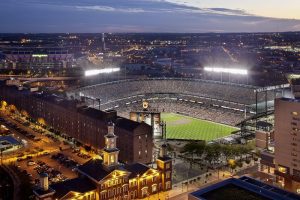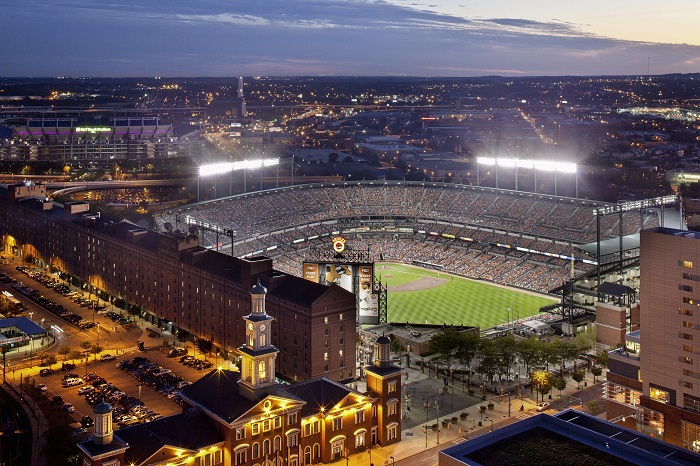 Oriole Park at Camden Yards in Baltimore, Maryland, has received Leadership in Energy and Environmental Design (LEED) Gold certification for an existing building under the U.S. Green Building Council (USGBC), making it the fourth Major League Baseball (MLB) facility to achieve this level of designation. Additionally, the park's accompanying B&O Warehouse, which houses team offices, received LEED Silver certification.
The accomplishments were announced by the Baltimore Orioles and Maryland Stadium Authority (MSA) in a pregame ceremony on Earth Day, which was attended by Maryland lieutenant governor Boyd Rutherford, as well as representatives from USGBC and Paladino and Company, an associated firm that helped with the research and certification process. Players and coaches wore green-accented hats and jerseys, which were later autographed and auctioned off to benefit the Chesapeake Bay Foundation.
"We congratulate MSA in obtaining LEED certifications for Oriole Park and the B&O Warehouse from the USGBC," said Gov. Rutherford. "The historic and iconic Oriole Park at Camden Yards, already amongst the best ballpark experiences, is now further enhanced with energy efficient equipment and environmentally conscious improvements."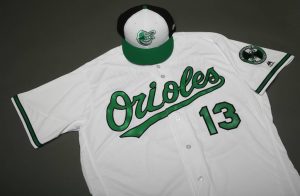 Oriole Park and B&O Warehouse have implemented a variety of day-to-day practices focused on waste reduction, including facility-wide recycling, paperless tickets, and reduced energy usage and electrical consumption. Last season, the park replaced its stadium lights with a light emitting diode (LED) system.
"Oriole Park at Camden Yards' LEED Gold certification demonstrates tremendous green building leadership," said Mahesh Ramanujam, USGBC CEO, in a tweet. "I commend the Orioles, the MSA, and the state of Maryland for their outstanding commitment in turning a 25-year-old facility into one of the most sustainable ballparks."
Other MLB ballparks that have achieved LEED Gold certification include AT&T Park in San Francisco, Marlins Park in Miami, and Target Field in Minneapolis.
To read more, click here.