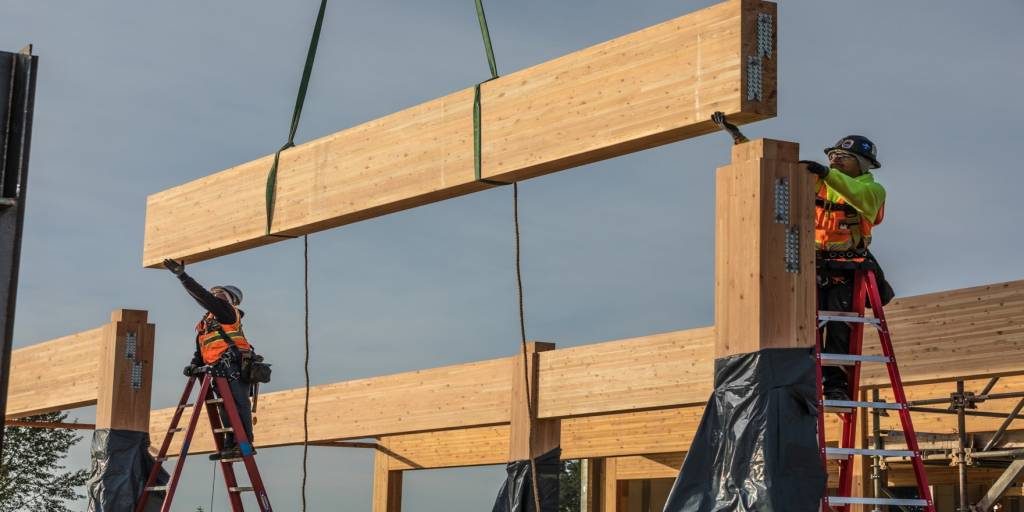 Mass timber is the most suitable material for First Tech Federal Credit Union's new campus in Hillsboro, Oregon, according to a new case study published by The APA – The Engineered Wood Association.
The design for the five-story 14,493-m2 (156,000-sf) building was the product of a collaboration between First Tech, Hacker Architects, Kramer Gehlen & Associates engineering, and general contractor Swinerton Builders.
During the design process, the team evaluated all available materials options.
"We allowed steel to compete with mass timber throughout the evaluation," said William Silva, Swinerton preconstruction manager. "From time to erect, fireproofing, foundation systems, and other criteria, wood came out on top every time."
Overall, the use of cross-laminated timber and glued-laminated beams instead of steel provided a 4 percent cost savings and four fewer months of construction.
Silva estimates that the First Tech building sequestered 4,192 t (4,621 tons) of carbon and avoided 1,622 t (1,788 tons) of greenhouse gases that would have been emitted through steel manufacturing and construction.
The building demonstrated how methods like preplanning and offsite hole-drilling resulted in faster and safer onsite construction with less disruption to the surrounding neighborhood. All the components were delivered to site as ready-to-assemble prefabricated parts.
The APA case study: First Tech Federal Credit Union: The Building That Wanted to Be Mass Timber, form U-115, is available for free download at APA Resource Library.