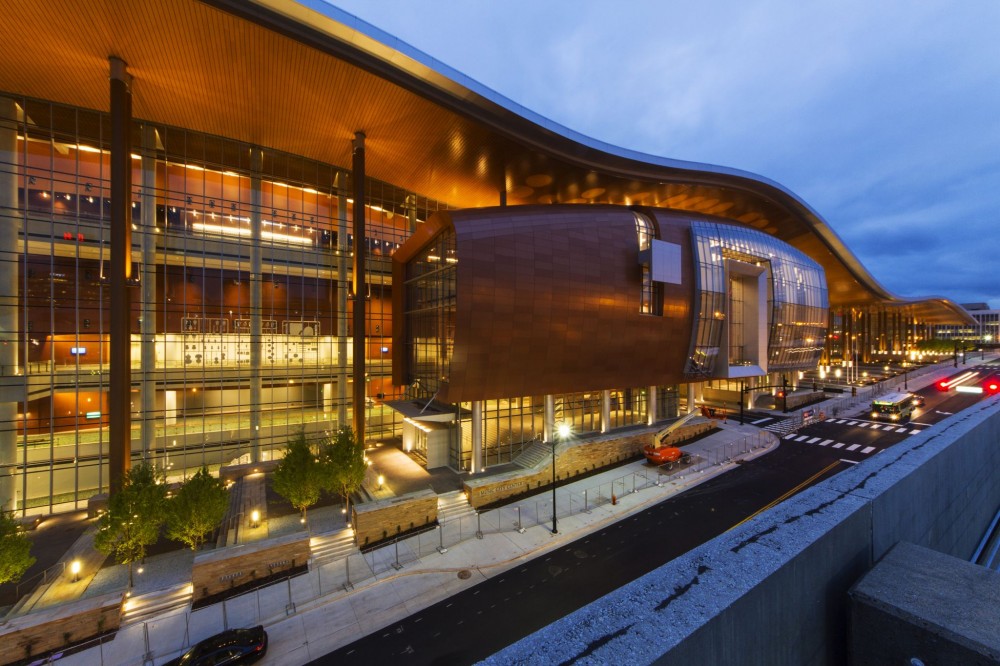 by Scott Staedter
Every great work of architecture enhances its own aesthetic appeal by blending with and becoming a representation of its surroundings—architecturally, topographically, and culturally. Music City Center, site of this year's Construct show, is clearly in harmony with the Nashville scene.
Located in the South of Broadway (SOBRO) neighborhood, just a few blocks from the historic Ryman Auditorium and near other landmarks like the Grand Ole Opry, the $585-million convention center opened in May 2013. It boasts bold design features, including an undulating roof to reflect the city's profile of rolling hills, and the interior complex curves of wood and other material that situate occupants inside a grand ballroom shaped like an acoustic guitar. Other areas of the facility immerse visitors inside other musical instruments, such as mandolins, fiddles, and a piano.
The building's interior evokes continuous motion—the planes and curves always gesturing visitors onward to something interesting just around the bend. Natural light permeates the main concourse and local/regional artworks abound in spaces big and small.
The challenge facing the design team was how to maintain the utmost acoustical separation within a flexible-spaced facility with such an undulating design and with multiple floors of divisible ballrooms. For convention centers, the flexibility to accommodate various space requirements for differing simultaneous events is critical. Requirements can change week to week and day to day.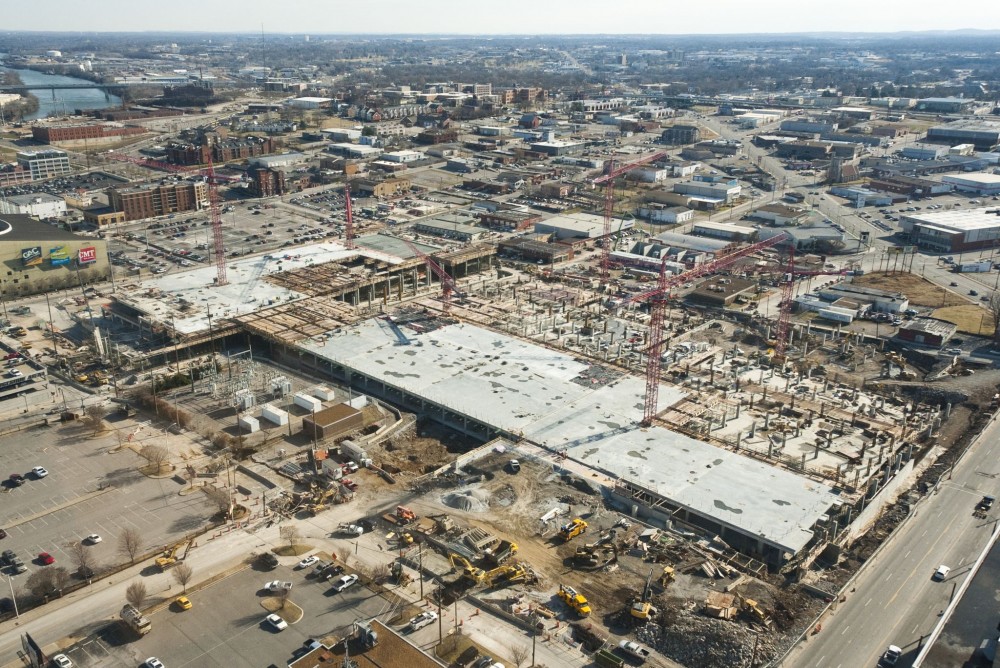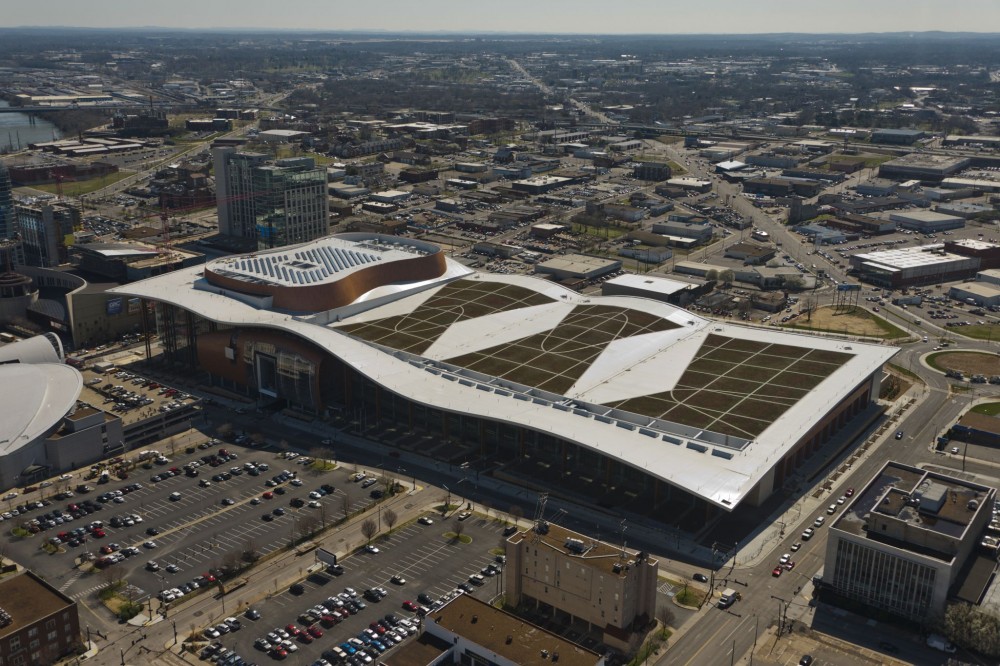 Acoustics and flexibility
The flexible spaces that must be managed within the four-story, 11,1484-m2 (1.2 million-sf) Music City Center include:
32,808-m2 (353,143-sf) exhibit hall;
5342-m2 (57,500-sf) grand ballroom, which includes a complete theatrical stage at one end;
1672-m2 (18,000-sf) junior ballroom; and
8361 m2 (90,000 sf) of meeting space (with up to 60 separate rooms).
"A big part of our ability to be flexible lies in the operable partitions installed in many parts of the building," explains the facility's president/CEO, Charles Starks. "We can configure our spaces in numerous different layouts and enjoy the engaging design because of the quality of the operable partitions and the fact the manufacturer conformed them to the challenging curved designs of various building areas. Their adaptability was crucial."
Starks said the design team and the city spent several years listening to customers and potential customers describe what they valued the most in a convention center. He says the number one preference was flexibility. Customers want to work in spaces—exhibit halls, meeting rooms, etc.—sized appropriately for their needs. Starks says meeting this criterion is what pleased the executives and managers associated with the Music City Center: they were able to find an operable partition solution that easily divides and sub-divides without having to sacrifice the grand design of curves and fluidity inside the building.
The manufacturer engineered many special elements to ensure the panels were easy to set up and maintained acoustic separation within all of the flexible meeting spaces.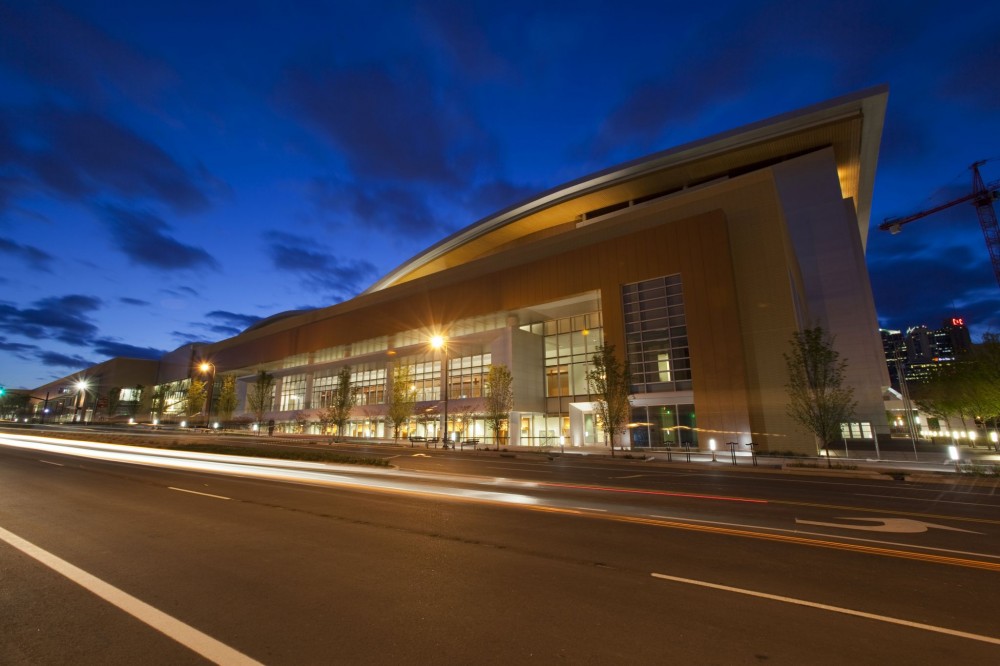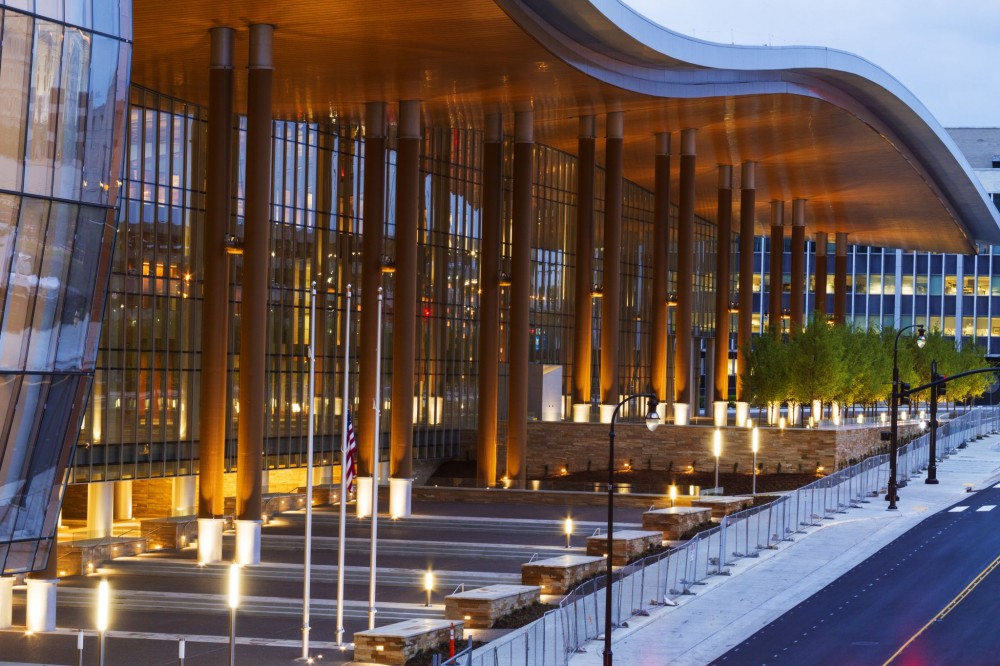 Customization
When it comes to operable acoustic partitions, design/construction professionals should not be shy about seeking customized panels. This is supposed to be standard practice in the industry and helps set projects apart. Specifiers can benefit from learning about these modifications designed for Music City Center, but applicable to other projects.
Custom-designed bottom seals
When designing buildings with multiple floors of operable partitions, designers should conduct a simple deflection study to determine whether the cumulative building deflection can be absorbed by the operable partitions. If not, the panels will not seal properly and will leak sound. Mechanical bottom seals with travel up to 320 mm (13 in.) can be supplied for severe building movements. In the case of the Music City Center, the manufacturer installed a customized 152-mm (6-in.) bottom seal to maintain the acoustical connection to accommodate the cumulative deflection.
Spring-loaded seals
In addition to the seal's travel distance, they must also be able to automatically adjust with building movements. Seals that are manually cranked down to the floor when set up will not compensate for the building's movement, and will leak sound. The seals must maintain downward or upward pressure at all times, allowing for movements caused by changing floor loads, snow loads, and expansion with heat and cold.
Special vertical seals
Panel-to-panel connections are vital to maintaining acoustical performance. In the case of Music City Center, the main ballroom partitions are installed on radius-curved tracking systems. The radius of the curve is often so severe traditional seals installed on the vertical astragals would not maintain an acoustic seal. Specifiers should request documentation that the panel-to-panel connections are maintained when using radius or segmented tracks.
The grand ballroom panels at Music City Center have specially designed lead panel polypropylene bulb seals to ensure a tight connection when sealing the panels to the face of other operable panels. These custom lead seals compensate for varying positions and angles, since the seal connections are angled due to the radius tracking.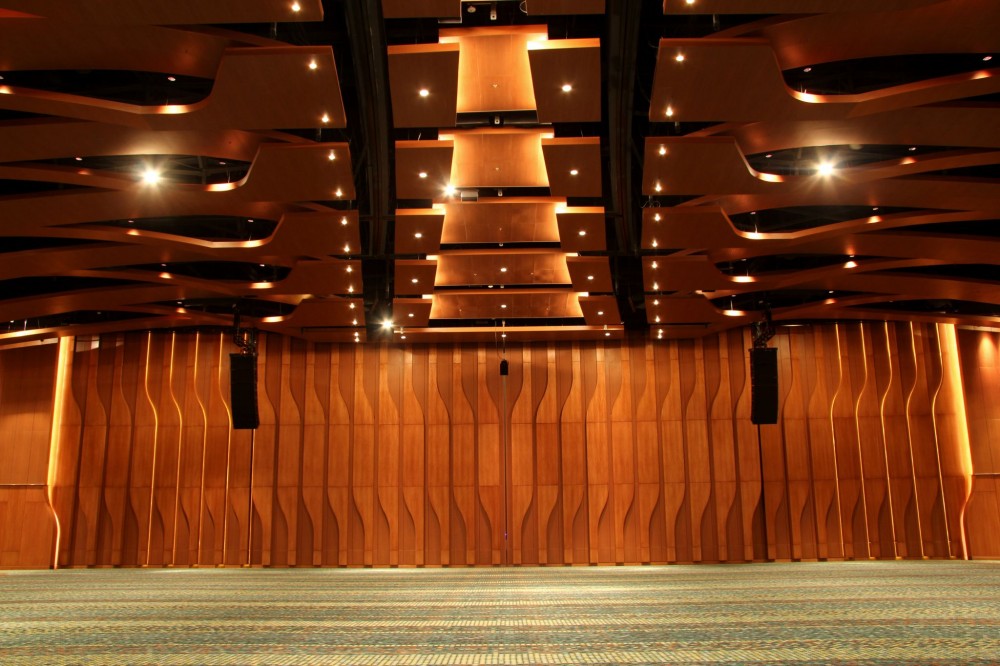 Considerations for large partitions
The numbers for the operable partitions used in the Nashville project are impressive. More than 1.6 km (1 mi) of operable partition was installed, along with 2 km (1.25 mi) of track. The 1242 panels employed weigh a total of 680,389 kg (1.5 million lb). The largest of these are in the grand ballroom, standing at 12.6 m (41 ½ ft) tall and 1.5 m (5 ft) wide, weighing 1134 kg (2500 lb) each. The panels themselves represent 13,935.5 m2 (150,000 sf) of surface space; specially designed trucks with self-contained unloading cranes transported 45 loads of panels from a facility in Janesville, Wisconsin.
The installation of such large, heavy partitions was a show-stopper in and of itself. Ben Jolley, project manager for the factory-trained installer, says they had to specially fit a forklift with an engineered, auxiliary panel-lifter to secure each panel as it was raised and turned into place.
"The panels were some of the largest single piece panels ever installed in the United States. Believe it or not, once we got into the rhythm of it, we were able to install a new panel every six minutes," says Jolley.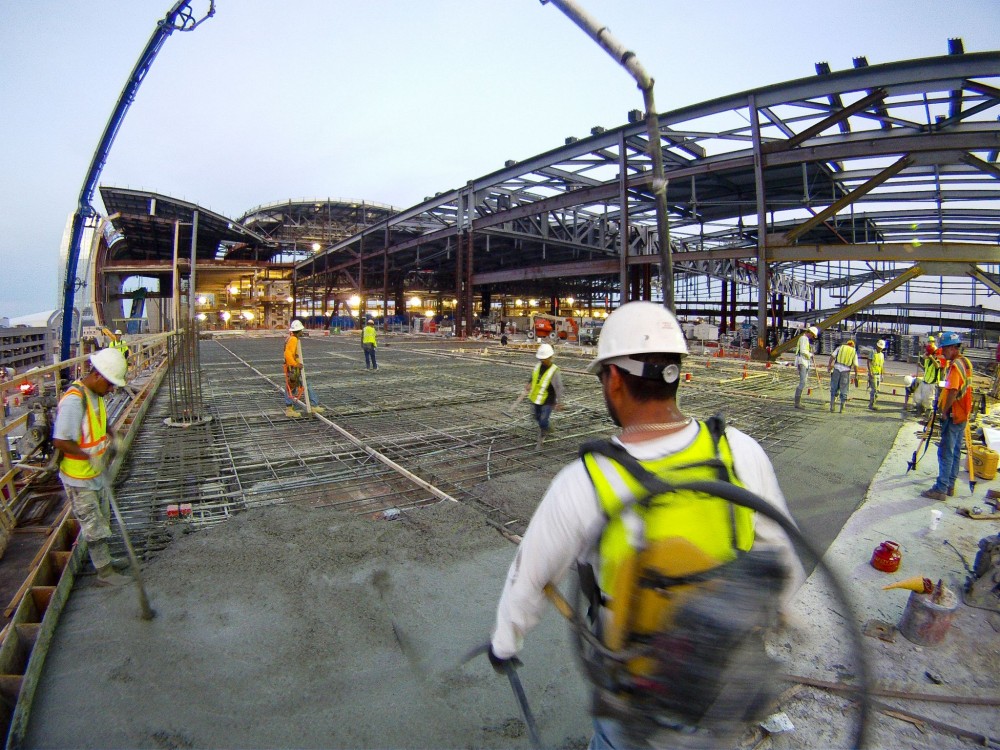 The feat is remarkable when one considers these partitions were unusually installed against a curved line, not the typical 'squaring up' against a straight line.
The Music City Center's grand ballroom offered more acoustical challenges to the architectural and construction teams because of the theatre stage designed at one end of the 5342-m2 (57,500-sf) room. At issue was how to separate the main stage from the meeting spaces while simultaneously setting up for concerts and other events in conjunction with meetings being held within the adjacent ballroom. The answer was to design a customized floor plan that included an electric 'stage curtain door' that was installed onto the operable partition manufacturer's electric tracking system. Electric tracks, made from the same structural steel tube manual tracking systems, were assembled to automatically open and close the huge customized doors installed in front of the main stage.
In addition, the grand ballroom's floor plan design allowed setup of operable partitions in a secondary location using electric switches and programmable carriers. In this case, the alternative location allows Music City Center to install a highly acoustically rated complete wall in front of the stage area, creating a secondary buffer between the stage and meeting rooms. Having both the customized electric stage door and an acoustical operable partition dramatically reduces sounds created by stage setup and lighting crews, preventing much of the noise from entering the flexible meeting spaces.
Sound control
Sound absorption and other acoustical considerations are a big selling point for operable partitions, particularly in a music capital like Nashville. The manufacturer of the Music City Center's operable partitions has only one of nine company-owned acoustical laboratories in the United States—a testing facility created in 1969 that meets stringent accreditation standards from the National Voluntary Laboratory Accreditation Program (NVLAP).1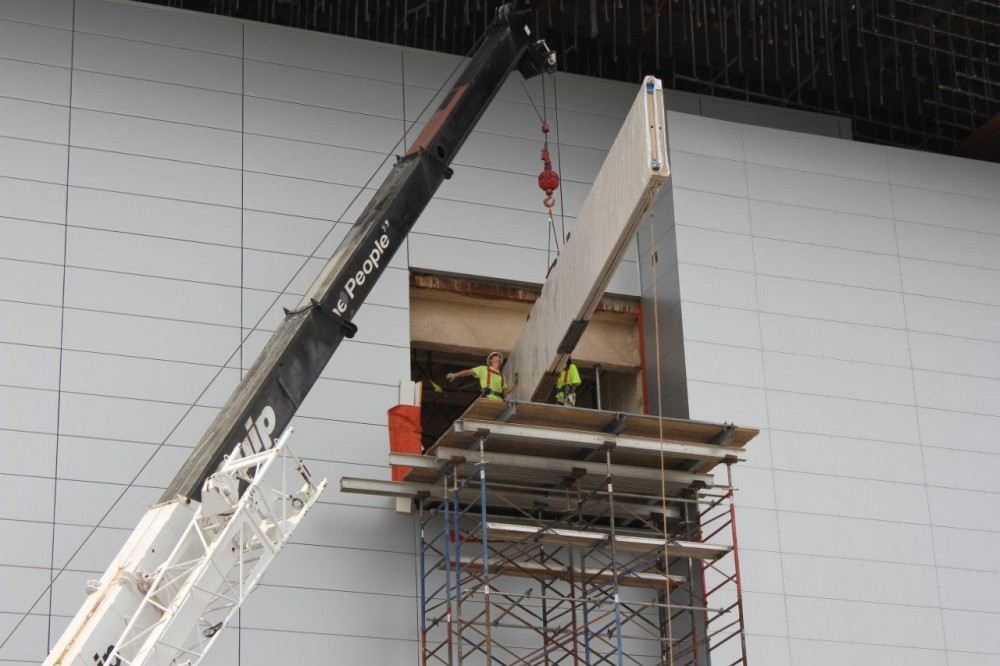 Administered by the National Institute of Standards and Technology (NIST), these voluntary standards are driven by test procedures developed by the ASTM Committee E33 on Building and Environmental Acoustics, which meets annually to update test protocol and improve product and building performance.
For any architect or specifier, determining the amount of sound control needed is one of the most important considerations when evaluating operable and other styles of movable partitions for any facility. First, one must determine what types of activities will be held in the rooms. A Sunday school class requires lower sound control requirements than a banquet hall. It is important to note the folding walls will not perform to expectations if the room in which they are located does not have the surrounding building elements equivalent to that of the partitions. Specifiers should always include ASTM E557-12, Standard Guide for Architectural Design and Installation Practices for Sound Isolation between Spaces Separated by Operable Partitions, within the performance section to ensure the surrounding conditions meet the in-field performance requirements.
Folding panel partitions are classified by their effectiveness in reducing transmitted sound by a Sound Transmission Class (STC) rating, based on test performance in an accredited acoustical laboratory under ASTM E90-09, Standard Test Method for Laboratory Measurement of Airborne Sound Transmission Loss of Building Partitions and Elements. The Nashville Music City Center was specified to achieve a laboratory performance of no less than 52 STC.
The project was also specified to meet a field-performance Noise Isolation Class (NIC) of 42—this metric comes from ASTM E336, Standard Test Method for Measurement of Airborne Sound Attenuation between Rooms in Buildings. Whereas STC is a number describing the laboratory performance of a single building element in stopping the transmission of sound, NIC deals with the performance of all building elements in isolating one room from another.
Operable partitions achieve varying levels of acoustical performance based on three main factors that specifiers can call out within the materials portion of Section 2.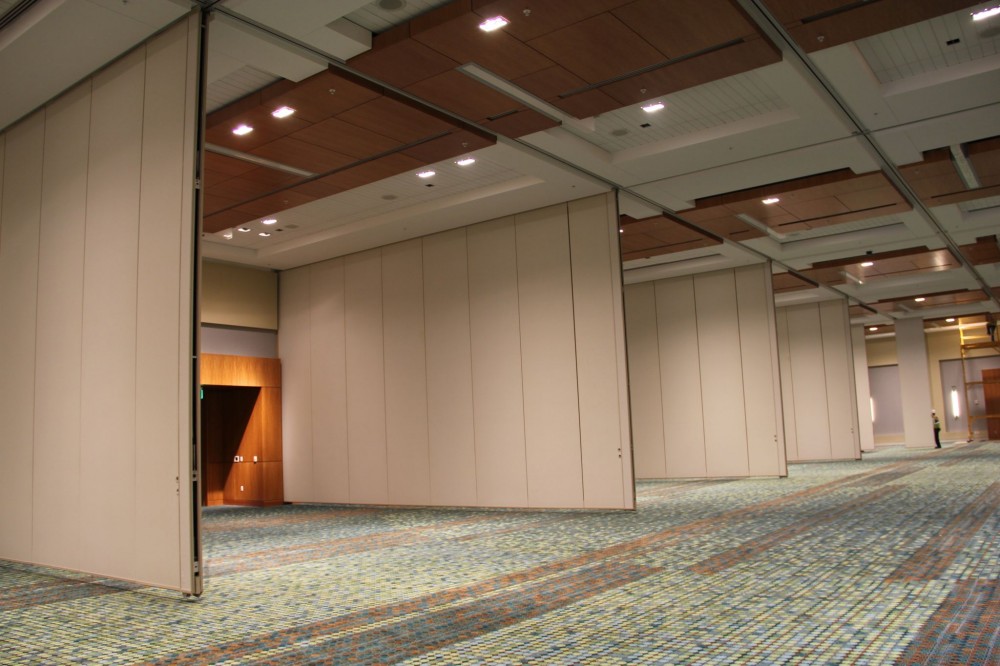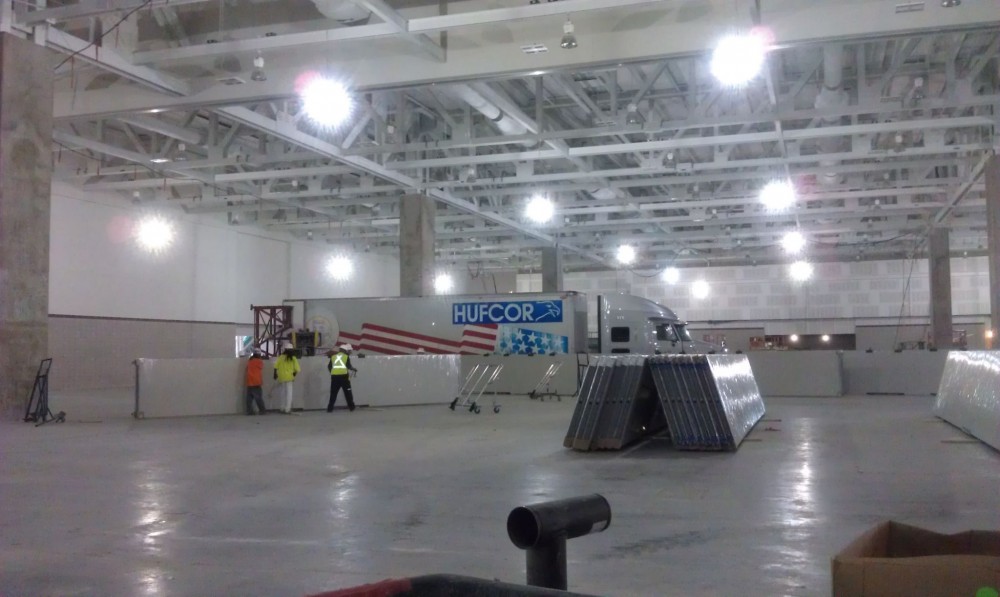 Density
Typically shown as 'weight per area,' the density of the partition is based on the combination of the face materials (typically steel) and the acoustical substrates within the cavity of the partition.
Panel thickness
Partition panel thickness ranges from 76 to 127 mm (3 to 5 in.), depending on the manufacturer. The rule of thumb is the thicker the panel, the better acoustical separation it can achieve. The combination of panel thickness and density helps the panels perform well in low- and mid-range octave frequencies.
Seal systems
The surrounding seal systems are critical to stop high-frequency sound from leaking around the panel edges. To reduce flanking paths around the partition, pressure is the most important element to achieve a tight compression seal. Top and bottom seals with upward and downward forces are critical to acoustical performance. Further, partitions with final closure methods that provide vertical pressure 'squeezing' the vertical seals together should be specified.
The overall project
The Nashville Music City Center resulted from the collaboration of three architectural firms: Atlanta-based tvsdesign, Nashville-based Tuck Hinton Architects, and the Nashville office of Moody Nolan Architects. The project is seeking Silver certification under the U.S. Green Building Council's (USGBC's) Leadership in Energy and Environmental Design (LEED) program. Among the many sustainable features is the vegetated roof that measures 16,258 m2 (175,000 sf)—along with the ground-level landscaping, it will be irrigated by the 1.36 million-L (360,000-gal) water-retention tank capturing rain runoff.
The achievement of the LEED Silver is also assisted with the high concentration of operable partitions within facility. They contribute to:
Materials and Resources (MR) Credit 4, Recycled Content, thanks to being 60 percent pre-consumer and seven percent post-consumer by weight; and
Indoor Environmental Quality (EQ) Credit 4.1, Low-emitting Adhesives.
The size of the Music City Center is every bit impressive as its fluid form of curves and waves. For instance, one exterior wall features 46-m (150-ft) tall windows that rise from the floor to the ceiling. Such heights give the impression the building has two or three times the number of floors it actually has.
The building extends the width of six city blocks. Construction required 7300 workers and 400 contractors. Approximately 152,910 m3 (200,000 cy) of rock and soil were excavated—a process that took 24 weeks alone. About 84,101 m3 (110,000 cy) of structural concrete, with 13,500 tons of rebar, was placed.
The hallmarks of great architecture are form and function. Nashville's newest crown jewel will serve countless different functions, thanks in part to its massive size and to the flexibility of space management afforded by its acoustical partitions.
Notes
1 For more information, visit ts.nist.gov/standards/scopes/programs.htm.
Scott Staedter is the senior manager of global brand development for Hufcor Inc., and has more than 20 years of experience in the operable partition industry. His roles at the company have included marketing and architectural consulting, product development, national account development, major project sales, and service/retrofit development. Staedter holds a bachelor's degree in business from University of Wisconsin-Madison and is a member of the Council of Educational Facility Planners International (CEFPI). He can be reached at sstaedter@hufcor.com.
To read the sidebar, click here.