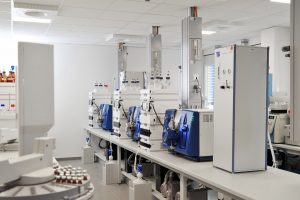 Global public health organization NSF International has been awarded Leadership in Energy and Environmental Design (LEED) Gold certification for its new lab and office space at its headquarters in Ann Arbor, Michigan.
"Achieving LEED certification is one of the ways NSF International demonstrates its commitment to corporate sustainability and helping other organizations do the same," said Seth Epstein, senior manager for corporate sustainability. "Pursuit of LEED certification is in perfect alignment with NSF's own mission to protect and improve human health and the environment."
The 2787-m2 (30,000-sf) state-of-the-art lab and office expansion was completed in 2017.
Some of the features that helped earn the certification include:
low-flow water fixtures decreased water use by 42 percent;
bicycle storage and changing rooms encourage alternative transportation;
incorporation of Energy Star-rated equipment, making up 91 percent of the building's energy use for electronics and appliances;
recycled materials made up 27 percent of all materials purchased for construction;
around 60 percent of all building materials were sourced within an 805-km (500-mi) radius;
increased ventilation, improving fresh air intake to the building by 30 percent; and
light-emitting diode (LED) lighting and occupancy sensors has reduced connected lighting power by 32 percent.