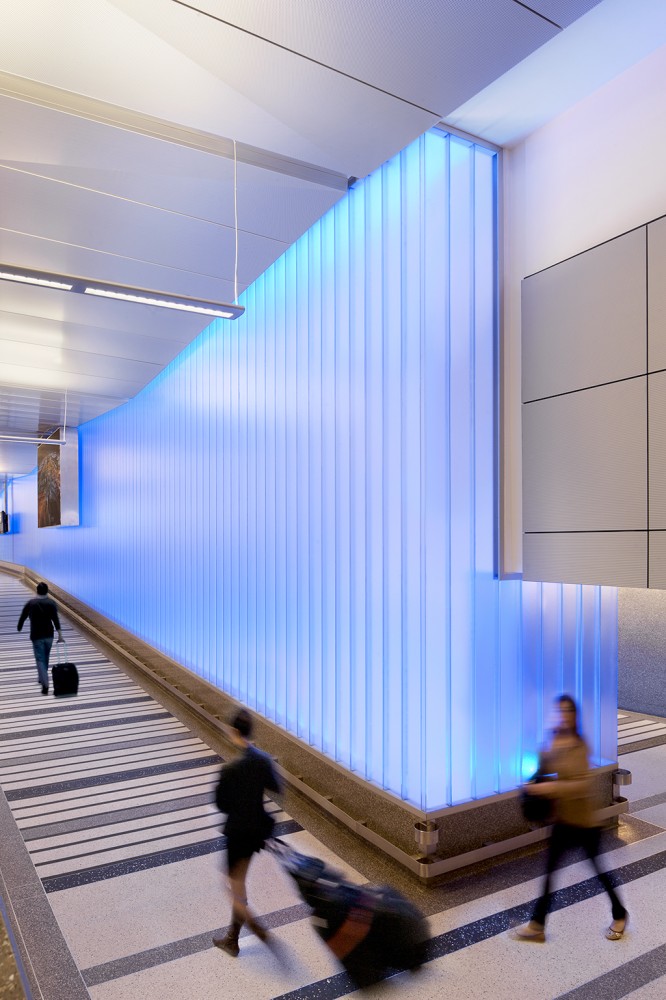 by Jeff Razwick
Building and design teams can use channel glass systems to create visual statements. Some popular methods for heightening interest include altering the surface treatment, varying the channels' orientation, and adding backlights.
Surface treatments
Architects can select from a range of standard polycarbonate laminate options and more than 1500 tempered ceramic frit colors within the German Reichs-Ausschuß für Lieferbedingungen und Gütesicherung (RAL) standardized color system. The RAL system invented a collection of 40 colors under the name RAL 840. Prior to this, manufacturers and customers had to exchange samples to describe a tint, whereas RAL allowed the reliance to be on numbers. The colors are standard and used in architecture, design, and construction to create eye-catching façades.
Additional options include color-coating metallics, or applying lettering or other shapes with decals or custom painting.
Cast-glass channels can also incorporate embedded wire patterns. Longitudinal wires set in the middle of glass strips can help design professionals achieve custom, decorative walls and partitions. As not all textures and wire in-lays are available in every cast-glass channel size, it is important to verify desired specifications with the supplier.

Orientation
Channel glass is most popular in vertical installations. However, varying or intermixing the narrow segments can create an eye-catching effect and is particularly beneficial for adding dimension and depth.
One emerging trend is to install the cast-glass channels in curved or serpentine wall configurations. The slender frames and narrow-glazed segments allow for tight radii as low as 1.9 m (6.2 ft). Such compact curves enable architects to create cylindrical stairway enclosures, curving entryways, and façades that ripple like ribbon.
Architects seeking subtle design lines can opt to install glass channels without mullions in vertical applications, as well as form glass corners of various angles to enhance the building's shape. Custom framing applications are also available to meet specific design needs, depending on the supplier.
Backlighting
Lights can be set between the primary wall and channel glass to create a backlit screen displaying one or more colors. In many instances, interior applications such as partitions and object architecture are lit both day and night. Conversely, exterior applications are often backlit only at night. This allows them to take full advantage of sunlight by day, yet serve as an attractive beacon at night.
To read the full article, click here.
To read the other sidebar, click here.