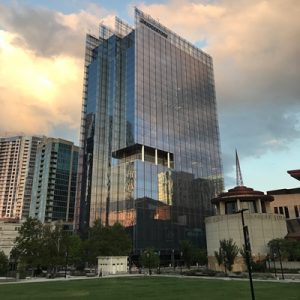 The 47,752-m2 (514,000-sf), 30-story Bridgestone Tower in Nashville, Tennessee, has been awarded Leadership in Environment and Energy Design (LEED) Gold certification by the U.S. Green Building Council (USGBC). Owned by Highwoods Properties, the tower is the headquarters of Bridgestone Americas, a tire and rubber company.
Construction on the tower was completed in December 2017. The building achieved LEED Gold certification for implementing environmentally conscious design solutions, including:
reducing potable water use by employing high-efficiency flush and low plumbing features;
implementing light-emitting diode (LED) fixtures to promote energy savings;
choosing materials manufactured within 805 km (500 mi) of the project site;
using low-emitting materials for adhesives, sealants, paints, coatings, flooring, and composite wood products and furniture;
employing low-mercury lamps; and
using recycled content in materials.
A white reflective roofing system was employed to reduce the roof's surface temperature, thereby creating greater energy efficiency and exceeding many industry ratings requirements.
"The work of innovative building projects like Bridgestone Tower is a fundamental driving force in transforming the way buildings are built, designed, and operated," said Mahesh Ramanujam, CEO of USGBC. "Achieving LEED Gold certification goes further than implementing sustainable practices. Bridgestone is showing its commitment to the environment and the city in which it resides and has the power to influence others to do the same."
The LEED certification process recognizes maintenance practices for buildings designed, constructed, and operated to improve environmental and human health performance.