New closure solutions influencing the commercial design industry
September 24, 2020
by Siva Davuluri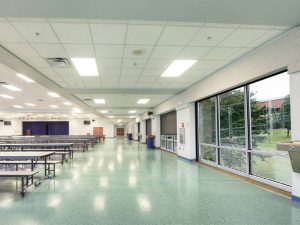 Architects have long turned to overhead coiling door manufacturers for closure solutions that provide safety, security, and peace of mind. A number of advancements in recent years, including specialty doors, grilles, and fire products with low profiles and reduced head room, have turned this product category into a collection of solutions blending form and function in exciting new ways.
Choosing the right door depends on the needs and requirements of the space. Factors to consider include performance, installation, and maintenance.
Performance needs
The first question design professionals should ask when specifying a rolling door or grille is, "How often will this product need to open and close?"
Although not every product is made for near constant use, there are high-performance rolling doors on the market that are specifically constructed and tested for use in high-cycle applications. Some even offer lifespans of up to one million cycles, making them well-suited for high-volume facilities.
While these products are out there, it is still important to evaluate the facility and determine the number of times the door or grille opens per day, week, month, and year. More is not always better if the extra cycles are unnecessary.
Mounting and installation options
While rolling doors and grilles feature similar mounting and installation systems, there are still important considerations for each. Rolling doors can be mounted on the face of the wall or between jambs. When opened, the door coils up onto the shaft, which requires headroom right above the opening. Meanwhile, grilles roll up into a head unit without compromising access to the backroom. This is perfect for an application with limited headroom. However, these head units can limit the amount of vertical clearance available for passenger vehicles entering and exiting the parking structure. Hence, manufacturers have developed high-performance compact grilles that not only coil in nearly 50 percent less room than other security grilles, but also provide busy parking facilities with high-speed performance. Compact grilles make compliance with the Americans with Disabilities Act (ADA) in the tightest of spaces possible.
Maintenance requirements
While installation is an isolated event, maintenance is an ongoing requirement for rolling doors. Compared to sectional doors, rolling doors are easier to install due to fewer parts, but they are also heavier. Specialized lifting equipment may be needed to complete the install. Rolling grilles also require regular maintenance and specialized lifting equipment, depending on the gauge and weight of the product.
Regardless of whether a door or grille is specified, it is important to think about access control during planned maintenance or in the event of emergencies—will the building's safety be compromised if the door is stuck in an open position? What about manual override options? Looking ahead and considering maintenance needs will not only help project teams determine the best door or grille for the facility, but also provide long-term value for the client.
No matter the application, architects have varied choices when it comes to designing visually pleasing closure solutions that provide optimal safety and security. Additionally, these options are applicable across several verticals, such as healthcare, education, office, transportation, government, and civic spaces.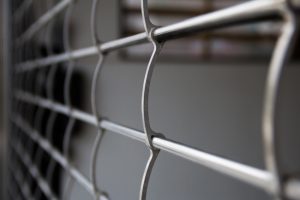 Architectural metal fabrics
Rolling security grilles prevent unauthorized access and discourage entry at building exterior openings, storefronts, or areas within facilities, such as pharmacies, dispensaries, and food counters. Used behind plate glass storefronts, they are also a deterrent to smash-and-grab crime—one of the leading causes of retail losses in the United States.
In addition to security benefits, they also provide visibility and airflow that are vital in parking lots and trash rooms. The openings in grilles allow car fumes and other undesirable odors to escape, thereby improving the health and well-being of occupants.
High-speed options on the market today operate three times faster than standard overhead coiling grilles. With opening speeds of up to 610 mm (24 in.) per second and closing at 4 m (12 ft) per second, high-speed options maximize productivity, smooth traffic flow, and reduce downtime in high-traffic applications.
Further, grilles can be used to enhance the look of a building. A variety of finish options including aluminum and stainless steel, and increasingly diverse curtain configurations such as decorative weaves and etched logos allow design professionals to create unique visual aesthetics while providing security for store owners and building occupants.
In a bid to raise the bar higher, manufacturers have turned to architectural metal fabric to create luxurious rolling grilles for high-end storefronts and hospitality applications. These new products combine the style and design of architectural metal fabric previously used for building façades with the functionality and safety of traditional rolling grilles. They can even be etched to show patterns, graphics, and logos. This adds a customized look without compromising strength or safety.
Additionally, metal mesh grilles can also be installed as a room or space divider, thus creating a rolling piece of art out of thin air.
Compact metal counter doors save money
While rolling metal security grilles are suitable for a variety of large-scale hospitality applications, design professionals often need specific solutions for smaller-scale environments in healthcare and institutional facilities.
When trying to reduce costs, hospitals, urgent care centers, and long-term care facilities look to create efficiencies via shared spaces. An option is to create multipurpose exam rooms that can be used for both medical and behavioral health patients. However, this comes with a variety of challenges as behavioral health rooms must meet stringent codes and standards surrounding impact-, tamper-, and ligature-resistant finishes.
One solution is to specify an exam room counter door covering sinks, cabinets, access to oxygen tanks, and other potentially dangerous equipment. By incorporating a fascia side motor above the ceiling and the coil above the medical cabinet in an exam room, these doors create a completely flat surface when fully extended.
Since all fasteners for the door are concealed and the bottom bar is flat, it eliminates potential ligature points. With the push of a button, practitioners and staff can utilize the same exam room for both medical and behavioral health patients back-to-back.
On a children's hospital, floors with in-patient rooms included laundry areas, snack stands, and other convenience features for visiting family members. Since parents rarely leave the hospital, these services are extremely beneficial. However, they also cause a lot of noise at night, disrupting patients' sleep in the process.
The only way to keep people from occupying these common areas at night was to lock them down. Since the openings were quite small, the architect ended up specifying exam room counter shutters instead of a traditional swing door. These counter shutters encompass the entire opening and do not have any acoustic properties.
The dual threat of fire and smoke
For decades, design professionals and building owners have relied on rolling steel, fire-rated doors to protect property, and more importantly, the lives of building occupants. These passive barriers work in tandem with active sprinkler systems to compartmentalize the spread of fire and smoke. Even though they are necessary components of commercial building design, they can sometimes be difficult to fit into a project's aesthetic intent. Their performance, however, has been upgraded to improve cost and the owner's overall satisfaction.
Another factor specifiers must consider is the size. Most standard Underwriters Laboratories (UL)-labeled fire doors are available up to 4 m (13.5 ft) wide x 4 m high. Oversized UL-labeled fire doors are available up to 18 m (60 ft) wide x 12 m (40 ft) high or 112 m2 (1200 sf).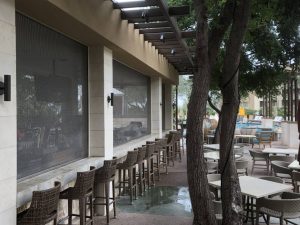 While rolling steel, fire-protective doors and similar products are designed for fire-rated wall openings, they also provide security and access control for use in openings that are not part of a building's required means of egress. Recognizing the dual roles these products play in ensuring life safety and securing access, manufacturers have developed new design options that enhance owner satisfaction and utility. Advanced fire door systems are designed to automatically activate the door in the event of smoke or fire. Once the door is in the closed position, fire and smoke are prevented from migrating throughout the building, allowing occupants to safely evacuate. Additionally, the cost of ownership is low because some advanced systems reset or auto open after a fire or power outage, thereby saving time and money.
Annual inspection and drop testing can now be performed in a matter of minutes with systems that automatically reset and re-open (owners/facility managers can do their own testing, and this applies to schools as well). In fact, virtually all inspection and testing are possible from the floor with no tools or special equipment. This again drives down the annual cost of ownership.
The National Fire Protection Association (NFPA) requires operational and periodic testing.
Operational testing
Following installation, operational and drop testing is required in accordance with Section 5.2.3 of NFPA 80, Standard for Fire Doors and Other Opening Protectives, with all inspections and testing signed by a witness and kept for inspection by the authority having jurisdiction (AHJ) for the life of the assembly.
Periodic testing
Facility managers are also required to conduct inspection and drop testing annually. This testing includes all of the items noted in Section 5.2.4 of NFPA 80, such as visual inspection, operational evaluation, drop test, and system reset (also emergency power sources).
Meanwhile, fire-rated rolling counter shutters, also known as fire-rated counter doors, can secure smaller openings using tiny and more aesthetically pleasing guides, slats, brackets, and hoods than traditional rolling fire doors. Fire-rated counter shutters protect communication openings through interior corridor walls and create barriers with life safety as a priority. Fire shutters can fully close to the floor when a more compact door footprint is desired.
Regardless of the door size, manufacturers offer hundreds of color and finish options. This includes powder coating with a polyester finish for increased durability, aesthetics, superior finish life, and cost-effectiveness. It is important to note custom color matching will cost extra.
Further, insulated fire doors provide these same aesthetic options with enhanced acoustic control and temperature resistance. By using mineral wool and other material—with an R-value of 5.3 and U-value of 0.189 based on the American Society of Heating, Refrigerating and Air-Conditioning Engineers (ASHRAE) Handbook of Fundamentals—to create an insulated barrier, the door is suitable for an exterior-facing application, but, in which there is a planned expansion requiring a fire-rated opening in the future.
It is important to note the insulated fire door curtains are 25 percent thicker than standard rolling fire doors due to the added insulation within individual slats. This requires a larger coiling mechanism and hood clearance, as the fully coiled insulated rolling fire door will also be larger than a standard rolling fire door.
Steel fire doors give the structural separation required for openings needing more than 20 minutes of fire protection. Woven fabric or fiberglass curtains should be only viewed as supplemental fire protection, as they do not offer the structural separation provided by rolling steel fire doors. However, it is worth mentioning some woven fabric and fiberglass curtains carry anywhere from one to three hours of fire-protective ratings.
One major trend in the rolling fire door industry is the constant improvement and activation of these doors under alarm. The solution is to incorporate electrical fail-safe components in lieu of fusible links, an outdated thermally active device that has been around for decades.
Fusible links separate at 74 C (165 F) and cannot activate quickly enough to stop the migration of smoke throughout a facility, but electrical detectors react at the first whiff of smoke, activating the doors to close immediately and helping to compartmentalize a potential disaster.
Protection for building occupants
While some products protect against fire damage and smoke inhalation, others defend against two of nature's most destructive forces—tornadoes and hurricanes.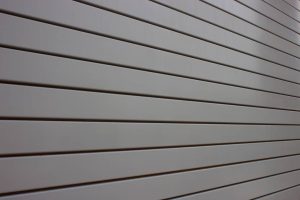 Over the years, natural disasters (specifically hurricanes and tornadoes) have been increasing in frequency and intensity, threatening the lives, businesses, and homes of countless Americans. Since these extreme weather events wreak havoc on communities big and small, rich and poor, rural and urban, the building and construction industry has and will continue to adopt new and evolving standards promoting life safety, such as the Federal Emergency Management Agency (FEMA) P-361, Safe Rooms for Tornadoes and Hurricanes: Guidance for Community and Residential Safe Rooms, and the International Code Council (ICC) 500-2014, Standard for the Design and Construction of Storm Shelters.
This is where advanced rolling steel doors designed specifically for safe room protection against life-threatening tornadoes and hurricanes shine. These doors are tested and certified to ICC 500-2014 and FEMA P-361 standards. The sleek design of newer doors on the market also allows for installation right into the precast concrete, embedding it into the infrastructure of the building, all while providing protection against high-speed projectiles and wind pressure of up to 11,970 Pa (250 psf). Occupants do not have to do anything else to secure the doors after activation—they are locked and ready to defend as soon as they are down.
While this sounds great, rolling storm doors are only as strong as the buildings surrounding and supporting them. They are also expensive, making them a significant investment for cash-strapped school districts around the country.
To keep up with the increased need for building resilience and life safety, design professionals are incorporating innovative and independently tested products manufactured to meet the above-mentioned standards while allowing for the intended use and design of the facility. An example of this comes in the form of advanced rolling steel doors for tornado and hurricane shelters.
A key feature of these doors are their ability to remain invisible until called into service, thus maximizing natural light and allowing designers to create open and airy cafeterias, classrooms, and gymnasiums that can be easily converted into an ICC 500-2014/FEMA P-361-rated safe room when needed.
In the event a storm knocks out power, the door can automatically close its 100-mm (4-in.) tall 12-gauge slats, if desired. Depending on the location, owners may want to either tie the door into a generator or other backup source of power (such as a battery for hold-open), or if the unit is in front of a bank of windows, they may want it to default to 'close,' and forgo any additional power. Any type of power loss would indicate the doors need to close.
Even during tornado-force winds, the heavy-duty, 12-gauge face flat steel curtain is held securely in the guides with specialized wind locks integrated directly in the slats, all while providing protection against high-speed projectiles and wind pressure of up to 11,970 Pa. Additionally, sound-deadening end locks made of 16-gauge aluminum reduce noise during operation. A retention groove is used to retain the slats within the guides.
These designs are meant to not only protect life and property against natural disasters, but also manmade ones. Rated to the Department of State SD-STD-01.01, Forced Entry and Ballistic Resistance of Structural Systems, specialized high-strength rolling steel doors can protect government buildings, pharmacies, cannabis dispensaries, manufacturing facilities, and other sensitive buildings from forced-entry attacks. This offers architects the flexibility to incorporate large openings or natural light using windows into designs without compromising security and life safety. The robust steel curtain features interlocking slats that compress when in the closed position, creating a smooth surface and reducing potential pry points. As an attack persists, the interlocking slats engage and prevent separation.
While these products may look like a standard rolling door to thieves, mobs, and terrorists, they can absorb persistent, violent attacks.
Conclusion
Regardless of the application, closure solutions are providing design professionals working in commercial architecture with a host of solutions to common building design issues. Each design plays a unique role in creating durable, safe, and aesthetically pleasing buildings, all with a special combination of features and finishes. The door to the future is open wide.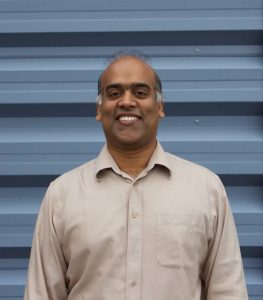 [5]Siva Davuluri is director of product strategy for high-performance doors at CornellCookson. Davuluri has more than a decade of experience in design, development, and commercialization of new products. He graduated from North Dakota State University with a master's degree in mechanical engineering, and completed an MBA from Cornell University. Davuluri is also a member of the technical committee for high-performance doors at Door and Access Systems Manufacturers Association (DASMA) International. He can be reached at siva.davuluri@cornellcookson.com[6].
Endnotes:
[Image]: https://www.constructionspecifier.com/wp-content/uploads/2020/09/CafeteriaWindows_StormDefender_CornellCookson-2.jpg
[Image]: https://www.constructionspecifier.com/wp-content/uploads/2020/09/Edited-MicroCoil-Grille-Resized.jpg
[Image]: https://www.constructionspecifier.com/wp-content/uploads/2020/09/SteelWeave-Grille-72.jpg
[Image]: https://www.constructionspecifier.com/wp-content/uploads/2020/09/STORMDefender-12Rustless-2.jpg
[Image]: https://www.constructionspecifier.com/wp-content/uploads/2020/09/Siva-Davuluri-Headshot-2.jpg
siva.davuluri@cornellcookson.com: mailto:siva.davuluri@cornellcookson.com
Source URL: https://www.constructionspecifier.com/new-closure-solutions-influencing-the-commercial-design-industry/
---