Goals such as increasing a facility's sustainability take a different spin for new construction and renovation projects. Although any building—new or existing—can strive for Leadership in Energy and Environmental Design (LEED) certification, the approaches to feasibly achieve that goal change based on the building.
The question is whether the new construction developer will pay for green materials that could cost a few, mere percentage points more than non-green ones even though the more sustainable products will yield long-term savings. On the flipside, what incentive does the building management have to 'go green' when there are likely other pressing operations issues to address? There are advantages for both sides, as well as different approaches to make sustainability work.
When it comes to achieving LEED v4, the indoor Water Efficiency (WE) criteria between new construction and existing buildings is now at a level playing field. Although the WE category section between new construction and existing buildings has always been similar, now the indoor water use credits are more equalized. This translates to both required prerequisites and optional credits.
Focusing on the indoor water-related criteria, two of the prerequisites—building-level water metering and indoor water use reduction—will help projects get a grip on water consumption and save water over the long term. The differentiating factor from previous versions of LEED is the requirement to use products certified under the U.S. Environmental Protection Agency's (EPA's) WaterSense program. (WaterSense helps consumers chose cost-effective products by labeling those certified to be at least 20 percent more efficient without sacrificing performance.) This applies to the prerequisite and carries over the indoor water reduction credit criteria.
This means all flushometers, urinals, and tank toilets, plus some faucet applications, need to be WaterSense-certified as well as reduce water usage compared to the allowable baseline. Projects can earn additional points for reducing indoor water usage by 25 to 50 percent for new construction and 10 to 30 percent for existing buildings.
Whether following LEED Building Design + Construction (BD+C): New Construction or LEED Operations + Maintenance (O+M): Existing Buildings, water metering is perhaps the most significant update to this credit category. Metering data must be shared with the U.S. Green Building Council (USGBC) for five years. Projects can earn an additional point for installing water meters on at least two types of subsystems, such as irrigation, indoor plumbing, and reclaimed water. Existing buildings have an opportunity to earn an additional point for submetering four or more subsystems.
Sustainability in terms of water and energy savings, without the formal certification, can also alter the arguments and the palette of choices. Whereas a specifier can choose high-efficiency fixtures from the start with a new facility without incurring any extra upfront costs, a building manager's decision often rests on the replacement or upgrade return on investment (ROI).
This is where retrofit products fit into the picture. For a nominal investment and little installation trouble, buildings can benefit from upgrades that will save water and/or energy while bringing added conveniences such as touch-free operation.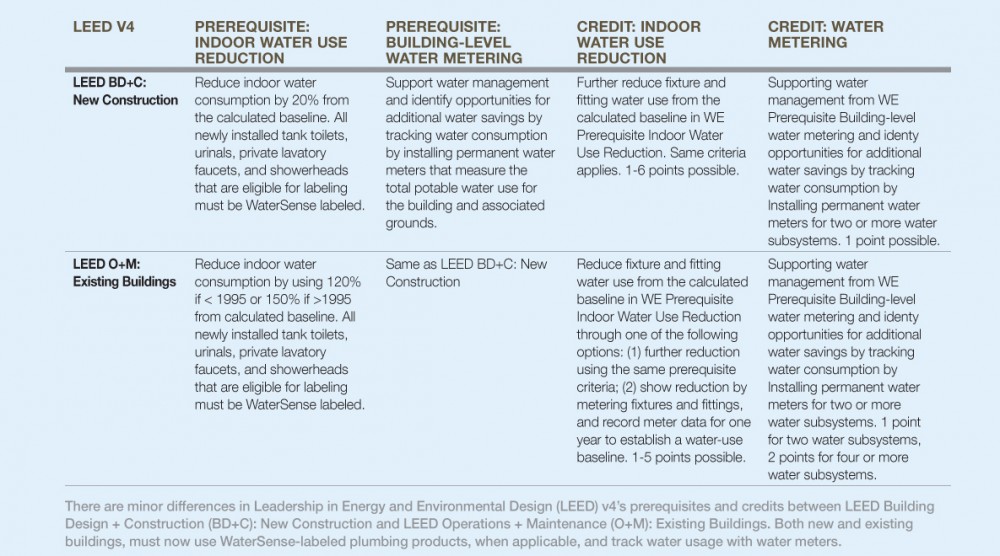 To read the full article, click here.