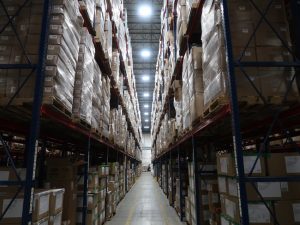 Veeco Services, a logistics provider based in North Bergen, New Jersey, has a 57,135-m2 (615,000-sf) warehouse space. The building was retrofitted with a new lighting system with wireless controls as there were a variety of challenges with the warehouse lighting. The previous high-intensity discharge (HID) fixtures were emitting poor lighting levels, wasting energy, and were expensive.
The retrofit plan, developed and implemented by National E Solutions, included the redesign of the lighting system to improve foot candles and the quality of lighting while reducing operating cost and maintenance.
To achieve optimal lighting levels, 168-watt high bay light-emitting diodes (LEDs) were selected. They produced 23,000 lumens each with a color temperature of 5000. The new aisle lighting was created to achieve levels that met the Illumination Engineering Society's (IES's) minimum standard for this work application. The target was an average of 269- to 323-lux (25- to 30-foot candles).
Each light fixture was equipped with an Enlighted smart sensor. Built on the Internet of Things (IoT) architecture, the Enlighted system consists of a network of patented sensors, connected to an analytics platform. Data is collected 65 times per second to monitor environmental and occupancy changes and adjust lighting in real-time.
Flexible lighting control enabled the Veeco team to fine-tune the power output to the fixtures using the control system. This allowed them to reduce overall energy use and still achieve acceptable lighting levels.
After one year in operation, Veeco Services reduced its lighting energy load by 59 percent by converting to LED fixtures, even though the fixture quantity increased. By regulating the lighting with a controlled system, the facility achieved a 804,725 kWh savings for the year that resulted in reducing energy costs by $122,318. That is a 75 percent total reduction in energy compared to the previous system.
The new lighting and wireless control system reduced greenhouse gases (GHGs) and carbon dioxide (CO2) emissions by 554 metric tonne.
In the event of a power failure, a new emergency egress lighting plan was built into the system. This solution meets the National Electrical Code (NEC) for egress lighting levels and allows employees enough time to access exits and evacuate safely.
This LED installation not only improved safety in terms of visibility, but also helped remove the fire risk caused by the old fixtures.