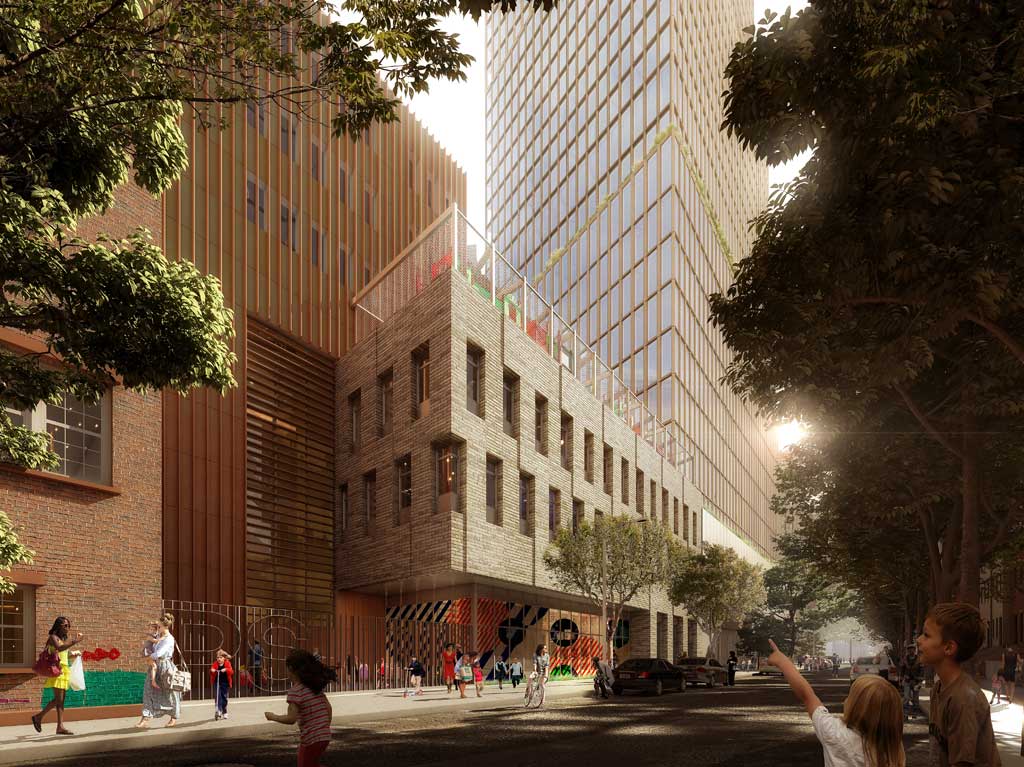 New York City real estate development firm Alloy Development has announced revisions to its 80 Flatbush project in Brooklyn after an outpouring of public concern. Amendments to the proposal, which is being developed with the New York City Educational Construction Fund (ECF), reflect feedback provided over the course of more than 100 meetings with community stakeholders over the past 18 months.
Comprised of five buildings, both old and new, the proposed mixed-use project contains nearly 900 apartments—200 of which will be designated affordable under New York's Mandatory Inclusionary Housing program. The development also includes plans for two new public schools, as well as a 1394-m2 (15,000-sf) cultural center, 3716 m2 (40,000 sf) of retail area, and 18,580 m2 (200,000 sf) of class A office space.
When the initials plans were unveiled in 2017, community residents expressed concern over the style and scale of the project, arguing the development, which includes a 38-story tower with a glass façade, was not suited for the brownstone neighborhood. In response, Alloy modified the proposal to address community concerns. Among the amendments was a complete overhaul to the skyscraper design, slimming the building and changing the façade to masonry, which is similar in color and texture to the adjacent historic Williamsburgh Savings Bank (WSB).
"We have refined our plans based on productive feedback received through more than 100 meetings with local stakeholders," said Jared Della Valle, Alloy's CEO. "We think the project's better for it, and appreciate the engagement."
The City Planning Commission has certified the project to begin the Uniform Land Use Review Procedure (ULURP).
"We are excited to move ahead with what we think is well-crafted, sustainable development, and look forward to further opportunities to hear from the community throughout the review process," continued Valle.
The project is expected to create 3000 jobs, including 1500 permanent positions.
To read more, click here.