Omaha revitalization project receives award for sustainable infrastructure
November 7, 2021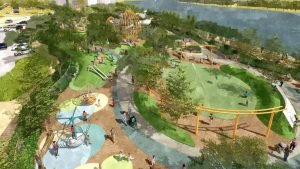 The Envision Awards program recognized the Omaha Riverfront revitalization project with its platinum award for sustainable infrastructure and ranked it with similar projects in other major cities such as Los Angeles, Boston, and New York.
In conjunction with the City of Omaha and Downtown Riverfront trust, the Metropolitan Entertainment & Convention Authority (MECA) is managing The RiverFront's construction, redevelopment, and transformation. Upon completion, MECA will oversee maintenance, operations, and activation of all three components that make up the RiverFront: Gene Leahy Mall, Lewis & Clark Landing, and Heartland of America Park.
The RiverFront's design came together through a series of public meetings and input solicitation. Features include lush park spaces with maintained facilities and robust program scheduling. Daily, weekly, and monthly events will accommodate variable interests, with occasional marquee events assured to draw enthusiastic crowds to the area. Gene Leahy Mall will reopen in 2022 with Lewis & Clark Landing and Heartland of America Park to follow in 2023.
The most urban of the three parks, Gene Leahy Mall serves as a central gathering place for the Omaha community, with a location of convenient appeal for out-of-town guests. The transformation process raised the mall to street level, adding over 3716 m2 (40,000 sf) of lawn space into the heart of downtown Omaha. Brand new amenities will include a performance pavilion, a state-of-the-art playground, interactive water features, a sculpture garden, and a sizeable dog park. Gene Leahy Mall is the first park to reopen in 2022.
Heartland of America Park is the largest of The RiverFront's three components and directly neighbors the Missouri River. The lake and fountain have been welcoming visitors as they crossover from Iowa since the early 1990's. While these elements will stay, they'll be joined by a skate ribbon, lakeside amphitheater, bocce courts, an extensive event lawn, and picturesque pier that extends out to the Missouri River. Heartland of America Park is scheduled to reopen in 2023.
The transformation of Lewis & Clark Landing will improve river access and visibility while providing new amenities throughout the park. A trail system for riverside strolls will remain, with the redesign adding numerous trees and pockets of green space throughout. Additional new features will include a destination children's playground, an urban beach, sand volleyball courts, pickleball courts, an event plaza to accommodate carnival rides, and a renovated marina. Lewis & Clark Landing reopens in 2023.
Endnotes:
[Image]: https://www.constructionspecifier.com/wp-content/uploads/2021/11/BC_Riverfront.jpg
Source URL: https://www.constructionspecifier.com/omaha-revitalization-project-receives-award-for-sustainable-infrastructure/
---