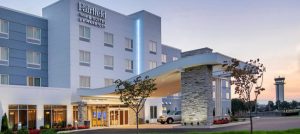 Fairfield Inn & Suites at Harrisburg International Airport (HIA) is a 123-room property located directly adjacent to Pennsylvania's third largest airport. Noise infiltration was a concern as the hotel was built in close proximity to the runway. The architects specified new high-performance window systems to combat acoustical challenges.
As an architect, Bill Hoy, vice-president of design and construction at owner/operator Shaner Hotels, understood 90 percent of environmental noise seeps through and around window frame openings in the building envelope. Therefore, he specified a REHAU System 4500 fixed window design.
The System 4500 features three windows in one: An inward opening casement in the turn position, a secure top-venting hopper in the tilt position, and a tightly sealed picture window when closed.
Each of the exterior rooms—those on the opposite side of the runway—have a through-the-wall packaged terminal air conditioner (PTAC) installed at the window opening. A total of 134 windows were used in the hotel, 59 of which have PTAC louvers. The energy-efficient window systems also helped lower utility bills.
"In addition to excellent sound insulation and energy performance, there is now only one opening for both the window and the PTAC unit," Hoy said. "Where the building envelope is concerned, the fewer openings the better."
Another benefit is the PTAC louvers can be incorporated in different configurations, fabrication, and customization for the window units in a fairly seamless process. Also, the louver colors match well to coordinate with both the window and the building design, which was important for aesthetics.
On the walls facing the runway, fixed windows without integrated PTACs were used instead. The hotel also installed a vertical terminal air conditioner (VTAC) unit inside a small corner closet to help mitigate the runway noise.
Baskervill was the architect on this project with High Construction Company as the general contractor (GC).