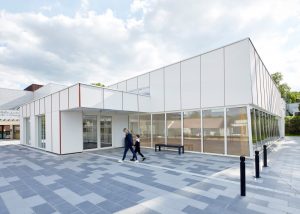 Lemoal Lemoal Architecture has delivered Pierre Chevet Sports Hall, the first public commission building in France to be constructed from hemp concrete blocks, for the town of Croissy-Beaubourg.
Through a close collaboration between manufacturers, architects, and construction companies on the site, the project was the opportunity to experiment with an innovative and sustainable implementation.
The project is a new multipurpose sports hall located in the center of a set of public facilities, including a school, dojo, multipurpose hall, and recreation center. The project's structure combines hemp concrete blocks and a wooden frame. Bio-based and ecological, the concrete blocks are made of hemp fibers grown and assembled in France, less than 500 km (310 miles) from the project site.
Its implementation, previously unprecedented in a public building, is part of a desire to engage all members of the building industry in sustainable construction. Lighter than a traditional concrete block, but used according to the same methods, its installation was an opportunity for the structural work company to train in this sustainable construction method.