Pittsburgh airport breaks ground on first post-pandemic terminal
by brittney_cutler | October 15, 2021 9:07 am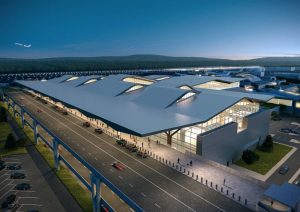 Officials broke ground on a new 65,032-m2 (700,000-sf) terminal project, marking Pittsburgh International Airport as the first terminal in the United States to be built from the ground up in a post-pandemic world.
Built with a focus on public health and technology, the new facility will incorporate clean air technology, more space for social distancing, and 8361 m2 (90,000 sf) of outdoor terrace space to ensure access to fresh air.
The new terminal will also be sustainable in the industry as officials are building to Leadership in Energy and Environmental Design (LEED)-certified silver or beyond. It will be powered by the airport's microgrid, which is fueled by 10,000 solar panels and five natural gas generators.
During construction, a minimum of 75 percent of waste generated will be recycled or reused, including concrete from existing airfield ramps that will be reused for new roads. Additional plans include rainwater harvesting and other water conservation efforts.
The airport authority expects the project to generate $2.5 billion in total economic impact, as well as 14,500 total direct and indirect jobs. The project will require more than 12,000 tonnes (13,440 sh tn) of steel, 94,000 tonnes (105,280 sh tn) of concrete, and more than 32,888 m2 (354,000 sf) of wood materials, much of which the airport hopes to source locally.
Structural steel for the new terminal will be fabricated locally; lumber and wood materials may also be sourced locally, and workforce diversity goals will be increased across the project.
Additionally, the airport announced a first-of-its-kind regional partnership with the Occupational Safety and Health Administration (OSHA) to proactively reduce construction site hazards and serious injuries, increase sustainability, and advance an overall safer, greener construction site.
The new terminal will consolidate operations, including ticketing, security checkpoints, and baggage claim, dramatically improving the passenger experience. Specifically, its single terminal design reduces passenger travel time by 50 percent to get from the curb to airside.
The multi-modal complex includes a new 3300-space parking garage, rental car facilities, and entrance roadways, all designed to improve the passenger experience.
Key design features, developed by architectural and engineering firms Gensler and HDR in association with luis vidal + architects, are centered on elements of nature and sustainability, leading-edge technology, and innovation in the community. The new facilities are scheduled to open in early 2025.
Endnotes:
[Image]: https://www.constructionspecifier.com/wp-content/uploads/2021/10/MA_Airport.jpg
Source URL: https://www.constructionspecifier.com/pittsburg-airport-breaks-ground-on-first-post-pandemic-terminal/
---