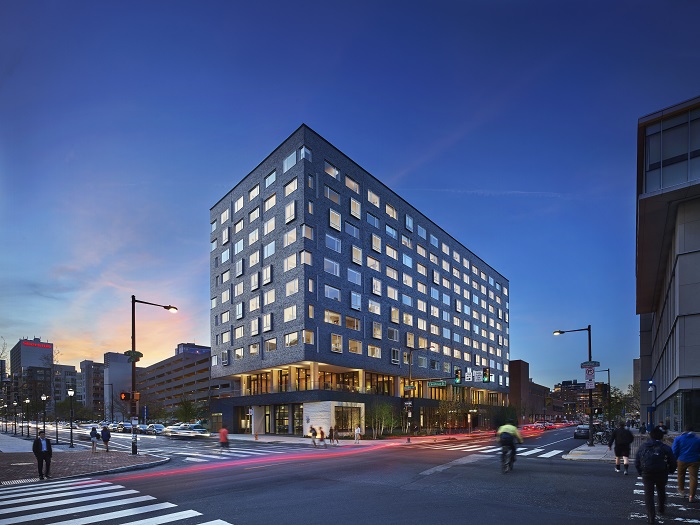 Located at a busy urban area in the heart of Philadelphia, the Study at University City is a 10-story luxury hotel situated between the University of Pennsylvania and Drexel University. When considering the design of the 13,471-m2 (145,000-sf) structure, property owners wanted the aesthetic to match that of the surrounding neighborhood; however, the design team from DIGSAU was operating on a condensed timeframe and on a tight jobsite.
"The owner of the project envisioned a high-quality, robust structure that reflected the traditions of the buildings in Philadelphia," said Jeff Goldstein, principal at the Philadelphia-based architecture firm.
Goldstein and his team envisioned brick as the suitable material to bring to life the desired look, but knew a structure comprised entirely of brick would be time- and cost-intensive. To meet the project requirements, the team opted for precast concrete and designed panels faced with thin brick. The specification would provide the look and feel of brick, but would help the project stay on-budget and on-schedule. Precast concrete panels would also offer a lighter envelope solution when compared to traditional brick masonry, which was important for managing the vertical and lateral loads imposed on a cast-in-place concrete structural frame.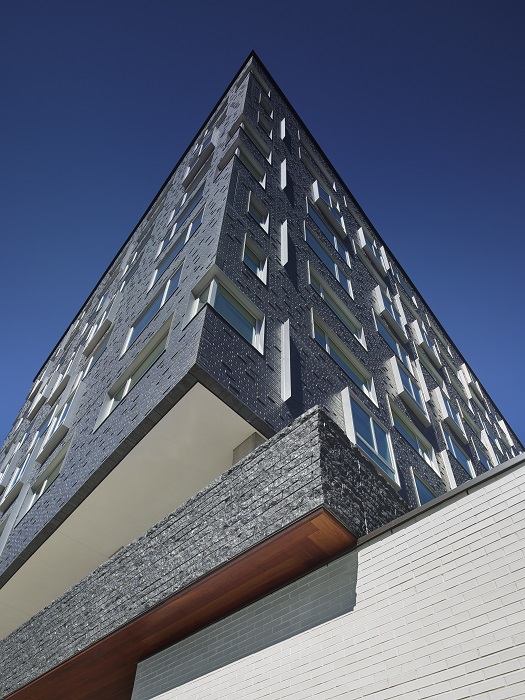 The team installed a façade comprised of solid precast concrete panels containing ironspot thin brick in a three-dimensional garden-wall bond pattern—a popular architectural theme in Philadelphia's historic buildings. The precasters used bricks of multiple thicknesses, which required custom formliners to produce a highly textured and stealthily repetitive design.
"The ability to generate a unique, three-dimensional brick bond allowed the precast wall assembly to take on a crafted, hand-made quality that greatly contributes to the building's presence and character," said Goldstein.
The panels were stacked in an offset pattern at corners and custom brick shapes were used to wrap the exposed jambs and soffits of the panels. Metal trim was used along select vertical joints to obscure the stacked arrangement of the panels. High-density mineral wool insulation with foil facing was incorporated into the panels to provide a continuous thermal barrier behind the panels and across joints. The precast concrete exterior wall panels were supported by a cast-in-place concrete frame.
"Choosing precast satisfied the design and performance requirements of the project, and minimized expensive field labor working on the tight urban site," said Goldstein.
The Study at University City received a 2018 Design Award from the Precast/Prestressed Concrete Institute (PCI) in the Best Hotel/Motel Building category. (To read more, click here.)