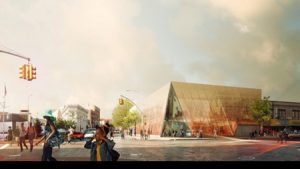 Construction on the Far Rockaway Public Library in New York has begun. Designed by Snøhetta, the new structure will replace the existing 1962 facility, and double the amount of space.
Far Rockaway, located in the borough of Queens, has played an important role in the history of the neighborhood, and served as a well-loved community center. It was also used as a disaster relief center in 2012 during Hurricane Sandy.
The massing is a simple volume clad in fritted, colored glass. The simple form provides a contrast to the visual noise of surrounding retail outlets. The entry is a tall transparent glass with a pyramidal opening at the corner. The interior is organized around an inverted pyramidal atrium that allows the penetration of natural light to the ground floor as well as a view of the sky. Combined, the atrium and the opening provide the entry and circulation sequence through the building, and orient the visitor within.
The library is expected to be ready in 2021. It will comply with New York City's Local Law (LL) 86, is seeking Leadership in Energy and Environmental Design (LEED) Gold Certification, and will be sited at an elevation exceeding the new Federal Emergency Management Agency (FEMA) flood zone guidelines.