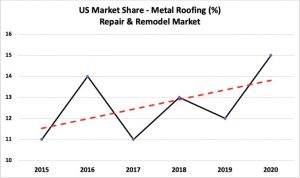 The 2020 Dodge Report, which annually measures overall roofing demand and activity, reported that more homeowners are choosing sustainable, resilient metal for their re-roofing.
The report revealed the share of metal roofing used for residential re-roofing in the U.S. rose from 12 percent in 2019 to 15 percent in 2020.
"There's no doubt homeowners are getting the message: Durable, stronger and longer-lasting quality materials are a much better investment for your home over the long run, especially in light of climate extremes," said Renee Ramey, executive director of the Metal Roofing Alliance (MRA). "That mindset is reflected in the latest numbers and overall growth of the metal roofing industry."
The report also revealed that, while traditional metal roofing styles like the standing seam remain popular, homeowners are also gravitating to the wide variety of designs metal roofing offers, including shingle, shake, tile, and slate.
Steel remains the most common type of metal roofing for re-roofing projects, due in part to its affordability and strength. Like other metal alloys, steel also increases energy efficiency and can be 100 percent recycled at the end of its long life, making it a sustainable and better performing choice for  conditions including high winds, hail, heavy snow, and ice loads.
The adoption of metal roofing rose in regions that suffered severe impacts from climate extremes in recent years, including the Mountain and Atlantic areas. Hurricanes and wildfires have intensified in those regions and affected more homeowners, causing them to gravitate towards resilient and protective materials to help safeguard their homes.
While not measured by the report, the MRA also theorizes that homeowners are increasingly attracted to metal roofing's low maintenance and easy-care benefits, based on the organization's own data and website that receives hundreds of thousands of visits from homeowners looking to learn more about metal roofing every year.
"It is clear homeowners don't need one more thing in their lives to worry about, and the fact that metal is exceptionally easy to care for and will outlast other types of materials while offering great peace of mind is undoubtedly a very strong selling point these days," said Ramey.