Retrofitting industrial window systems
by sadia_badhon | January 30, 2019 4:53 pm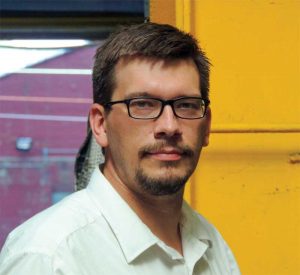 [1]FAILURES
Jim Leslie
While construction spending on industrial buildings remains low, there is a growing opportunity to renovate existing facilities. Failing window systems are one of the most visible signs of facilities in need of an update.
Three common failures seen with industrial buildings' traditional, awning windows are explored in the following paragraphs.
Breaking and falling glass

For more than a century, steel framing and glazing putty were used to secure the glass in many industrial windows. If the windows were not re-glazed, the putty would shrink and crack, leaving little to hold the glass in place. When a window has reached such a deteriorated state, both safety and thermal performance are compromised.
Boarded up
When broken or missing glass is noticed, the openings may be simply boarded up. This solution is also considered when rust on steel sash windows or broken operating hardware limits functionality. While it does cover up unsightly and inoperable units, this creates new problems by reducing ventilation and daylight.
Turning yellow with age
Decreased light transmission also occurs when aging fiber-reinforced plastic's (FRP's) exposed glass fibers trap dirt and dust and become yellowed and discolored. Along with these unpleasant visual cues, the FRP may even emit a distinct odor due to the infiltrated water causing bacterial growth.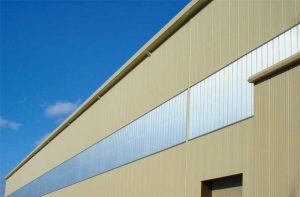 All these types of industrial window failures can be attributed to lack of maintenance. When specifying a replacement window system, cellular polycarbonate glazing (CPG) panels offer several advantages for low maintenance and high performance, including the following facts.
With safety in mind, CPG panels are up to 250 times more impact resistant than glass and will not shatter or fracture.
Across the United States, industrial building applications frequently are not conditioned. For colder climates, a 40-mm (1 ½-in.) CPG panel provides an R-value range of 3 to 5 for thermal insulation, and in warmer climates, the same panel's solar heat gain coefficient (SHGC) can range from 0.45 to 0.68.
Supporting natural ventilation and repetitive use, awning window systems with CPG panels can be specified with extruded aluminum, top-hinge mechanisms that will not rust, bind, or seize.
Taking advantage of daylight, CPG panels offer up to 70 percent light transmission. To help eliminate hots spots and glare, diffused light may be equally important to safety and productivity in an industrial setting.
Specifiers experienced with industrial buildings also understand these tend to be large facilities requiring many hours of project management and coordination. To avoid future failures, it is advisable to select a window system manufacturer experienced in retrofitting industrial buildings.
The opinions expressed in Failures are based on the authors' experiences and do not necessarily reflect those of The Construction Specifier or CSI.
Jim Leslie manages all operational and strategic endeavors for Exterior Technologies (EXTECH). Supporting architectural designers and specifiers, he also oversees the company's continuing education program and communications. A graduate of Penn State University,he has more than 15 years of work experience in the architectural, engineering, and construction (AEC) industry. He can be contacted at jleslie@extechinc.com[4].
Endnotes:
[Image]: https://www.constructionspecifier.com/wp-content/uploads/2019/01/Jim.jpg
[Image]: https://www.constructionspecifier.com/wp-content/uploads/2019/01/Fail_5060.jpg
[Image]: https://www.constructionspecifier.com/wp-content/uploads/2019/01/Success-Ext_2014.jpg
jleslie@extechinc.com: mailto:jleslie@extechinc.com
Source URL: https://www.constructionspecifier.com/retrofitting-industrial-window-systems/
---