Skidmore, Owings & Merrill (SOM)'s design for San Mateo County's headquarters, which is currently under construction in the Silicon Valley, features a hybrid mass timber building, to achieve an 85 percent reduction in embodied carbon—which is greater than the 65 to 75 percent reduction generally offered by typical mass timber structures.
The project titled County Office Building 3 (COB3) will reach a height of 21.9 m (72 ft) and spread over a gross area of 19,231-m2 (207,000 sf), with the embodied carbon measuring to 110 kgCO2e/m2.
While planning, SOM lowered the volume of timber in the project and diminished the piece count of cross-laminated timber panels. Considerations were also made to lower the use of steel in the structure.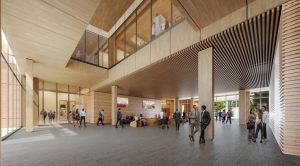 To achieve even greater reduction in embodied carbon, low carbon materials were specified, and certain materials were eliminated. For example, conventionally hung acoustical ceilings were replaced by alternative acoustical solutions.
Carbon emissions linked to construction activity were also reduced with prefabricated timber components, which made the construction process faster and more precise than conventional building processes.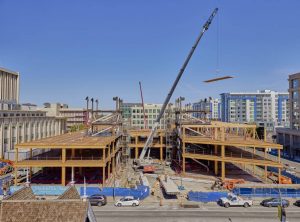 Targeting Leadership in Energy and Environmental Design (LEED) Platinum certification, COB3 will also significantly lower energy use in the building's operations through passive design strategies, resulting in savings worth 609,876 kwh (almost 2 million Btu). For instance, the glass enclosures on the building's north and south facades are recessed and shaded, while on the east and west sides, a series of fins protect the windows. These measures minimize heat gain, reduce the need for artificial cooling, and optimize daylighting. Rather than diverting stormwater runoff to municipal treatment facilities, onsite bioretention planters will absorb and treat 100 percent of the site's runoff, amounting to water savings of 523,395 gallons. These solutions reduce environmental impact throughout the building's life.