Selecting durable, high-performance paints and coatings
by Katie Daniel | October 3, 2017 3:33 pm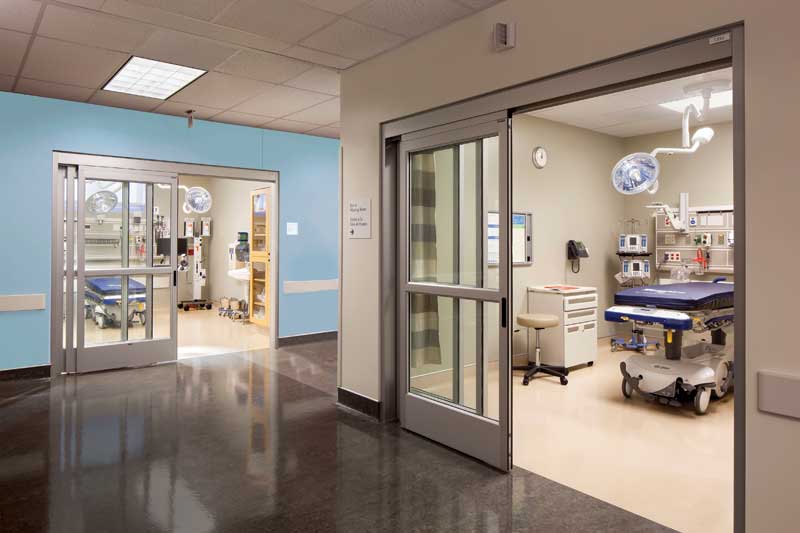 by Rick Watson
Specifiers face an important task when determining how to protect the various surfaces of high-traffic facilities. Many Buildings such as schools, sports arenas, hospitals, and manufacturing plants are very susceptible to daily wear and tear, as well as substrate damage from thorough cleanings. Being knowledgeable about the latest developments in high-performance coatings can help specifiers balance certain inherent environmental conditions with keeping up the appearance of the space, operating within budget, and meeting strict environmental requirements.
In addition to understanding the latest advancements in coating technologies, which can transform paint from a passive project material to an active problem-solver for a specifier, it is also critical to understand how durability is defined in relation to coatings to aid in selection of the right product for a given environment.
Before choosing paint products, there are many questions that need to be asked. By understanding the benefits of each paint, the specifier can achieve proper product selection for specific areas of the facility. When evaluating the durability of coatings, it is important combined data be considered, including resistance to stains, dirt and burnishing, scrubs, and washability. Then, one should look for additional features like hide (i.e. the ability to conceal new or previously painted surfaces), mildew resistance, and ease of application. Is the paint made to go on smoothly, avoiding brush and roller marks and spattering? Is there a need for special innovative technology features, such as formaldehyde reduction, odor elimination, or microbicidal properties? What type of surface preparation will be completed?
Durability is more than a scrub number or even a washability number. For instance, it is possible to have a paint that performs well under scrub (i.e. an erosion test method quantifying a coating's ability to resist repeated erosion with a stiff brush), but not in the field. The reverse is also true, in that some paints do not have the erosion required for the test, but have a long service life under the desired conditions. Many high-scrub paints can be burnished and downglossed, but still pass the test.
Specifiers have to consider all the features of a coating that add up to providing maximum durability.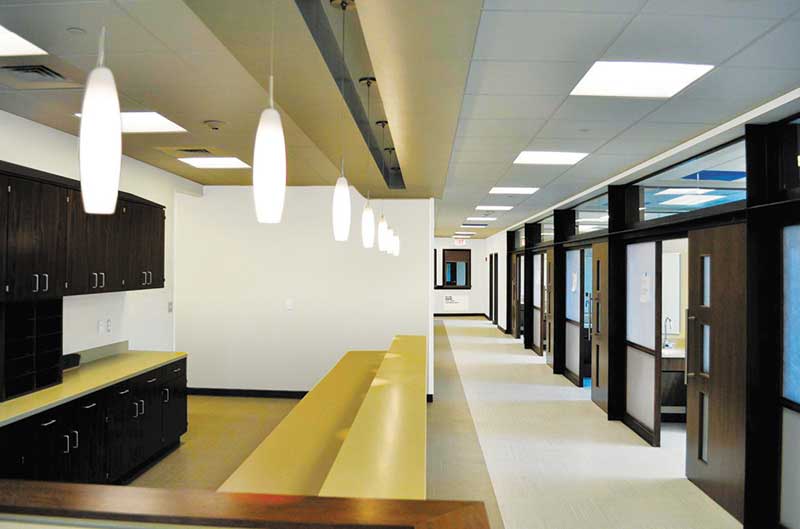 The evolution of coatings additives
Over the past few years, coating technologies have evolved to deliver greater benefits and make specifiers' jobs easier. The new generation of high-performance coatings balances aesthetics with function, offering a wide array of colors and matching capabilities for designers and an arsenal of practical applications for contractors—many of which meet the most stringent volatile organic compound (VOC) regulations. This means formulas can keep spaces visually pleasing while also addressing the issues of long-term durability.
In particular, there has been improvement in the areas of air quality and odor elimination, mildew and mold resistance, microbicidal properties, third-party emissions certification, and finish durability. Advanced technologies are changing the construction landscape and giving specifiers more innovative options to consider.
Whether the facility is commercial or residential, modern coatings can help improve air quality and reduce the presence of unpleasant odors. They do this by targeting and neutralizing airborne concentrations of formaldehyde and other aldehydes that can be released by other building materials in the space, including carpeting, fabrics, and insulation. These compounds tend to be found in recent construction, and can cause a variety of health issues to those exposed to prolonged high concentrations.
The Centers for Disease Control and Prevention (CDC) notes people who are sensitive to formaldehyde and exposed to it over a longer period of time may have symptoms such as sore throat, cough, scratchy eyes, and nosebleeds. By dissipating these common organic odors, coatings with formaldehyde-reducing technology actively help create a better indoor environment. Of course, that often depends on the concentration, the frequency of exposure, and the amount of painted surface area.
In a similar vein, the growth of mold or mildew in older construction or buildings in humid environments can produce staining, rotting, and bacterial odors. If unchecked, these issues could trigger allergies and irritation of the eyes, throat, and skin. A number of high-performance coatings include antimicrobial agents that inhibit the growth of mold and mildew on the paint film.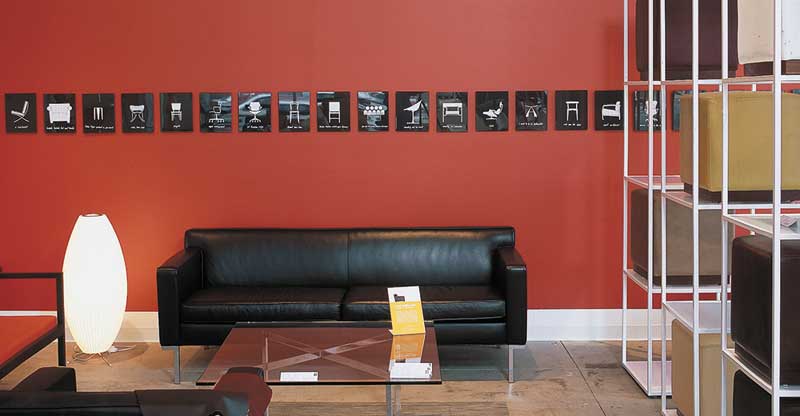 The recent introduction of microbicidal paint provides a clear benefit for many environments beyond the obvious healthcare and hospitality spaces, such as athletic facilities, schools, and residences. Some U.S. Environmental Protection Agency (EPA)-registered microbicidal paints kill 99.9 percent of disease-causing bacteria—including Staphylococcus aureus (Staph), methicillin-resistant Staphylococcus aureus (MRSA), Escherichia coli (E. coli), Vancomycin- resistant Enterococcus faecalis (VRE), and Enterobacter aerogenes—within two hours of exposure on a painted surface. The coating will also continue to kill 90 percent of bacteria on painted surfaces for up to four years when the integrity of the surface is maintained.
Perhaps of the greatest benefit to specifiers are the latest innovations in paint film durability, which surpass standard architectural coatings. Some advanced formulas are specifically designed to withstand the daily abuse and high-volume traffic of commercial, institutional, and residential buildings. A number of these coatings combine industrial-level strength with designer-like finishes to create a versatile and durable finish, suitable for use in a variety of environments.
To help determine which coating is ideal for the situation and project at hand, one must first explore the benefits and specifications of individual formulations.
High-performance acrylic coatings
Acrylics are fast-drying, waterborne coatings suitable for both interior and exterior surfaces. Acrylics are widely used in exterior paints because of their durability, clarity, resistance to discoloration at elevated temperatures, flexibility, toughness, high gloss retention, and chemical resistance. Their top-quality formulas offer great durability, color retention, and chalk resistance, meaning they will keep up appearances for years. Formulations that are 100 percent acrylic are durable and flexible, adhering well to substrates such as wood, stucco and masonry, and aluminum siding. This extends to the paint film finish, which remains flexible on drying and more resistant to cracking.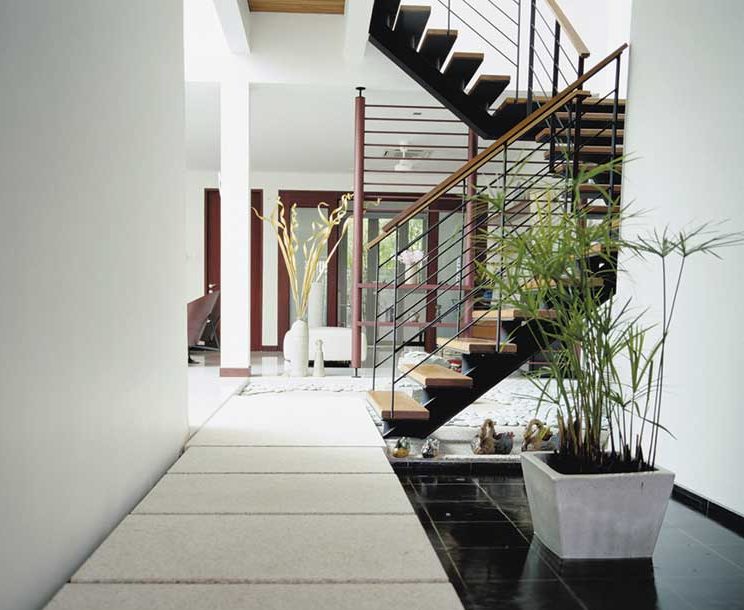 On surfaces where rust and corrosion resistance is critical, applying acrylic primer directly to structural steel, machinery, piping, or facility equipment may be helpful. This primer accepts many topcoats, including hot-solvent urethanes and epoxies, and is available in various colors, such as red-oxide, gray, and off-white. As a next step, an acrylic coating can be a good choice for interior and exterior durability. This high-performance product offers excellent weathering properties, including resistance to moisture, corrosion, and flash rust (i.e. the rapid onset of rust on a metal substrate coated with water-based paint). It is resistant to stains and many commercial cleaners, and is easy to apply by brush, roll, or spray. Additionally, some acrylic formulas meet the most stringent VOC regulations and are certified to environmental standards like Greenguard for low chemical emissions into indoor air during product usage.
For specifiers who want to minimize inventory without also minimizing performance, it is best to look for a multisurface acrylic suitable for a wide range of interior and exterior substrates. This type of coating is best for walls and ceilings where ideal surface prep and thorough cleaning are hard to achieve, especially in demanding locations like warehouses, manufacturing sites, schools, hospitals, hotels, and industrial facilities. For settings such as hospitals, which employ chemicals causing staining, the best coating selection depends on the type of chemicals used—some epoxies and high-performance acrylics can work very well on different chemicals.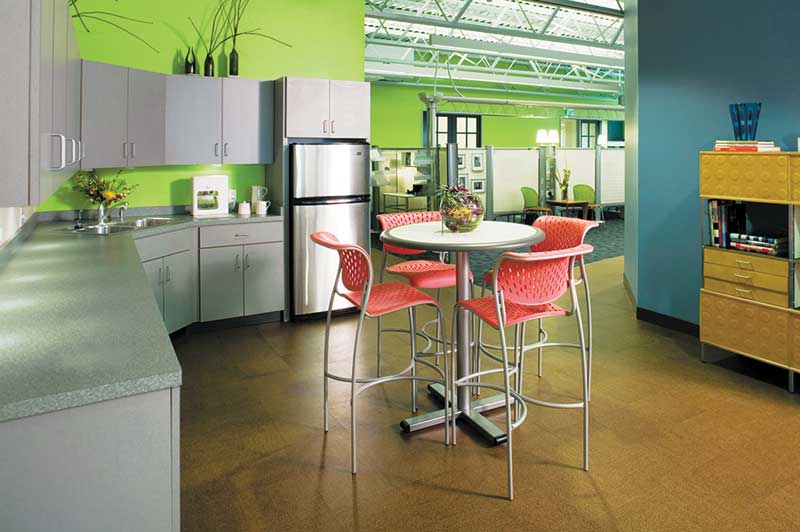 High-performance epoxies
Offering an ultra-durable, chemical- and abrasion-resistant finish, epoxies can be used to defend a variety of substrates from degradation. To correctly determine which application is right for the job at hand, one can examine the specific combination of epoxy compounds and hardeners.
For concrete masonry units (CMUs), drywall, masonry, and concrete in high-traffic areas such as hospitals, schools, and restaurants, specifiers should look for a single-component precatalyzed waterborne epoxy that offers a solvent and impact-resistant finish. These formulas are lower in VOCs than most solvent-based coatings, and can be applied over a variety of primers to produce excellent hide and coverage, which minimizes the number of coats needed. Once dry, the durable and protective film will withstand repeated cleanings.
When considering industrial maintenance environments and high-performance architectural applications, one may choose a tough, all-purpose gloss epoxy that offers essential chemical and abrasion resistance. High-performance epoxy is premeasured and easy to mix (with no induction time), featuring a one-coat, high-film build.
For direct-to-metal applications such as steel, aluminum, and masonry, where exceptional corrosion resistance is needed, a good solution may be a water-based, catalyzed epoxy resin coating that not only meets VOC regulations, but is also certified for low chemical emissions.
High-performance urethanes
Urethane additives are used in both alkyd- and water-based coatings and can offer excellent resistance to weathering and abrasion. These formulas provide maximum durability and can serve as a general-purpose maintenance enamel for interiors or exteriors in industrial environments.
Urethane alkyd enamel is easy to brush, roll, or spray and offers performance comparable to silicone alkyds. The coating can be used on prepared steel, aluminum, wood, concrete, masonry, and drywall in a variety of environments. This traditional, solvent-based formula should exceed expectations and provide optimal toughness.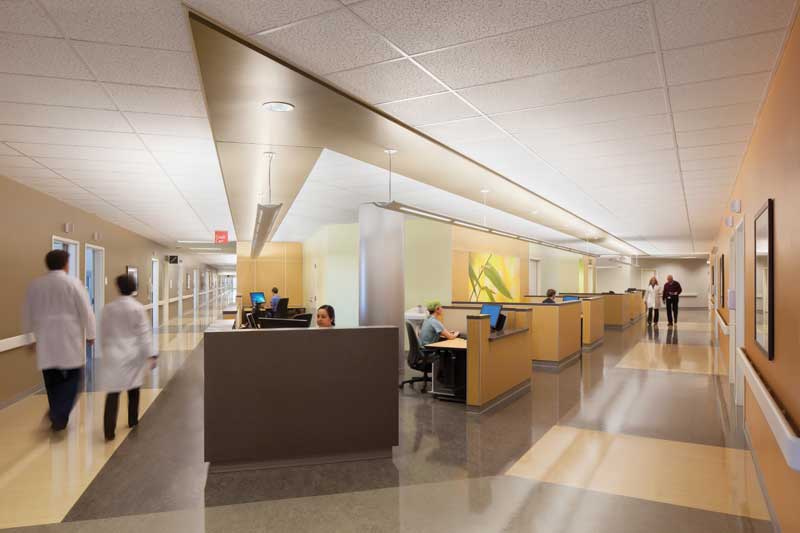 Benefits of high-performance coatings
Regardless of the specific formula, high-performance coatings stand up to heavier wear, harsher conditions, and more demanding specifications than conventional coatings. These products are never one-formula-fits-all, so the correct high-powered, job-specific coatings must be chosen.
With industry advancements and technology innovations, paint has become an active tool within the building environment. In addition to targeting specific issues like air quality, mold and mildew, and bacterial growth, the latest formulas feature enhanced staying power and durability, allowing the finish to last for years to come.
High-performance paints will contain more of the 'prime' pigments that provide color and hide than cheaper 'extender' pigments that add bulk (such as clay and calcium carbonate), but little color. They will also contain higher-quality binders, either acrylic or oil-based, which adhere to surfaces better and offer enhanced film integrity, making them more resistant to cracking, blistering, and peeling over time.
Not all components contributing to solids are equal in their performance. It is important to compare paint products of similar performance expectations. Different polymers and different pigments impart significantly different performance characteristics. One supplier of paint may use higher-quality materials and formulate a better product than one who relies solely on volume solids to differentiate products. Another vital factor relates to chemical type of solids either being defined as 'binder' or 'pigment.' Lower-performing paints tend to contain much more 'filler' pigments and less binder as well as being made with lower-quality materials.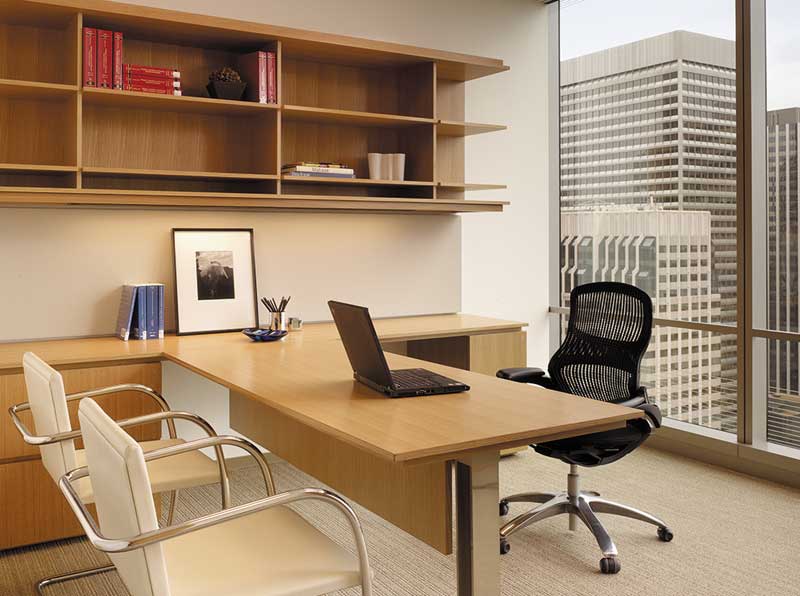 Return on investment for high-performance coatings
Advanced coatings can deliver enhanced durability in addition to many other benefits. The high-quality ingredients that compose high-performance paint and achieve a desired finish (e.g. pigment, binders, liquids, and additives) come at a higher cost than standard architectural coatings. However, as with most things in life, the adage, "You get what you pay for," is true with coatings. A higher-quality paint can lead to a wide range of advantages, and—importantly—often results in lower costs over time through factors such as its improved durability.
As cost is a key factor in specifying paints and coatings and a lower initial price tag can be appealing, explaining and educating clients about the long-term financial and performance benefits of choosing quality paints can help justify the initial expense of high-performance coatings. One of the best ways to go about this is to calculate the cost per year of service versus the initial product price tag, to demonstrate how money saved in the long run could increase significantly.
When it comes to specifying paint, choosing a top-quality coating does matter. Whether evaluating interior or exterior coatings for industrial, institutional, or educational environments, understanding how durability is defined in the context of a project will greatly help in the selection of products providing an outcome that checks every box.
Rick Watson has been with Sherwin-Williams for almost 30 years. He began his career in 1988 in the Management Training Program, and shortly thereafter, he became a professional coating sales representative in Fort Wayne, Indiana. Since then, Watson has progressed through a number of roles of greater responsibility including store manager, product information team leader, product information manager, and most recently, director of product information. He can be reached via e-mail at sherwin-williamstrade@clynch.com[8].
Endnotes:
[Image]: https://www.constructionspecifier.com/wp-content/uploads/2017/10/SW13061003B.jpg
[Image]: https://www.constructionspecifier.com/wp-content/uploads/2017/10/CommericalRoom2-Recolorized_Alabaster_SW_7008.jpg
[Image]: https://www.constructionspecifier.com/wp-content/uploads/2017/10/SW05050069.jpg
[Image]: https://www.constructionspecifier.com/wp-content/uploads/2017/10/SW07040065-e1507058768453.jpg
[Image]: https://www.constructionspecifier.com/wp-content/uploads/2017/10/SW08050077.jpg
[Image]: https://www.constructionspecifier.com/wp-content/uploads/2017/10/SW13051007.jpg
[Image]: https://www.constructionspecifier.com/wp-content/uploads/2017/10/SW11041000.jpg
sherwin-williamstrade@clynch.com: mailto:sherwin-williamstrade@clynch.com
Source URL: https://www.constructionspecifier.com/selecting-durable-high-performance-paints-coatings/
---