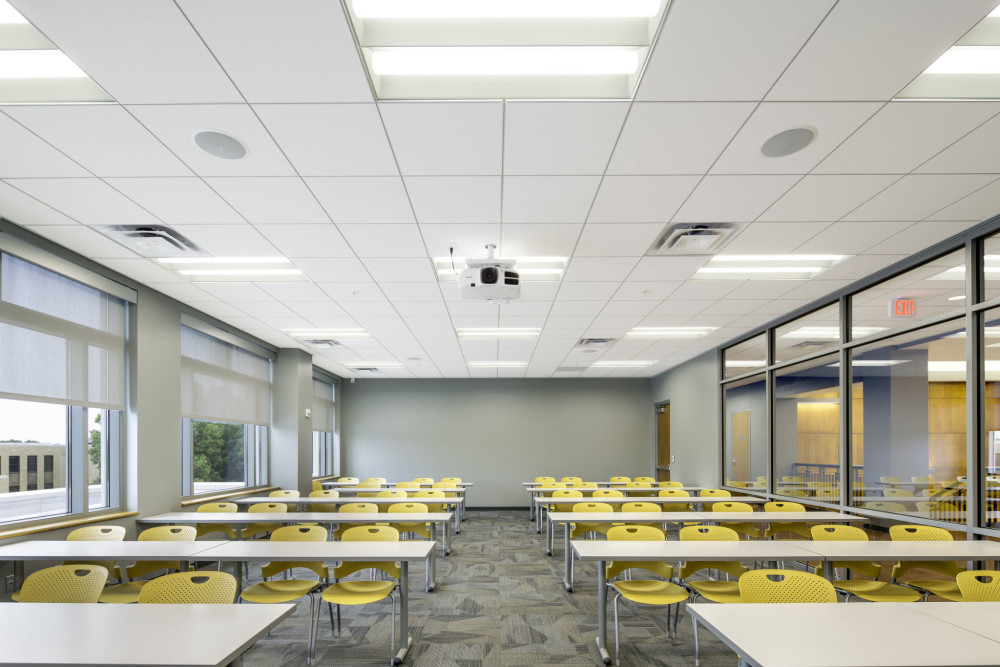 Students using Arkansas State University's Humanities and Social Sciences (HSS) building now have a quieter space in which to learn.
In addition to a large atrium for groups to gather, the 11,148-m2 (120,000-sf) four-story facility—designed by AMR Architects—comprises more than 40 classrooms, laboratories, seminar rooms, and approximately 140 faculty offices.
Overall, HSS offers 24 percent more space than the building it replaces, Wilson Hall, which opened in 1932. The $36-million facility's exterior complements the campus's historic architecture, while its modern interior offers quiet, comfortable learning spaces, thanks in part to proprietary acoustic ceiling panels.
"The new building will be at the heart of every ASU student's experience on this campus," said Lauri Umansky, HSS's former dean.
"Our courses engage students deeply in the world around them and we have a first-rate faculty. That we are able to offer this kind of high-quality education from a spectacular, state-of-the-art facility is truly exciting."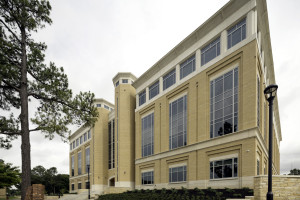 Bidding for the initial design happened in 2003, but the project was put on hold due to budget constraints. Five years later, crews broke ground on the building, which was built in four phases. Over that time, the university modified classroom count and size, although budgets remained top-of-mind.
AMR Architects used value engineering methodologies to ensure the construction and materials maintained the project's performance and aesthetic requirements, as well as provided the most cost-effective selections.
Entering into the fourth phase in 2014, AMR reviewed value-engineered options for the ceiling system selections. The existing specifications called for an acoustic ceiling tile with a white finish that met the requirements for seismic design categories D, E, and F and the high noise reduction coefficient (NRC) of 0.70.
The decision was made to employ proprietary acoustic ceiling panels with a seismic suspension system that can achieve an NRC of 0.85
The 0.6 x 0.6-m (2 x 2-ft) ceiling panels feature a square tegular narrow edge and shadow molding along the perimeter to create the desired aesthetic. The suspension systems are mitered for continuous flow at the intersection to minimize grid appearance.
The stone wool ceiling panels are primarily made from basalt rock and contain up to 42 percent recycled materials. In addition, they are inherently anti-microbial and sound-absorbing, without need for additional treatments or their associated costs. The panels can also provide high light reflectance (LR 0.86) and meet UL Environment's GREENGUARD Gold certification for low-emitting products.