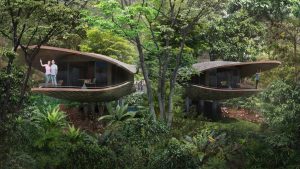 International firm WOW Architects have designed an eco-friendly resort in Mandai, Singapore, which offers to bring guests closer to nature through biophilic design.
The 4.6-ha (11-acre) site for the 338-room resort will be integrated into its site and will be enriched through the planting of native tree species.
"The resort was designed with the native flora and fauna as inspiration, and the architecture and interior design will showcase the biodiversity of Mandai for guests to appreciate and learn from," said Wong Chiu Man, managing director of WOW Architects. "When completed, the building and the landscape will become a holistic, immersive experience."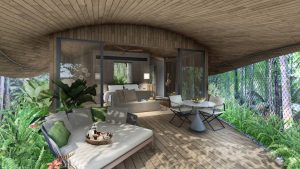 Wherever possible, the resort is elevated several meters above the ground to allow wildlife to move across the site. It is also designed to be unobtrusive, sitting below the upper canopy layer of the surrounding trees. In addition to planting at the roof and façade of the resort buildings, more than half the trees on the site will be retained. The re-greening effort will enhance the site's biodiversity through thoughtful planting strategies.
The resort's standard and family rooms will offer views into the rainforest. There will also be 24 elevated treehouses designed in the shape of seed-pods and will be set amongst the trees surrounding the resort.
Aiming to be the first Super Low Energy (SLE) resort in the country, steps will be taken to adopt sustainable and environmentally-friendly best practices. The design will incorporate a host of energy saving measures including the use of natural ventilation, mixed mode air-conditioning, and solar panels. The treehouses will also feature passive displacement ventilation, a solution that cools air using chilled water rather than traditional air conditioning compressor units.
WOW Architects will be working alongside a team of specialist consultancies to ensure the sustainable design and development of the resort. The consultancies involved are Atelier Ten (environmental sustainability design), Arup (mechanical and electrical), Bo Steiber (lighting), Ramboll Environ (ecology), Ramboll Studio Drieseitl (landscape architect), and Web Structures (structural engineers).
A working group of academics and professionals will also provide guidance and expert inputs across a variety of functions relevant to the resort's design and development including landscape, education, sustainability, ecology, horticulture, and acoustics.