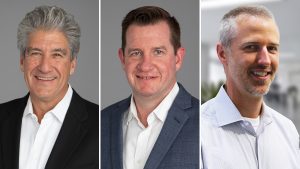 The global construction firm, Skanska, is set to see major shifts in its U.S. civil operations' West Coast executive team.
Mike Aparicio will be stepping down from his role as executive vice-president (EVP) of the West Coast region and will take on the role of senior vice-president (SVP) of operations as he transitions toward retirement.
James Bailey will move into the role of EVP, and Ryan Clayton will be promoted to SVP, general manager. Their extensive industry experience and successful work at Skanska will help them enter their new leadership roles, as they build upon strong existing community and partner relationships. These changes will be effective in August.
"It is with a blend of emotions that I share that Mike Aparicio will be transitioning toward retirement," says Don Fusco, president, and CEO of Skanska USA's civil operations. "Mike has been a force in the construction industry and a huge asset to our team over the last 15 years. Throughout his career, Mike has built an incredible team that will lead us forward into the next chapter and I appreciate the opportunity to partner with him on this transition."
In the SVP role that will carry into 2024, Aparicio will help facilitate a seamless transition focused on strategic planning and specialized assignments.
Aparicio joined Skanska in 2008, already being a force in the California construction industry for decades. Throughout his career, Aparicio has delivered vital infrastructure developments, including the Expo 2 to Santa Monica that carries Angelenos to the beach, the Westside Purple Line Extension to Beverly Hills, the award-winning regional connector transit project in downtown Los Angeles, and the already iconic Sixth Street Viaduct that connects the Arts District in downtown Los Angeles with the Boyle Heights neighborhood.
Bailey joined Skanska in 2009 and has successfully led teams in delivering outperforming projects, including the I-15 Express Lanes in Riverside, State Route 60 in the Badlands, and Mid Coast Corridor in San Diego. In his new role, he will be responsible for the overall operations, as well as long-term strategic planning to ensure the region's success.
Clayton will be promoted to the role of SVP, general manager, after serving as SVP, operations for the Northwest region. Clayton joined Skanska Koch in 2001 and has since worked on various signature projects in the Eastern and Western U.S., including the Manhattan Bridge, Bayonne Bridge, Transbay Transit Center, and the Lynnwood Link Extension L300 in Seattle, Washington. In his new role, he will oversee the day-to-day operations, build upon strong client and community partnerships, and plan for the region's strategic growth.