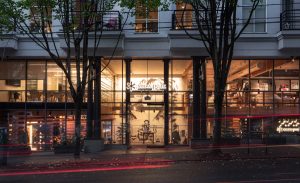 Oregon-based firm Skylab designed the new Snow Peak USA Flagship and headquarters multi-function venue, which includes a store, restaurant, and office.
Situated in an existing, nondescript, four-story 1980s-era building in northwest Portland, Snow Peak occupies 1368 m2 (14,725 sf) of the first two levels, with retail on the first floor and Snow Peak's USA headquarters on the second floor.
One element of the existing building that proved to be a beneficial design element is that it is sunken along NW 23rd Avenue with a glass façade that wraps around to the parking lot. The design takes advantage of the connection on the east parking lot side by expanding the conventional retail space into the outdoors with covered demonstration space.
Upon entry, visitors are greeted with a double-height, hand-painted mural of the Snow Peak founder, Yukio Yamai. Conjuring an earthy and woodsy atmosphere, materials such as dark stone, wood flooring, hand-troweled concrete, wood paneling, and custom wall coverings were chosen for the first level.
Century-old fir beams were milled and stacked into a unique wall retail fixture system in a contemporary, American-inspired nod to traditional Japanese wood building methods.
"Through a center circulation core lined with Snow Peak historic imagery and lit from above with an airy, lantern-like fabric installation visitors ascend into the second level event space and showroom that is filled with light and evokes a closeness to the sky," says Reiko Igarashi, project director and interior designer at Skylab.
Inspired by Snow Peak's effect of bringing people together around fire, the ground floor features a restaurant and bar called Takibi, featuring indoor dining as well as seating in its fully covered outdoor patio space. The 93-m2 (1000-sf) patio includes an open, multi-purpose space that includes fire pits and camp chairs.
Conor Wood, project architect at Skylab, says, "we worked closely with Submarine Hospitality and Snow Peak to refine the restaurant space that is unique for both brands and for Portland.