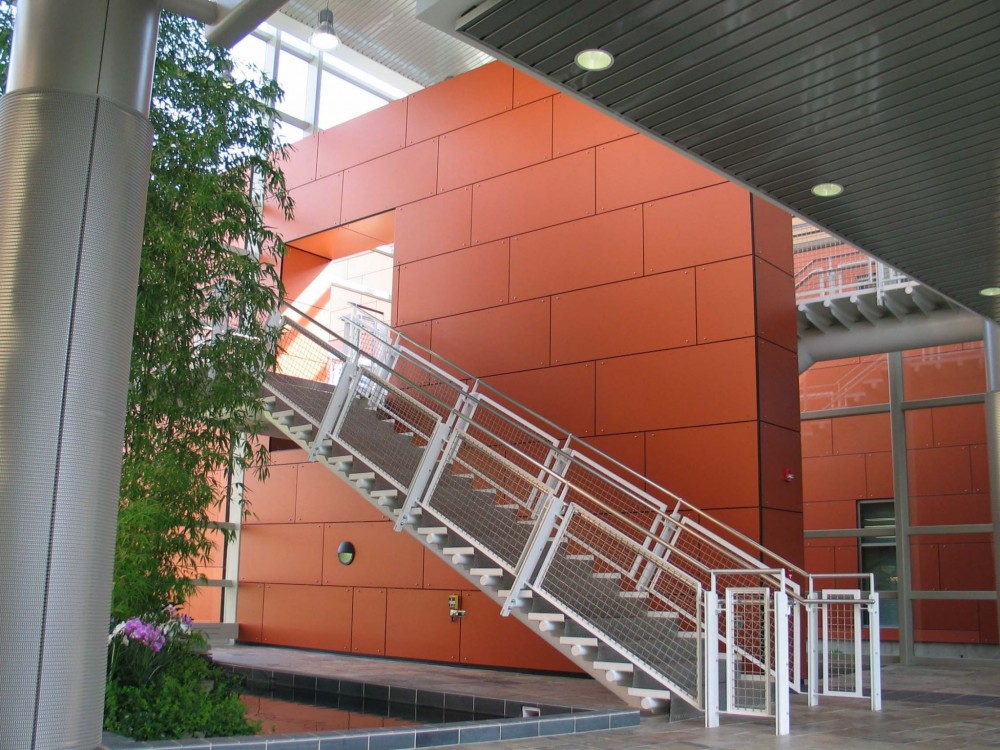 by Jen Clark
Out of the many types of building materials available to architects and specifiers, solid phenolic wall panels have become increasingly popular due to their durability, ease of maintenance, versatility, and code-compliance.
This material begins as a paper immersed in thermosetting resins, homogenously reinforced with cellulose fibers, and manufactured under high pressure and temperature. (Depending on the panel manufacturer, the paper may contain recycled material and be certified by the Forest Stewardship Council [FSC].) As a result of this unique process, solid phenolic material becomes a product that can withstand very harsh treatment while providing an excellent solution for almost any design requirements. Also, the material can be thought of as 'sustainable' due to its composition and product lifespan of 40 to 60 years.
Solid phenolic is an innovative interior and exterior material solution that has been steadily gaining popularity with facility managers. Wall panels made from this material are highly useful in various facilities and public spaces as aesthetically appealing components of effective sound absorption systems. The panels also have a standard Class B fire rating, with Class A options available to meet any fire code compliance requirements under ASTM E84, Standard Test Method for Surface Burning Characteristics of Building Materials. In recent tests comparing phenolic material to ASTM test data for other building materials, solid phenolic panels proved equal or superior to other products in the areas of scratch, impact, graffiti, and stain resistance—areas particularly important for high-traffic spaces.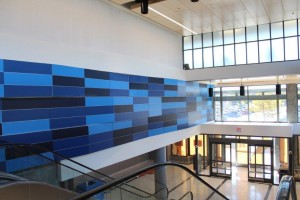 In terms of flame resistance, coated metal or stainless steel tend to deliver the best fire code compliance. However, these materials are very rarely suitable for a wall lining or acoustical panel application due to durability and maintenance issues. Compared to materials like wood or composites that are regularly employed for these purposes, solid phenolic offers a clear advantage in the areas of flame resistance and smoke spread. Due to the construction of the material and the additives in the resins used in the manufacturing process, the panels hold an ASTM Class A or B fire rating.
Tests were recently performed using standards from the American Society for Testing and Materials (ASTM) to verify these comparisons between solid phenolic and other materials such as metal, wood, and plastics. The standards included:
ASTM D6578-00, Standard Practice for Determination of Graffiti Resistance;
ASTM D2197-98, Standard Test Method for Adhesion of Organic Coatings by Scrape Adhesion; and
ASTM D2794-93, Standard Test Method for Resistance of Organic Coatings to the Effects of Rapid Deformation (Impact).
Solid phenolic material was proven to match the code compliance of many industry standard materials in surface burning characteristics.
The tests performed on solid phenolic material to compare its performance in the areas of flame spread and smoke development proved that the material outperforms plastic laminate, high-density polyethylene (HDPE), and hardwoods while nearly matching the performance of metal and stainless steel.
The dense construction of solid phenolic material, combined with its ability to be customized into countless shapes and configurations, makes it an excellent candidate for acoustic sound-absorption systems. A manufacturer of solid phenolic products will be able to work with an architect or designer to create customized diffusers, wall panel systems, or acoustic ceilings to effectively control sound while providing an appealing visual presence.
Custom routering capabilities further enable solid phenolic material to become a useful part of an acoustical wall or ceiling system. Using precise Computer Numerical Control (CNC) technology, a manufacturer can router grooves and patterns into solid phenolic panels to reduce noise levels in interior applications. In addition to this functionality, the material's durability ensures it becomes a lasting addition to the facility rather than needing frequent replacement.
Phenolic wall systems are available with multiple attachment systems, allowing users to address challenges arising with installation. From a cost perspective, these materials fall in the middle of the pack—many other wall finishes either more or less expensive. With phenolic, there are no indoor air quality (IAQ) or moisture concerns due to the completely non-porous panels (some of which are GreenGuard-certified).
For interior installations, various wall lining systems allow solid phenolic panels to be quickly and precisely aligned to create a cohesive wall lining installation for almost any environment. This ease of use combined with superior performance in flame resistance and extensive customization options establishes solid phenolic material as an excellent solution for any application.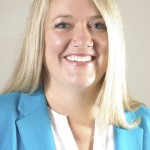 Jen Clark is the operations manager at Spec-Rite Designs LLC. She has more than 18 years of multi-faceted experience, including value engineering, cost estimating, project management, and architectural planning and design. Having pursued a degree in mechanical engineering at Ohio State University, Clark recently became the recipient of the Six Sigma Master Black Belt Certification. She is also a Leadership in Energy and Environmental Design (LEED) Accredited Professional with a focus on sustainable design and construction.