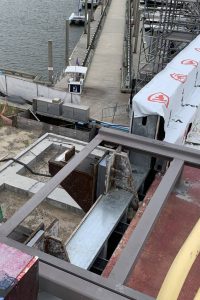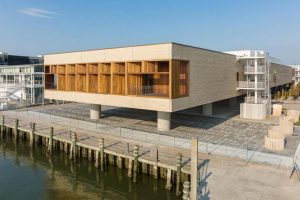 The International African American Museum, Charleston, South Carolina, considerably reduced energy loss from thermal bridging in a steel staircase next to an egress by relying on steel-to-steel thermal breaks, which also helped achieve structural integrity, reduce carbon emissions, and prevent condensation and mold formation on adjacent interior surfaces.
Designed by Pei Cobb Freed & Partners in collaboration with Moody-Nolan architects, the museum is a one-story structure sitting 3.96 m (13 ft) above grade on a double row of cylindrical columns, offering an expansive sheltered public space with a reflecting pool and views of the African Ancestors Memorial Garden.
An egress from the building's waterfront side is provided by a steel staircase whose second and fourth landings are tied into the building's interior I-beams, posing a potential thermal bridging problem—wasting heat or A/C depending on season, and allowing condensation and mold to form on adjacent interior structures during cold winter months. Without thermal breaks, heat energy would flow unabated through the otherwise insulated building envelope.
Pei Cobb Freed & Partners found a solution in steel-to-steel structural thermal breaks designs by global component manufacturer, Schöck AG. Builders installed these components in line with the building envelope, at the point where landing frames connect to interior I-beams. Each thermal break consists of stainless-steel threaded rods and bolts penetrating an R-15 insulation block, providing strength equivalent to conventional steel structures while reducing heat energy transfer by up to 75 percent.
Situated on the site of Gadsden's Wharf, the landing point for nearly half of all enslaved Africans brought to the United States, the International African American Museum will encompass 3,900 m2 (41,800 sf) of program and exhibit space to preserve and protect the cultures, genealogy, and accumulated knowledge of Africans in the Americas, telling their stories and celebrating their achievements.