The Basics of Building Integration
June 16, 2018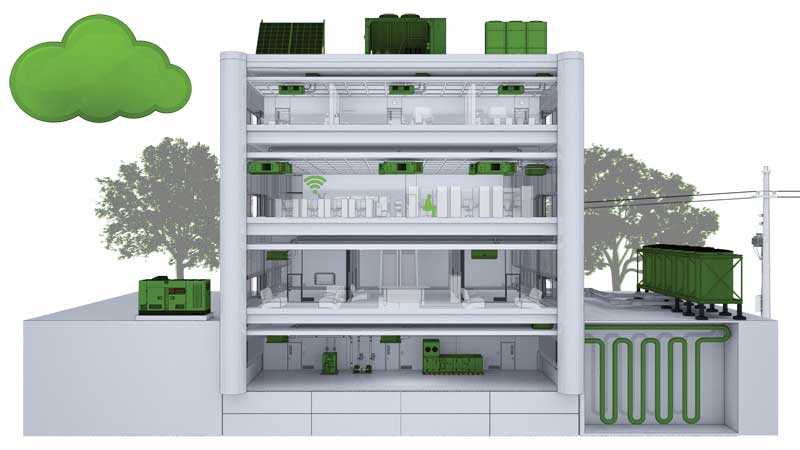 by Neil Maldeis
Connected buildings, the Internet of Things (IoT), and smart devices are buzzwords in the industry. But do building owners and facility managers have a true understanding of what a connected building is and the benefits it can provide?
Connected devices (e.g. lighting, security systems, and HVAC equipment) produce data that can be captured and applied to significantly increase energy savings and operational efficiencies for modern buildings. Technological advances and the ability to turn building system data into useable information also enable a more sophisticated approach to service and maintenance. Data can be gathered from one piece of equipment or from dozens, so it is possible to start small.
The bottom line is about the outcomes that matter to building owners and facility managers. Whether the goal is energy efficiency, cost savings, or improved occupant comfort—a connected building can help owners and facility managers achieve these objectives.
Plans for a connected building should be incorporated during the design process for new facilities. Connected systems can also be considered for infrastructure improvements to existing facilities during major renovation projects or as a standalone retrofit project. Advances in technology have made connecting a facility easier than before with many pieces of building equipment being able to communicate directly through a connection to the Internet. Wireless technology has also made physical connections to equipment easier as hard wiring is not required. Overall improvements in manufacturing have driven the cost down significantly on sensors and other required hardware, making the return on investment more attractive than ever.
Building connectivity does not have to be an all or nothing approach. Starting with one piece of equipment and implementing other devices in stages is possible, and can make it easier to take the first step.
While most equipment is easier to install during new construction, there are many products designed for installation in existing buildings. Wireless communication products can be added to equipment to create connectivity, meaning equipment does not need to have built-in capability to connect to the Internet.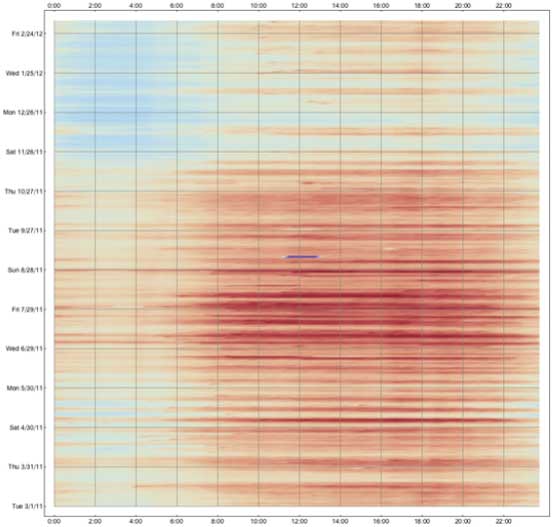 Assessing the goals
Technology advancements are driving the expectations of building owners and occupants. One shoud start by determining what the building owner or manager wants to achieve. Do they want a greater understanding of building performance? The ability to track utility trends? An easier way to remotely control building setpoints to improve occupant comfort?
A connected building is the answer to all of those goals.
Decisions with data
A connected building starts with a building automation system (BAS), which aggregates data from equipment with the ability to connect to the cloud or the Internet. As more connected devices are integrated into networks, more value can be delivered.
The real business value is in the data that informs building owners and facility managers how systems are operating and performing. The BAS can collect trends about average setpoints over a certain period, how often equipment is running, and hours of building usage. This information can be delivered in easy-to-read dashboards.
Equipment metering can also be integrated into a BAS, providing detailed utility data such as average kilowatt hour usage for specific pieces of HVAC equipment.
This information helps building owners and facility managers make informed decisions about how to operate the equipment to achieve better energy efficiency, track maintenance requirements, and dispatch service/maintenance personnel automatically upon  request.
Once one has a clearly defined strategy identifying the goal of using data, including why it is needed and the benefits it will generate, the tactics—including what data is necessary, how to get it, and what databases should be mined—become clear. For example, interval data can be very useful in determining where inefficiencies exist in a facility, and there are tools available to help find where these inefficiencies occur.
The interval data in Figure 1 indicates poor start and stop performance of the facility with electrical load showing up during unoccupied periods. Figure 2 shows in 3D inconsistent peaks and valleys in operation along with the use during unoccupied periods.
Integrating building systems
A connected building can go beyond HVAC equipment by integrating other systems such as lighting, security, water, window shades, and elevators. BAS can dim lights, raise building setpoints, or slightly slow down elevators and escalators. Typically, these actions are not noticeable to occupants, but there are potential financial benefits.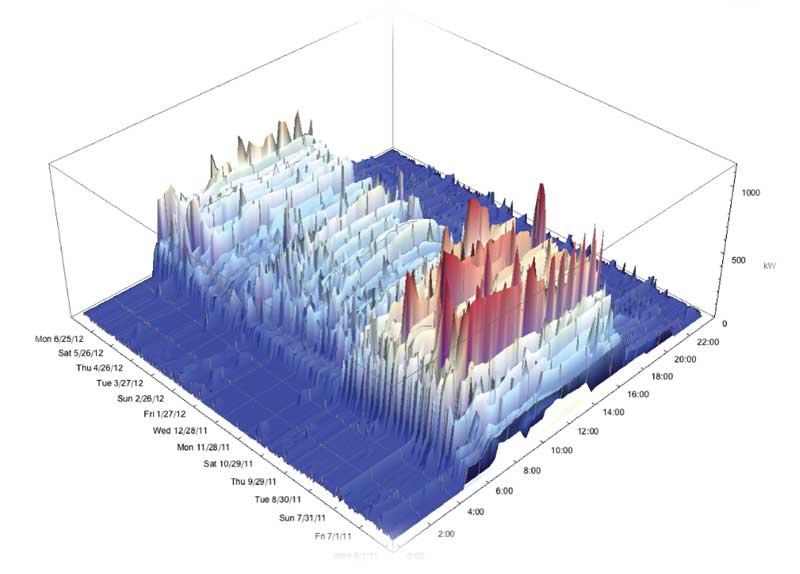 This level of integration enables designers and managers to look at the building as an integral whole and assess the performance as a group of integrated/interdependent systems rather than
as independent pieces.
American Society of Heating, Refrigerating and Air-conditioning Engineers (ASHRAE) Guideline 13-2015, Specifying Building Automation Systems, provides designers with recommendations for good practice, project considerations, and detailed design options.
Varying types of systems, and even equipment from different manufacturers, can be integrated if they speak the same language. Or in other cases, a communication bridge can be used to connect equipment that does not speak the same language.
Designers and specifiers should look for equipment and systems using open and standard protocols, such as BACnet, LonWorks or ZigBee. The use of standard protocols helps ensure integration of different types of systems and equipment.
BACnet is a communications protocol for building automation and control networks developed under the auspices of ASHRAE. The protocol is supported and maintained by ASHRAE Standing Standard Project Committee 135. In this author's experience, BACnet is the most prevalent protocol within the North American HVAC industry.
The LonWorks networking platform is integrated with the International Organization for Standardization/International Electrotechnical Commission (ISO/IEC) 14908-1:2012, Information technology—Control network protocol—Part 1: Protocol stack, for commercial building automation, controls and building management.
The Zigbee standard is a wireless communication protocol applicable to communication among devices in applications such as home entertainment, industrial control, and building automation.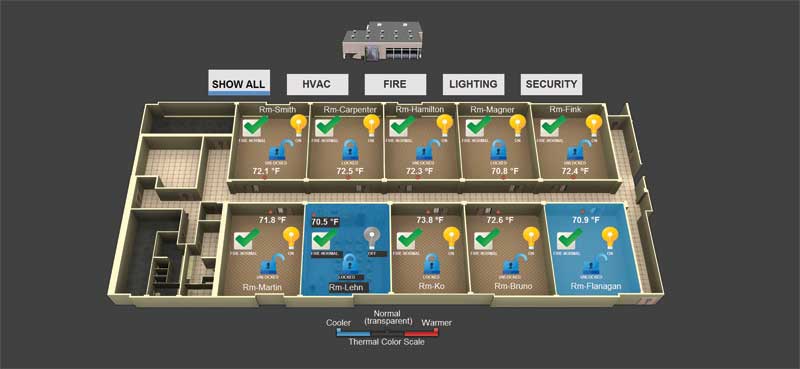 Security concerns
IoT security is a concern for many building owners, facility managers, and suppliers. Security should be thought of as a custom designed solution, not a standalone out-of-the-box software product. IoT security involves an upfront understanding of the system's security requirements and risks. This can be achieved by thoroughly assessing the software architecture, reviewing the code, and performing penetration tests against upcoming threats. Understanding who has access to the building data is critical. Security is a business issue, and needs to be a priority.
In the case of connected buildings, operations and information technology teams need to focus on collaboration. This marks a changing role for facility managers who traditionally focus on equipment.
Connectivity in the real world
In one real-world example, a movie theater chain completed an enterprise-wide BAS retrofit project employing building management systems (BMS) to integrate HVAC and lighting controls at each of its locations. The facilities involved in this project are a mix of existing buildings and new construction. These building-level systems connect to a web-enabled, enterprise-level BAS network. This cloud-based connectivity allows a facility manager to monitor, control, and apply changes to buildings across the country from a central location.
This system integration and enterprise-wide control delivers numerous benefits, including the ability to synchronize lighting and HVAC system setpoints with ticket sales and show time schedules. On Friday nights, as the cinema lobbies fill, the theaters automatically adjust their indoor environment as tickets are sold, ensuring the crowded room showing a new release is cool, while the less popular screenings are temperate. The theater chain saves money by leveraging automatic heating, cooling, and lighting adjustments based on occupancy needs.
Advanced services available through the theater's BMS also provide remote resolution of system alarms 24/7 and intelligent dispatching of data for troubleshooting to the technicians' handheld devices.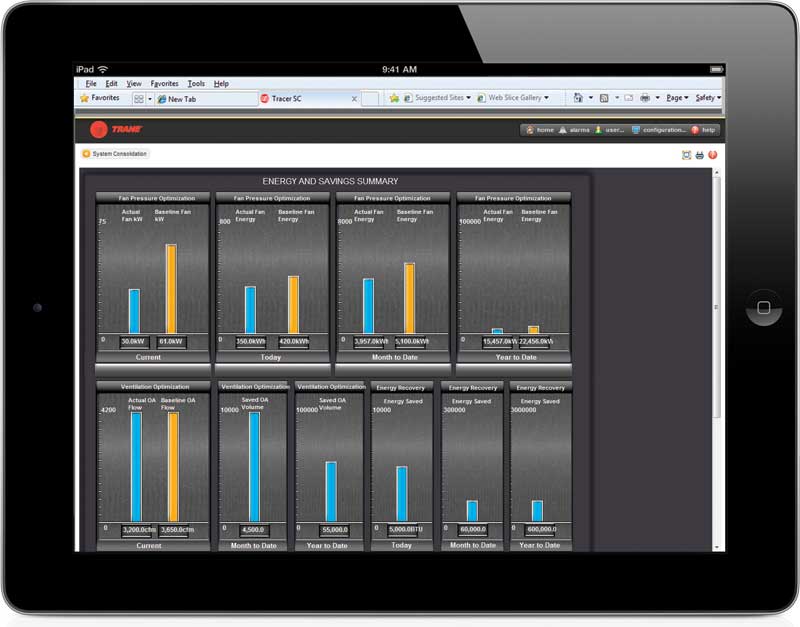 In another example, a regional microbrewery uses the connectivity of BMS to gather enterprise-wide system data from locations in 13 states. The web-enabled building control system provides corporate-level access to all of the sites, and the ability to view and adjust site conditions and equipment operation from mobile devices.
Deliver benefits with integrated control
Connected buildings provide capabilities to improve building performance, reduce energy use and operating costs, shrink a building's environmental footprint, and enhance reliability and uptime. Building owners and facility managers can reap these benefits long term, but it all starts by choosing the right systems and controls at installation.
Once a BMS is in operation, some common causes of degradation can include:
sensors not maintained;
alarms not set up or ignored; and
permanent overrides of schedules or changes to setpoints instead of temporary changes.
These may result from changes in the way the facility is used, requiring reconfiguration.
Conclusion
A properly commissioned building will operate "as designed." Once the owner invests in the right equipment and systems, these need to be connected, monitored, and analyzed. The data should enable actions (which quite often require feet on the street). However, components can fail, dampers get stuck, filters and coils need cleaning, and occasionally animals chew through ductwork, die in vents, or get tangled up in the wrong place.
Ongoing benefits over time are supported by connected buildings, but the design requires a complete life-cycle solution.
Neil Maldeis is the energy solutions engineering leader at Trane in White Bear, Minnesota. He has more than 35 years of experience in the contracting and energy fields, and is a licensed professional engineer in the state of Minnesota. Maldeis is certified by the Association of Energy Engineers (AEE) as a certified energy manager and certified green building engineer. He holds a bachelor's degree in mechanical engineering from the University of Minnesota. He can be reached at nmaldeis@trane.com[6].
Endnotes:
[Image]: https://www.constructionspecifier.com/wp-content/uploads/2018/06/Trane_ConnectedBuilding_Green.jpg
[Image]: https://www.constructionspecifier.com/wp-content/uploads/2018/06/EnergyImage2.jpg
[Image]: https://www.constructionspecifier.com/wp-content/uploads/2018/06/EnergyImage1.jpg
[Image]: https://www.constructionspecifier.com/wp-content/uploads/2018/06/Tracer_INTEGRATION.jpg
[Image]: https://www.constructionspecifier.com/wp-content/uploads/2018/06/Savings_Calc_iPAD.jpg
nmaldeis@trane.com: mailto:nmaldeis@trane.com
Source URL: https://www.constructionspecifier.com/the-basics-of-building-integration/
---