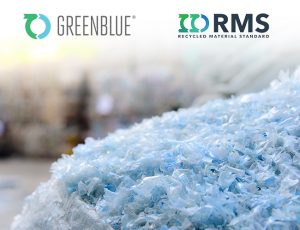 Three construction material producers have received the newly launched Recycled Material Standard (RMS) certification, created by environmental nonprofit GreenBlue.
SCS Global Services (SCS), a global third-party environmental and sustainability certification, auditing, testing, and standards development, announced the certification of three plastics innovators on Dec. 15.
RMS is a voluntary, market-based tool developed to advance the use of post-consumer and post-industrial recycled plastic materials in place of virgin feedstocks. The standard serves as a vehicle for brands to track, validate and communicate recycled material claims with a certified chain of custody. Any organization that processes or trades recycled plastic materials is eligible to seek RMS certification.
"We applaud Revolution, Arqlite and Granite Peak Plastics for their commitment to plastics recycling best practices, and for working so diligently with GreenBlue to usher in a new era of plastics credits that can enable major brands and others such as universities and governments to meet their established sustainability commitments," stated Nina Goodrich, executive director at GreenBlue.
Arqlite and Granite Peak Plastics are participating in a new environmental commodity created by GreenBlue referred to as the attributes of recycled content, or simply ARCs. Similar to carbon offsets and renewable energy credits (RECs), the ARC trading system allows companies to purchase and retire ARCs, thus providing financial support to investments in the North America supply chain, which in turn helps to advance the use of recycled materials.