Transit station takes glass walkways to the next level
October 2, 2018
by Stephanie Miller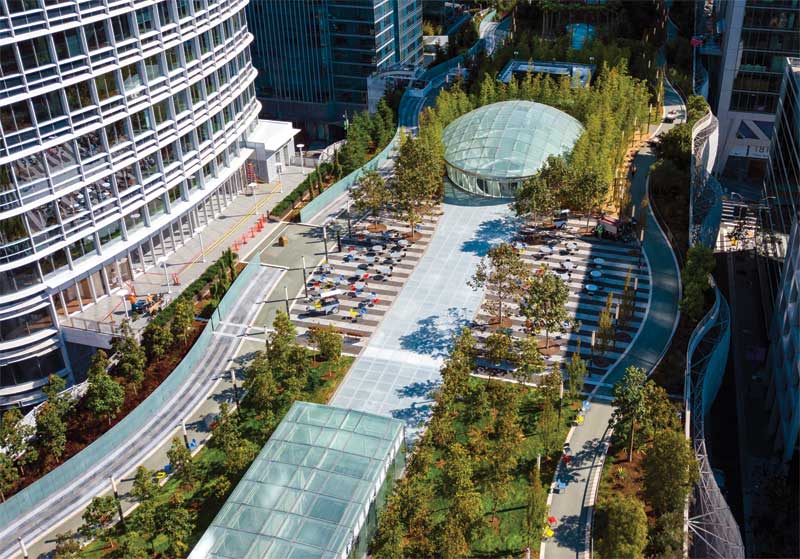 From the Willis Tower Ledge overlooking Chicago and the Grand Canyon Skywalk to the revolving observation deck of the Seattle Space Needle, building owners and architects have long leveraged the power of glass in high places to elicit awe from visitors.
Each of these marvels relies on multiple layers of structural glass, and a lot of engineering.
Yet, there remained milestones to reach. When it opened in August, the Salesforce Transit Center in downtown San Francisco not only became the city's latest hub of activity, it unveiled what is believed to be the country's largest fire-rated glass floor.
Standout station
Designed by Pelli Clarke Pelli Architects, the transit center is a marvel on its own, standing out for both its size—stretching five blocks along Mission Street—as well as its unique floating, undulating exterior façade.
The 139,355-m2 (1.5-million-sf) building features four above-ground and two below-grade levels. The center will accommodate 11 different transit systems via a bus plaza and an underground station serving Caltrain and, eventually, California's anticipated high-speed rail link. The bus plaza is located on the third level and offers easy access, directly off the Bay Bridge. At street level, a Grand Hall with an atrium features retail shops.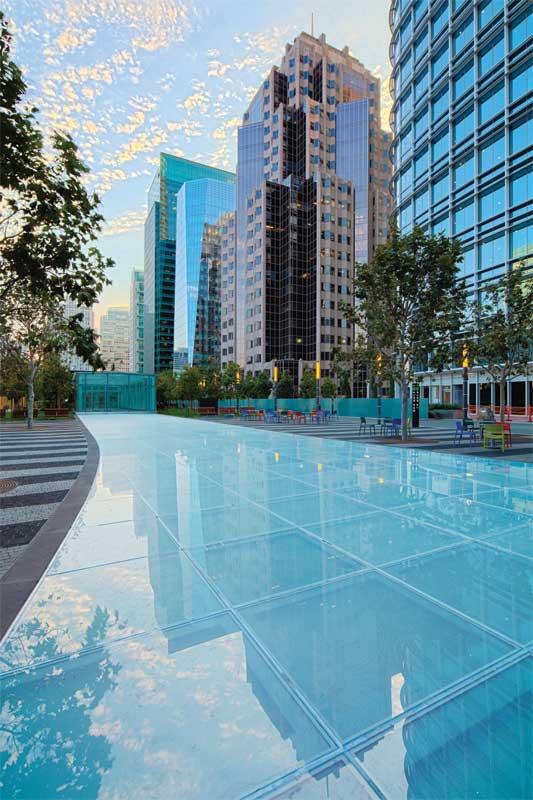 The roof level has a 2.1-ha (5.4-acre) park complete with amphitheater, fountains, play area, and restaurant, stretching 427 m (1400 ft). The park will include vegetation from around the world and 469 trees, including a South African garden, a Mediterranean basin, and a redwood forest.
Skylights dot several places along the transit center's roof, with the most prominent being a long glass walkway ending in a glass dome. On the inside, the plaza and dome create a vast light column, channeling light through the outer bus platforms and helping to form the Grand Hall on the street level. Steel columns from the dome funnel down to yet another walkable glass floor on the retail level; this circular floor carries the daylight further down to the first subterranean level.
"This is a benefit for a lot of transportation centers that are dark and dreary," explains Darin Cook, senior associate principal at Pelli Clarke Pelli. "We were trying to get a light-filled, exuberant space."
This desire kept the skylight system in the plans after it was nearly axed due to cost. While one approach could have been to make the entire glass roof a popup or have a greenhouse sitting on top, Cook says the walkable surface allowed for true integration into the park.
Fire-resistant glass skylight brings new life to NYU building
Seen from above, the walkable glass floor at New York University's Stern School of Business provides one hour of fire resistance and allows plenty of natural light, while still providing privacy.

Though the Salesforce Transit Center in San Francisco is expected to have the largest fire-rated glass walkway in the United States, it is not the first. Another example is the Stern School of Business at New York University (NYU), where officials sought to bring much-needed light into two levels of dark, below-ground classrooms in the school's 1960s-era main building.

To capture daylighting, architects at Perkins+Will took advantage of the space's position underneath a vast outdoor plaza, designing a skylight system into the plaza itself that is part window, part walkway. The solution not only funnels natural light into the below-ground corridors, lounge areas, and classrooms, but also creates a unique aesthetic for pedestrians above.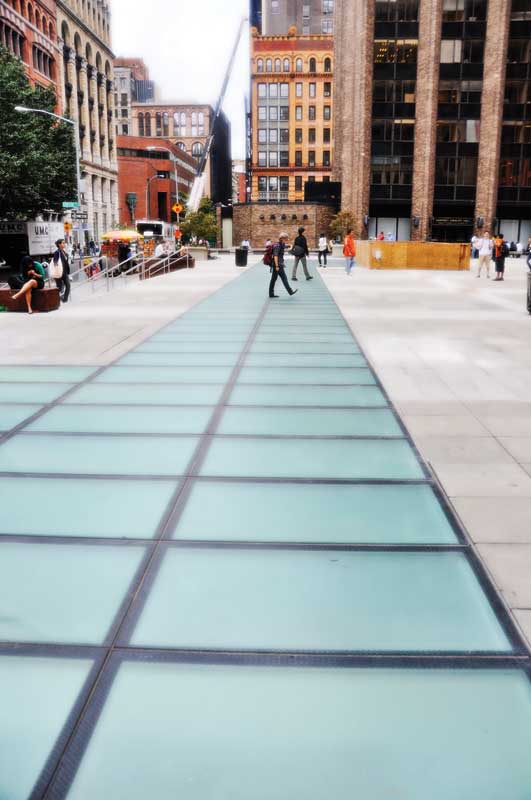 Due to the nature of the skylight and its position at the entrance of the building, the city classified it as a roof assembly and therefore required a one-hour tested assembly. So the architects set out to create a durable, insulated, water-resistant skylight system that was structurally designed per building code for up to 45 kg per 0.09 m (100 lb per 1 sf) live load, was made of safety glass, provided one-hour fire resistance and load capacity, and allowed plenty of natural light while still providing privacy.
The fire-resistant skylight system combines walkable glass and steel frames laminated to 60-minute insulated, fire-resistive glass. Combining the technologies provides for a structural loadbearing top glass layer with a fire-rated bottom unit.
The steel support structure includes a layer of intumescent paint and expansion joints to meet fire-resistance ratings. The steel structure was fastened to the building, then the glass was structurally glazed to the frame.
The top layer of glass also has a raised pattern to provide durable slip resistance in wet and dry conditions.
"The skylight surpassed everyone's expectations," said Matt Cornett, the project's architect. "When one enters the space, the impact and presence of the skylights is immediately apparent. The once dark corridors are now overflowing with natural light—an unmistakable light that could only come from outside."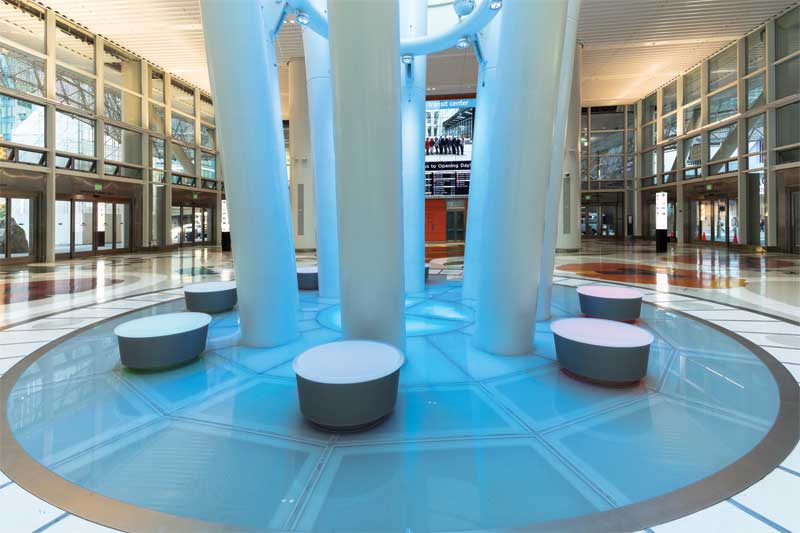 Building a safe system
The glass plaza skylight may look like some of the other walkable glass projects around the country, but the resemblance ends there. The challenges in engineering were greater due to its wide span, size, and location—an external application exposed to the environment—as well as its dual function to act as both skylight and pedestrian way. Along with a robustness to handle live loads from above and slip resistance for walkability, the glass and frame system had to meet stringent seismic requirements for San Francisco as outlined by the American Society of Civil Engineers (ASCE) and the California Building Code (CBC).
Those familiar with the weather conditions in California's Bay Area know weather resistance was also a vital component of the skylight. In addition to the non-skid surface, the unit had to be weatherproof and watertight. Finally, it had to be relatively easy and efficient to replace in case of damage, without sacrificing safety.
The eventual walkable glass floor the team designed comprises 290 1.3 x 1.3-m (4 x 4-ft) glass panels, each weighing about 453.5 kg (1000 lbs) within a unitized framing system suspended 36 m (118 ft) in the air over the station's Grand Hall.
Each factory-sealed assembly unit consists of 13 layers of various glass types, measuring 165 mm (6 1/2 in.) overall thickness, in three sections.
Top
The uppermost lite is the walking surface and acts as a sacrificial layer in case of breakage. It features solar reflective properties, translucent light diffusing laminating interlayer, and an anti-slip pattern silk print of 1.6 mm (163 mils) dots with 30 percent print pattern coverage.
The sacrificial glass layer on top was one of the first in the country to be tested for weather cycling. If the sacrificial layer experiences wear and tear or becomes damaged, the pane can be replaced onsite without removal of the lower fire-rated portion.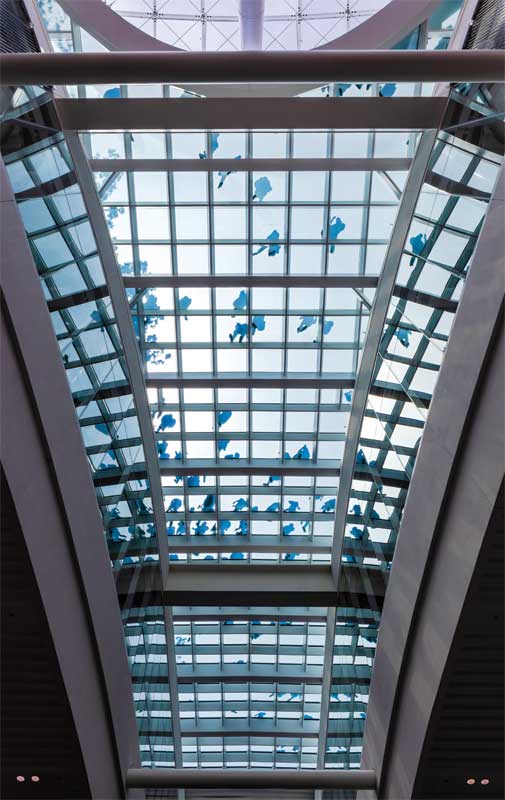 Middle
The second section ensures the loadbearing properties and comprises three layers of heat-strengthened, translucent laminated glass.
Bottom
Following a black stainless steel spacer is a multichamber, fire-resistive glass that reacts to fire to block flames, smoke, and heat transfer for two hours. The bottom-most layer is laminated for overhead safety, and is clear.
Each panel sits in a load bypass frame system, which transfers the load from the structural glass without adding to the fire-rated glass layers. The sub-frame includes a backup V-channel internal gutter system in case of water infiltration. Seismic and thermal expansion joints down the middle of the structure and along the perimeter accommodate movement.
A specialty crating system was developed to allow a minimum of handling while permitting the framing and glass to be unitized and shipped direct to the site for installation.
Upon arrival to the jobsite, installers hoisted each crate to its designated spot, where the panel inside could be easily uncrated, strapped, and craned into place. Each panel is unitized for direct installation into the fire-rated structural steel floor system. The entire assembly is attached to the building's primary concrete curbs.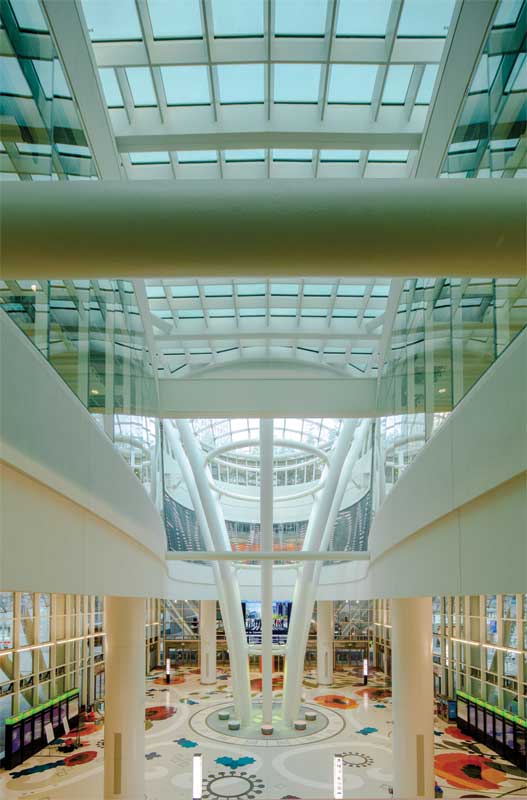 Fire-resistive glass
The Salesforce Transit Center glass walkway also required a two-hour firing rating. In the event of a fire, the intumescent layers in the multichambered, fire-resistive tempered safety glass will react, blocking smoke and flames, while also reducing the transmission of radiant heat.
Fire-resistance testing
Testing played a major role in the system solution. The process began with a series of preliminary fire tests at the manufacturer's fire-testing lab to prove various glass combinations and ultimately led to the construction of a full-scale mockup for final testing and certification at Underwriters Laboratory (UL) in Northbrook, Illinois, to UL 263, Standard for Fire Tests of Building Construction and Materials, and ASTM E119, Standard Test Methods for Fire Tests of Building Construction and Materials. The final certifications demonstrated the complete floor system could stand up to two hours of fire exposure while maintaining its loadbearing ability.
Accelerated weather testing
The assembly also underwent weather testing to meet ASTM E2188, Standard Test Method for Insulating Glass Unit Performance , and E2190, Standard Specification for Insulating Glass Unit Performance and Evaluation. A 0.6 x 0.6 m (2 x 2 ft) test sample underwent 252 rounds of thermal cycling between –29 C (–20 F) and 60 C (140 F) simultaneous with 136 kg (300 lb) of cyclic rolling force. No issues were discovered following 90,000 test cycles.
Solar radiation testing
Temperature and 1000 W/m2 radiation simulation of site conditions, with readings of the glass' various interlayer, edge, and limit temperatures was performed in a validated test apparatus at a research and development center in Germany. The test simulated five hours of direct sunlight without wind or shading, as an extreme measure, and confirmed the first two layers reflected rather than absorbed radiation. This supported product durability and reduction of solar heat gain for thermal comfort inside the building.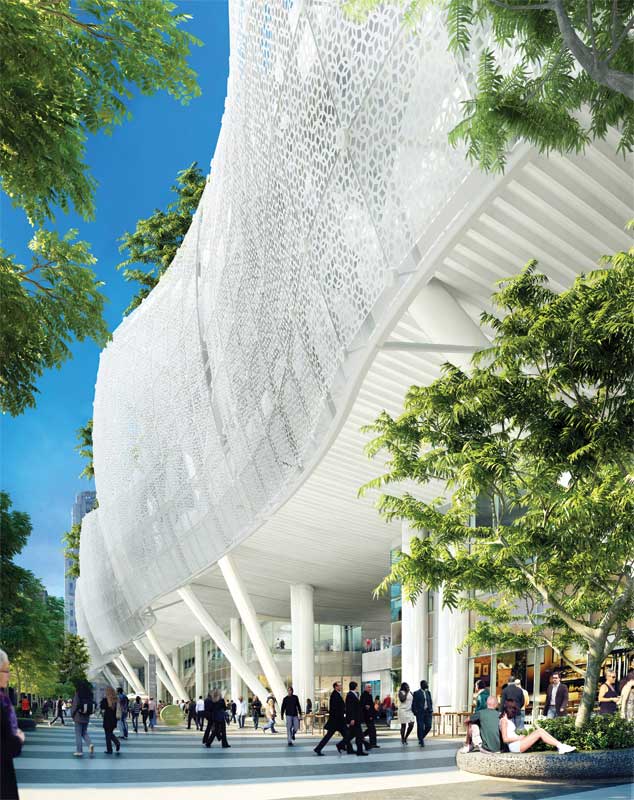 Slip resistance
The units performed successfully in static coefficient of friction (SCOF) tests per three different ASTM standards (C1028-07, Standard Test Method for Determining the Static Coefficient of Friction of Ceramic Tile and Other Like Surfaces by the Horizontal Dynamometer Pull-Meter Method; E303-93, Standard Test Method for Measuring Surface Frictional Properties Using the British Pendulum Tester; and F1679-04, Standard Test Method for Using a Variable Incidence Tribometer [VIT]) to ensure safety, with wet and dry surface testing conditions.
Air and water resistance
To ensure each panel was watertight, airtight, and capable of withstanding temperature changes, field tests were conducted onsite, after installation. Gutters were flooded before glazing panels were installed; water was sprayed along each section before exterior sealant was applied; and the completed assembly was flooded for 24 hours in accordance with ASTM D5957, Standard Guide for Flood Testing Horizontal Waterproofing Installations.
The result of intense engineering alongside accompanying product and assembly testing is a robust, safe, beautiful skywalk that enhances the transit center from the outside in. With a dramatic focal point on the roof and abundant light throughout the interior, the Salesforce Transit Center is at once a destination as much as it is a hub to pass through.
Stephanie Miller is the marketing and communications manager for Vetrotech Saint-Gobain North America. She can be reached via e-mail at stephanie.miller@saint-gobain.com[8].
a robust, safe, beautiful skywalk  that  enhances the transit center from the outside in. With a dramatic focal point on the roof and abundant light throughout the interior, the Salesforce Transit Center is at once a destination as much as it is a hub
to pass through.
Endnotes:
[Image]: https://www.constructionspecifier.com/wp-content/uploads/2018/10/CS_Oct-18_NC_Walkable-Glass_2.jpg
[Image]: https://www.constructionspecifier.com/wp-content/uploads/2018/10/CS_Oct-18_NC_Walkable-Glass_5.jpg
[Image]: https://www.constructionspecifier.com/wp-content/uploads/2018/10/DSC_0042-1-2.jpg
[Image]: https://www.constructionspecifier.com/wp-content/uploads/2018/10/CS_Oct-18_NC_Walkable-Glass_6.jpg
[Image]: https://www.constructionspecifier.com/wp-content/uploads/2018/10/CS_Oct-18_NC_Walkable-Glass_3.jpg
[Image]: https://www.constructionspecifier.com/wp-content/uploads/2018/10/CS_Oct-18_NC_Walkable-Glass_4.jpg
[Image]: https://www.constructionspecifier.com/wp-content/uploads/2018/10/Salesforce-Transit-Center-_-Natoma-St.jpg

stephanie.miller@saint-gobain.com

: mailto:stephanie.miller@saint-gobain.com
Source URL: https://www.constructionspecifier.com/transit-station-takes-glass-walkways-to-the-next-level/
---