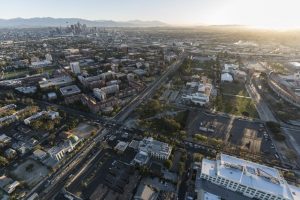 The University of Southern California (USC) has tapped multidisciplinary firm Buro Happold to craft key standards for environmental design and construction performance. USC selected the firm through a competitive process with a mission to develop these new sustainable design guidelines for the urban research university.
"USC has embarked on a collaboration with students, faculty and staff from across campus on this development of laudable and comprehensive sustainability guidelines for maintenance, operations, remodeling, renovation, and new construction projects that impact the campus environment and, therefore, how students are inspired by the world around them," said Buro Happold architect and associate principal Heidi Creighton, FAIA, who is a LEED Fellow, WELL Faculty member and Fitwel Ambassador.
Buro Happold will lead the sustainability guideline development process for USC with its acclaimed human-centric approach—"ensuring the built environment touches the earth lightly while also caring for its occupants," said Creighton.
Buro Happold has created campus-wide standards and overarching sustainability plans for other universities globally, for private corporations such as Aviva Partners, as well as for local governments from the County of Los Angeles to New York's Battery Park City.