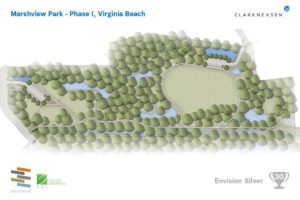 Phase 1 of the Marshview Park project, a Virginia Beach Parks & Recreation initiative, earned an Envision Silver award earlier this year for sustainable infrastructure. The initial work involves transforming a part of the wooded area into a 72,440-ha (17.9-acre) park. It will have a 2.4-m (8-ft) wide paved trail, fenced-in dog parks, a multipurpose playing field, and two new parking lots. Essential landscaping, aesthetics, stormwater management, and other infrastructure improvements will also be implemented. Picnic shelters, benches, a playground, and a restroom facility are also planned.
The Envision system, which is a collaboration between the Institute for Sustainable Infrastructure (ISI) and the Zofnass Program for Sustainable Infrastructure at Harvard University Graduate School of Design, measures sustainability in five categories:
quality of life;
leadership;
resource allocation;
natural world; and
climate and risk.
Here is how the first phase of the Marshview Park project scored on those parameters.
Quality of life
The project will make the surrounding neighborhoods safer and more accessible, improve public space, and increase the quality of life for the community. The 2.4 ha (6 acres) of wetlands in the area will be largely undisturbed, allowing park users to enjoy the land's natural features.
"We wanted to keep the Marshview Park area as natural as possible for city and area residents to enjoy while creating an engaging recreation space," said Allyson Monsour, senior civil engineer at Clark Nexsen, the project's architecture and engineering firm.
The to-be-constructed paved trail will meet Americans with Disabilities Act (ADA) standards and be safely navigable by runners, walkers, cyclists, and others. The trail will connect entrances on either side of the project so people can safely travel between neighborhoods. Additionally, fenced-in dog parks will provide an area for the canines without compromising safety or comfort for others.
Leadership
This project promotes long-term preservation and conservation of open spaces and natural areas, meets sustainability standards for buildings and infrastructure, enriches civic value and function, and reflects the community's priorities and culture. It is supporting the city's sustainability plan by providing citizens with a much-needed recreational space while preserving existing habitats and important natural resources.
Resource allocation
The project team specified all materials required for this project (e.g. plants, aggregates, and soils) to be locally sourced. Grading will be minimal, thus reducing the project's environmental impact.
Natural world
The designers also implemented measures to minimize impacts to existing and potential habitats on the site. Time-of-year tree-clearing restrictions were enforced to protect the habitat of the endangered northern long-eared bat.
Care will be taken to remove invasive species and prevent their re-establishment in the park. Signs will also be posted to educate visitors about wetlands and minimize footprints on a fragile ecosystem.
Climate and risk
This region is vulnerable to a rise in sea levels, caused by climate change. Critical infrastructure will not be located within the park, which acts as an important buffer in times of floods. The Marshview Park project, with its green space and natural wetlands, offers a range of benefits to the community.
"Residents will benefit greatly from the increased recreational opportunities and ecological enhancements this park will provide. ISI is pleased to present the Marshview Park Phase 1 project with the Envision Silver award for sustainable infrastructure," said John Stanton, the institute's president and CEO.