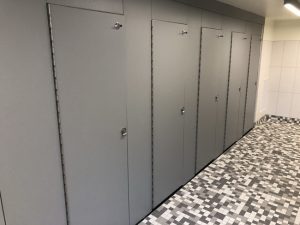 The University of Washington's Madrona Hall, Seattle, is a 220-bed, seven-story Leadership in Energy and Environmental Design (LEED) building which includes an enclosed, floor-to-ceiling stall, co-gender restroom design built specifically to accommodate the needs of the dormitory's male, female, and transgender students. Full-height partitions were utilized in the hall's design to achieve its restroom and shower privacy needs.
Madrona Hall includes a learning resource center for casual study, a student-managed ice cream shop, and a brick-based, western red cedar siding exterior to provide a visual link to the surrounding forests and woods. Another key feature is the high-privacy community bathrooms situated on one of the wings on each floor.
"We selected this product through a competitive process that prioritized our needs for affordability and durability, as well as privacy needs of our students," said JR Fulton, manager for Capital Projects and Sustainability for Housing & Food Services (HFS) at the University of Washington.
Built to accommodate the needs of Madrona Hall's 50 to 60 male, female, and transgender students, the restrooms consist of three to four toilets and showers in a neutral environment that, according to Fulton, meets the privacy needs of students.
The partitions, made of high-density polyethylene (HDPE), are graffiti and scratch-free, and are cleanable with the machine spray application of cleaner and dry down with a vacuum.
The partitions achieves its sleek design through the use of continuous edge-mounted hinges that remove sightlines and elimination of face-mounted hardware and a shoeless pilaster, which makes it easier to clean and maintain.
"Our goal is to make every student who chooses to live in our residence halls feel safe, comfortable, and part of an inclusive environment that respects and supports all students," said Kate Flowers, HFS's assistant director of custodial services.
In all, 71 gray partitions were used in the restrooms at Madrona Hall.