Waterproofing Airbus plant in America's rainiest city
by nithya_caleb | August 20, 2018 3:47 pm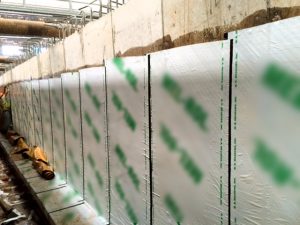 When Airbus[2] decided to construct its first U.S. manufacturing plant in Mobile, Alabama, the rainiest city in America, waterproofing challenges were expected to arise as quickly as the abundant groundwater would.
This massive project included a 65,032-m2 (700,000-sf) building built above one mile of tunnel extending 4.5 m (15 ft) into the earth in a harsh climate.
The first task for the project team was to ensure the substantial underground tunnel would be effectively waterproofed. Despite working under a roof, there was considerable groundwater to combat due to working close to Mobile Bay, which required consistent pumping and drying of the construction zone. Several hundred piles used to support the tunnel floor needed to be treated before the first line of waterproofing defense—a dual-functioning underslab and blindside waterproofing membrane—was installed.
Hydrostatic pressure was reduced with the use of a dimple-raised, molded polystyrene sheet bonded to high strength polypropylene fabric. This geocomposite system allows the passage of moisture through the fabric while preventing fine soils from entering the drainage channel.
The walls were then treated with a heavy duty polymeric waterproofing membrane. More than 3716 m2 (40,000 sf) of blindside waterproofing membrane and 6039 m2 (65,000 sf) of geocomposite drainage system were used to complete the job.
Endnotes:
[Image]: https://www.constructionspecifier.com/wp-content/uploads/2018/08/Airbus.jpg
Airbus: http://airbusalabama.com/
Source URL: https://www.constructionspecifier.com/waterproofing-airbus-plant-in-americas-rainiest-city/
---