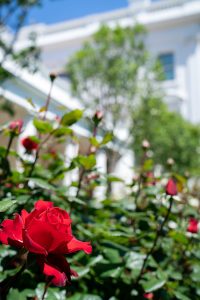 The historic White House Rose Garden is going to be restored. The final design plan is a collaboration by landscape architecture firms Perry Guillot, Inc., and Oehme, van Sweden & Associates/OvS.
The plan will renew the design first implemented by Rachel Lambert "Bunny" Mellon during the Kennedy Administration, which has been the guiding blueprint for the Rose Garden since the installation in 1962. "Decades of use and necessary changes made to support the modern presidency have taken a toll on the garden and have made it more difficult to appreciate the elegant symmetry of the Mellon plan," a statement from the White House said.
The refreshment of the Rose Garden will return it to its original '62 footprint and help ensure it will thrive with improved infrastructure, better drainage, and a healthier environment for plantings that reduce the risk of leaf blight. Additionally, the plans include improved Americans with Disabilities Act (ADA) accessibility, utilities, and support for audiovisual and broadcasting needs.
The plan for renewal went through the approval process of the Committee for the Preservation of the White House (CPWH) and aligned with the recommendations of their sub-committee, Committee for the Preservation of the White House Gardens (CPWHG). The project is supported by the National Park Service, who has cared for the White House and its grounds since 1933, and funded with private donations.