Window Film: Identifying the benefits for buildings
March 3, 2017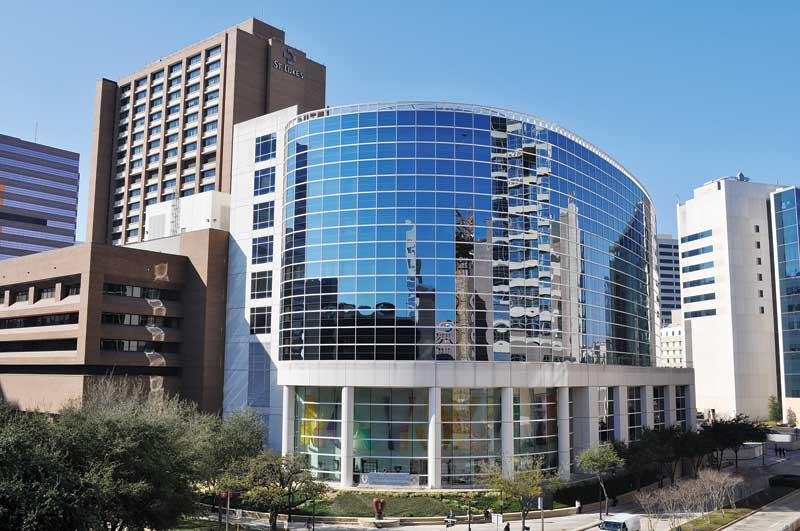 by Jeffrey Plummer
Window film can play a key role in improving any building's performance, whether it is a new construction or a retrofit project. At a fraction of the cost of a window replacement, these products help control overall operating costs, balance building temperatures, and reduce the load on HVAC systems.
There are many types of window films. Some are clear and feature multiple layers of polyethylene terephthalate (PET) to offer protection from shattering glass; others are tinted with metals, dyes, or pigments to reduce visible light transmittance (VLT) through the glazing and block heat coming through from the sun. There are even decorative window films that can replicate the look of frosted glass or etched patterns.
Window film can be used in both new construction and renovation, although retrofit applications on existing windows are more common. Replacing older single-paned windows with more energy-efficient double- or triple-paned windows tends to be the best option, but this can be quite costly. In some cases,
the owner would like to protect the integrity of the structure by maintaining its original windows. As long as the single-paned window is structurally sound, adding professionally installed window film can often make the most sense; these products tend to match or exceed the energy efficiency of most modern windows.
Benefits of window film
There are many reasons why window film will benefit a construction project.
UV protection
Some window film block up to 99 percent of ultraviolet (UV) rays, and can reflect up to 80 percent of the sun's heat. The adhesive absorbs UV light between 300 and 380 nm, reducing the amount of damaging rays and heat transmitted through the glass. The sun can be extremely harmful to unprotected skin, and also takes a toll on a building's interior finish and furnishings. Over time, the sun will fade furnishings, drapes, and flooring. Film helps mitigate UV rays while still allowing penetration of natural light.
Temperature control
Window films are constructed with either metal or particles that absorb infrared (IR) light to reflect solar energy. The National Fenestration Rating Council (NFRC) rates window film effectiveness, similar to how windows and other fenestration is rated. (Complete ratings can be found on the NFRC website[2].) A film's solar heat gain coefficient (SHGC) is a measure of how much energy it blocks.
Employee comfort is vital for productivity, and window film's regulation of temperatures makes offices more comfortable. According to a joint study on the relationship between employee performance and temperature by Finland's Helsinki University of Technology and the U.S. Lawrence Berkeley National Laboratory (LBNL), there is a two-percent decrease in performance for every 1-C (1.8-F) increase in temperature across the range of 25 to 32 C (77 to 90 F). However, there is no effect on performance in the temperature range of 21 to 25 C (70 to 77 F). (For more information, click here[3].) Having a climate-controlled office clearly translates into better work from employees.
Aside from keeping occupants in ideal conditions, this temperature control has another benefit—reducing reliance on a building's mechanical system for cooling. For commercial buildings, the return on investment (ROI) is higher when using window films than with many other methods of retrofit, even replacing the HVAC, according to the International Window Film Association[4] (IWFA). Window film is designed to keep heat out during the summer and retain it in winter, curbing energy costs year round.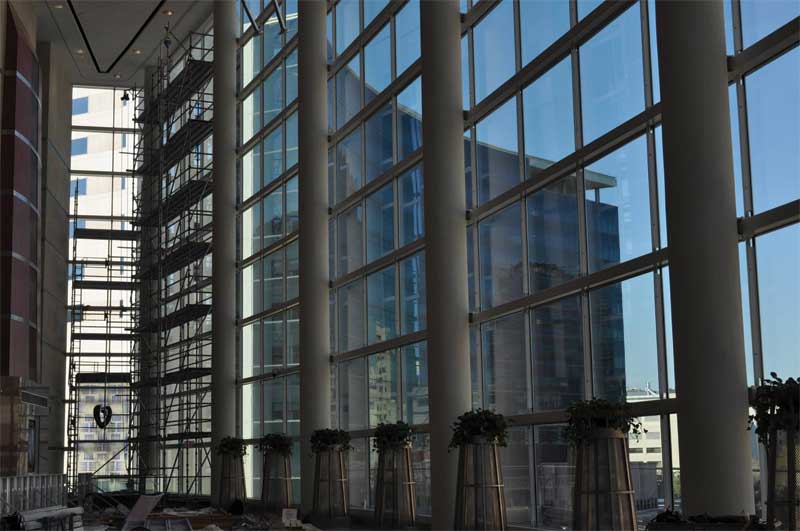 Anti-glare
Phones, tablets, laptops, and projection screens are essential for many offices. Often, the sun will sneak in through the windows and cast an unwanted glare to various screens. Window film helps block glare, providing clear views and comfort for all employees regardless of their seat positioning.
Safety and security
Windows and doors are the most vulnerable parts of a business or residence. They are easy points of entry, which may mean harm to the occupants. Window film offers a measure of protection from the hazards of flying glass fragments during a storm, blast, or other type of attack and can possibly deter or at least delay unwanted entry. When ordinary non-tempered glass breaks, it poses considerable danger, but filmed glass significantly reduces this hazard because it holds the shattered glass shards together.
There are several standards for glass fragment retention. Consumer Product Safety Commission (CPSC) Part 1201.4 (CFR Title 16 Chapter II Subchapter B Part 1201), Safety Glazing, has now adopted American National Standards Institute (ANSI) Z97.1, Safety Glazing Materials Used in Buildings−Safety Performance Specifications and Methods of Test. For blast mitigation, the often-used standard is the U.S. General Services Administration (GSA) Standard Test Method for Glazing and Window Systems Subject to Dynamic Overpressure Loadings. (For more information, click here[6].)
Aesthetics
Windows are character-defining features for any building, but consideration is not always given to the glass populating the façade. Rather than going through the time-consuming and expensive task of installing entirely new windows, one could consider repairing and maintaining the original glazing.
As mentioned, films are often a more cost-effective and less invasive option, especially for historical preservation. Window film can be applied quickly to the vast majority of historical buildings, preserving their authenticity, preventing damage, and lowering energy costs. In fact, the U.S. Department of the Interior (DOI) recommends it when restoring or preserving historical buildings. (For more information, click here[7].)
Window film in action
From a small retail shop to a large medical center campus, a range of case studies shows why window film can be an easy and cost-effective upgrade.
Office buildings
For office buildings, the products' ability to reduce glare and heat helps keep employees more comfortable, healthy, and productive. For these types of projects, use of window films also saves on cooling costs and protects furnishings from fading.
Southeast Bank recently built a four-story commercial building in Knoxville, Tennessee. The building was designed to house its local branch, service call center, mortgage office, and executive offices. The project team for this new facility aimed to be energy-efficient in all construction practices. The management staff viewed window film as a necessity to further this goal. When putting the construction plans together, it was clear window film was going to be incorporated into the design of the building.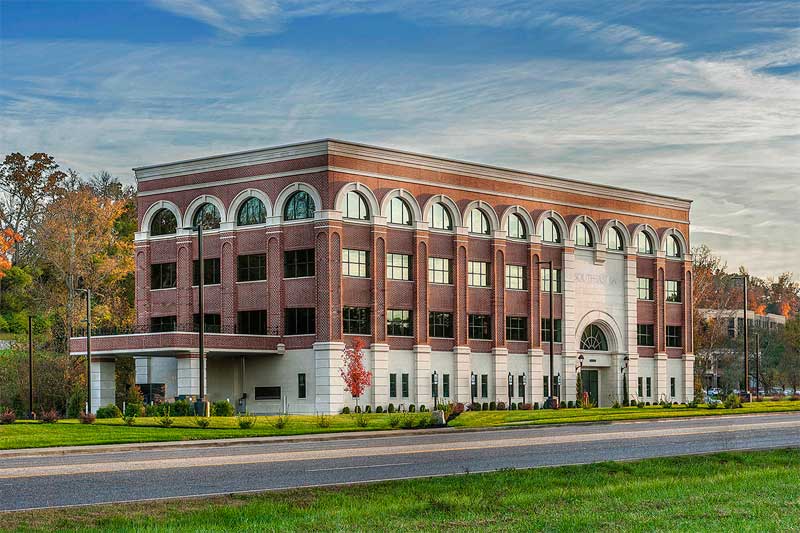 After film was professionally installed, employees moved into the new space that delivered a pleasant working environment through soothing natural light and balanced temperatures. The film also cut down on the glare bouncing off computer screens. By utilizing professionally installed window film, Southeast Bank took steps to protect furnishings and flooring from fading, while also creating a comfortable, beautiful, and, most of all, energy-efficient space. Window film was only one of the bank's numerous efforts to aesthetic appeal and energy efficiency as it continues to work toward earning Leadership in Energy and Environmental Design (LEED) certification for the building.
Hospitals and medical centers
Safety window film is designed to hold broken glass together in the event of a natural or unnatural disaster. This not only prevents physical harm from shards of flying glass, but also keeps high winds from entering a structure and doing damage, protecting patients and valuable medical equipment.
In 2012, Baylor St. Luke's Medical Center, an 850-bed medical and surgical facility in Houston, Texas, embarked on a comprehensive project to increase the safety and security of the hospital through the help of a Federal Emergency Management Agency (FEMA) grant. Securing the hospital's vast amount of glass windows and doors became a top priority. The hospital needed to find a way to offer its patients protection from flying glass in the case of a natural or unnatural disaster, as well as protect its millions of dollars' worth of state-of-the-art medical equipment from damage. Baylor St. Luke's management team began the search for a solution to the hospital's unique needs.
After exploring various options, the staff decided the ideal solution was window film. The final project involved installing 6040 m2 (65,000 sf) of safety and security film on the facility's windows and doors. By installing film in three separate phases, and working closely with the hospital staff, the team was able to complete the project with minimal interruption to patient comfort or facility operations. The film gives the healthcare team greater safety and peace of mind. Hospital staff members no longer have to plan for the contingency of moving patients around, and the medical equipment is more secure.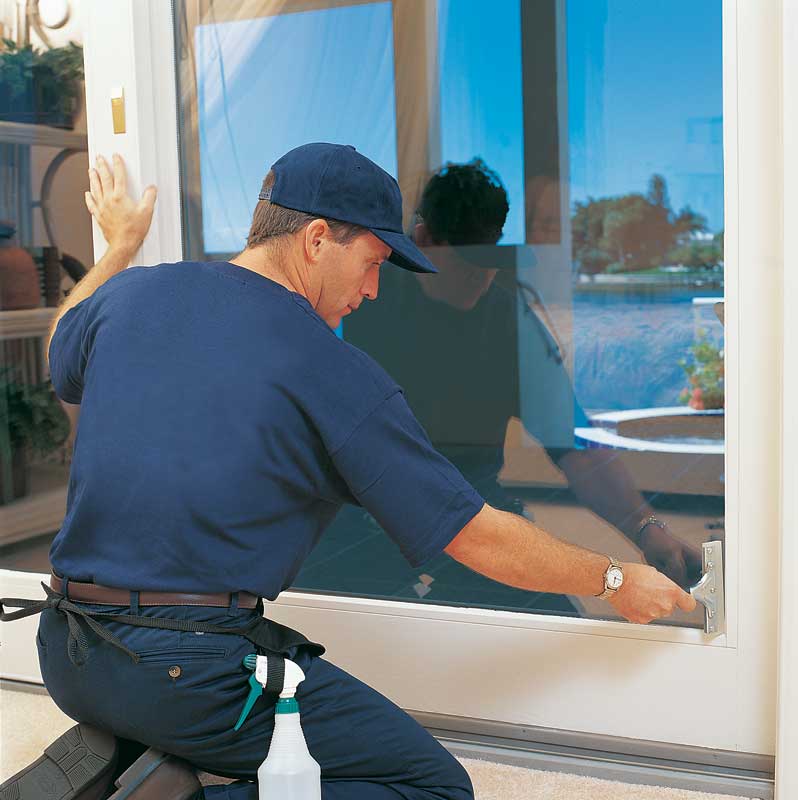 Schools, universities, and daycare centers
When safety and security films are applied, glass is designed to break, but not shatter. This can potentially delay and frustrate a would-be intruder, as well as keep children from being harmed by flying glass shards. Some window films also offer privacy, so intruders cannot see students and teachers inside.
Restaurants
Window film reduces glare and solar heat gain, which allows restaurants—even those with large windows facing toward the sun—to keep customers comfortable. For the Firestick Grill (located inside Tampa, Florida's Amalie Arena), this was especially important. The building was a prime location during Tampa Bay Lightning hockey games and concerts, offering views of the city's skyline through its 60-m (200-ft) wall of windows.
However, the sun caused discomfort among patrons. Diner customers would complain of the heat and glare, asking to move tables—this was no easy task when the restaurant was at capacity before a game. The restaurant's cooling costs were also high because the staff would try to compensate for the overpowering sun by blasting the air-conditioning.
As a solution, management used window film to reduce the sun's glare and increase the restaurant's overall energy efficiency. Film was installed on 427 m2 (4600 sf) of glass. When the restaurant reopened, the difference was immediately noticeable. Without spoiling views, window film significantly reduced the heat and glare, and patrons were no longer asking to be re-seated.
Conclusion
Overall, window film is an ideal choice for saving energy, increasing occupant comfort, and improving aesthetics of a building. The client will live, work, and play in a more efficient, comfortable environment and the film may even help him or her qualify for energy rebates, while adding to a builder's profit margins.
With all the different types of films available today, it is important to do research and find the film product best-suited to the project's unique requirements. Professional film installers will be able to provide clients a quality application, as well as an array of product options to accomplish the goals of the construction project. They will also advise when problems with the frame or glass preclude use of film in the first place.
Window films have been evolving for over 40 years and continue to grow as more architects, developers, and builders understand the benefits of their use. There are few products on the market that can make such a significant impact on a building for the relatively small investment.
 INSTALLING WINDOW FILM
Window film is applied by a professional installer, generally to the interior side of glazing. However, specific exterior film products do exist. An installer will survey a building prior to the installation to determine which product is the best fit, the square footage of the job, and any other details to make the application as smooth and efficient as possible.
Windows should be thoroughly cleaned prior to applying the film. The film is then installed using a mounting solution that is sprayed onto the window to activate the adhesive.
The film should not be cleaned until it has had the opportunity to fully cure, which usually takes about 30 days. The same common household products previously used to clean the window can still be employed.
Jeffrey Plummer is the senior vice president of sales and marketing for Madico Inc., based in St. Petersburg, Florida. Since beginning in the window film industry in 1988, he has been involved in all aspects of the industry, traveling to more than 60 countries on window-film-related business. Plummer has been in his role at Madico since 2010, previously serving as the vice president of sales and marketing at Bekaert Specialty Films for over 12 years. He can be reached at jplummer@madico.com[10].
Endnotes:
[Image]: https://www.constructionspecifier.com/wp-content/uploads/2017/03/film_Madico_St.-Lukes-hospital_Texas2.jpg
website: http://search.nfrc.org/search/apd_film/film_search_default.aspx
here: http://indoor.lbl.gov/sites/all/files/lbnl-60946.pdf
International Window Film Association: http://www.iwfa.com
[Image]: https://www.constructionspecifier.com/wp-content/uploads/2017/03/1511689_10152143445204123_653993331_o.jpg
here: http://www.gsa.gov/graphics/pbs/Standards_GSATestingStandard.pdf
here: http://www.nps.gov/tps/standards/rehabilitation/sustainability-guidelines.pdf
[Image]: https://www.constructionspecifier.com/wp-content/uploads/2017/03/CS-2.jpg
[Image]: https://www.constructionspecifier.com/wp-content/uploads/2017/03/film_Man-applying-window-film.jpg
jplummer@madico.com: mailto:jplummer@madico.com
Source URL: https://www.constructionspecifier.com/window-film-identifying-the-benefits-for-buildings/
---