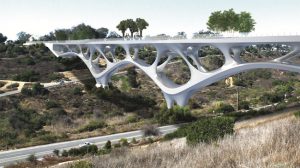 A jaw-dropping pedestrian bridge concept has won the 2021 Forge Prize—and earned $10,000 for Hunter Ruthrauff of T.Y. Lin International Group in San Diego.
The Forge Prize competition was established by the American Institute of Steel Construction (AISC) in 2018.
Ruthrauff's design, conceived for a site in San Diego's Balboa Park, draws on Spanish-inspired architecture in the Prado, local flora, and the nearby Cabrillo Bridge. The bridge's organic form reflects the network of trails in Florida Canyon.
The bridge's open deck offers uninterrupted views and some unconventional public space: large hammocks over four apertures looking down into the canyon. The project will take advantage of the unconventional shapes possible with 3D-printed structural steel.
Although the Forge Prize is a conceptual competition, the judges all expressed confidence that Ruthrauff's bridge will be built someday.
"I do not think any of us have a doubt in our mind that it is going to come together and be a catalyst for the rest of us across the country," said Pascale Sablan, FAIA, NOMA, LEED AP, associate at Adjaye Associates Architects. "[Ruthrauff] really convinced us that [he] can actually help solve some of the infrastructure issues that are plaguing our nation."
"Over the last 37 years since our founding, we have fabricated some unique and interesting projects, but the projects we have enjoyed most involve finding solutions to challenges created by architects' innovative use of steel," said Glenn Tabolt, STS Steel, Inc. president, who served as Ruthrauff's mentor during the competition. "I was not that familiar with the use of 3D printing in such a large structure, but the more I worked with Hunter and understood the technology, the more enthusiastic I became about his design."