Staff and students working in the new Biological Sciences Building at Georgia Southern University now have a space that meet both their mechanical and educational needs.
Located in Statesboro, 'The Building in the Trees' is a three-story, 14,679-m2 (158,000-sf) structure that includes five active-learning classrooms, 10 teaching labs, and 15 research labs used by 1300 undergraduate and graduate students.
Attached to it is a one-story, double-wing area where field-collected samples and biology specimens are stored. The two areas of the building have different mechanical requirements, as the labs and classrooms need 100 percent recirculated air. To achieve that, a low-rise wing was incorporated to separate the mechanical systems, while maintaining the building's aesthetic.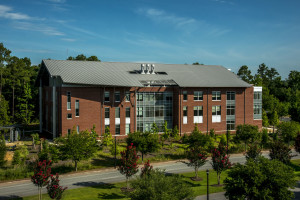 Since the university's budgetary restrictions were a consideration, the design team turned to aluminum panels for maintainability and serviceability. More than 9290 m2 (100,000 sf) was used in both the roofing and siding.
Situated on a major campus pedestrian way that brings students through a wooded area, the building's location presented some challenges in terms of installing the panels on the roof due to limited accessibility.
"Given its unique siting, the building is somewhat of a departure from the architectural language of the rest of the campus, although it was purposely designed to be compatible from a materials standpoint," said Joseph League, principal of S/L/A/M Collaborative in Atlanta, the architectural design firm on the project. Other buildings on the campus also incorporate red brick and metal roofs, he added.
A sky crane was used to lay the crates of panels horizontal to the pitch. Crews would then manually spin each panel and carry it over and drop it down onto the roof slope. Workers were tied off for safety, which made the task cumbersome, but not overly so.
"The new building allows students to work together in groups, and for faculty to be more mobile in the labs, so they can check on what the students are doing, answer questions, and challenge the students," said Stephen Vives, chair of the biology department.
The building received Leadership in Energy and Environmental Design (LEED) Gold certification from the U.S. Green Building Council (USGBC).