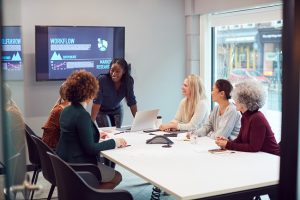 The American Institute of Architects (AIA) is accepting applications for Next to Lead, its new pilot program aimed at advancing ethnically diverse women into AIA leadership positions.
"It is critical that, as a profession and industry, we work together to advance racially and ethnically diverse women," said AIA 2021 president Peter Exley, FAIA. "We know there is an opportunity to improve representation within architecture, and Next to Lead is one way we are working to make that happen."
Next to Lead is a pilot program designed and developed to build a base of future AIA women leaders reflecting diverse ethnic backgrounds. AIA aspires to create a pathway and expand access to local, state, and national leadership through experiential learning on association management and leadership, knowledge, and experience.
Next to Lead will be a two-phase program. In phase one, selected participants will engage in an online curriculum, monthly virtual sessions around association leadership, and in-person attendance at an AIA leadership conference during the first year. In the second phase, participants will work on a collaborative project developed with a local or state component or with AIA.
The pilot program will launch this fall with an initial class of 16 AIA members who have a minimum of five years in the profession. The deadline to apply is April 30. Click here to get the complete details.
The Next to Lead program is one of the first to address association leadership for ethnically diverse women aspiring to be leaders of the AIA. It was created as a result of a member driven resolution from 2018.